Poncho De Nigris is a Mexican reality TV personality and social media influencer who has a net worth of $3 Million. He rose to fame when Nigris participated as a contestant in 2nd season of the hit show Big Brother México in 2003. Nigris finished 3rd in the competition.
From there he continued to star on several television shows and even hosted numerous reality shows for the famous Multimedios Televisión network. In early 2015 he came to prominence once again for co-hosting Poncho en Domingo alongside Marcela Mistral.
What is Poncho De Nigris' Net Worth?
[table id=474 /]
Early Life
Alfonso de Nigris Guajardo was born on March 3rd, 1976, and was raised in Monterrey, Nuevo León, Mexico. He grew up with his three siblings, Antonio, Leticia, and Aldo De Nigris. Also, De Nigris didn't reveal information about his parents or education.
Career
De Nigris made his first TV show appearance as himself in the second season of the reality TV show Big Brother México in 2003. This series became a massive success in which he wound up placing third in the competition.
In 2006 he had a supporting role of Mateo Ayala in the Mexican telenovela Código postal. He followed that up by appearing as a guest star on a telenovela La fea más bella that same year. After playing a supporting role in the 2008's Central de abasto, De Nigris became Co-host for the morning show Vivalavi in 2010.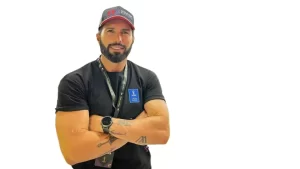 Breakthrough
In 2011, De Nigris was selected as one of the lead contestants in the Multimedios's dating show called Mitad y mitad. Aside from appearing as a contestant, he also worked as a coach and host for the show which ran between 2011 and 2019.
In the meantime, De Nigris was appearing in further shows such as portraying a lead character in Méteme gol (2011), etc. In February 2015 he returned to the entertainment industry, appearing in Multimedios's Poncho en Domingo with co-hosting his future wife Marcela Mistral.
In 2020 the actor had a guest starring role as himself in the reality show ¿Quién es la máscara? Poncho De Nigris began appearing as a contestant in the Mexican reality show La Casa De Los Famosos which broadcasted on the ViX app and Televisa channel in 2023. On this show, he gained popularity for having a good friendship with TV star Wendy Guevara.
Personal Life
De Nigris is happily married to the musical artist and reality TV personality named Marcela Mistral. The couple first met in 2015 while sharing a stage of the show Poncho en Domingo. From there, the two began dating and soon De Nigris proposed to her.
Luckily, she accepted his proposal and they were married in November 2015. Their marriage ceremony was aired on the Multimedios television network from November 15 to November 25. Marcela gave birth to her first child Alfonso in July 2016. Their second child, a daughter named Isabella was born in September 2018.
Career Highlights
Big Brother México (Competition show, 2003)
Poncho en Domingo (Reality show, 2015)
La Casa De Los Famosos (2023)
Poncho De Nigris Net Worth
Poncho De Nigris is one of the well-known celebrities in the Mexican entertainment business. He has been active in showbiz since 2003. De Nigris gained popularity for his appearance in Big Brother México. Since then he starred in numerous shows in his country.
Despite his television appearance, De Nigris also tried his hand at other ventures including music. His song La Cobra earned over 5 million views on YouTube and 10 million streams on Spotify. As of 2023, Poncho De Nigris' net worth is estimated to be $3 Million.