Sadie Sink is an American actress who has a net worth of $3 Million. She got her big break, starring in the hit series "Stranger Things" when she joined the cast in season 2 in 2017. Her performance earned her mainstream success as well as numerous awards.
Despite this, she has been acting in films and TV shows since the age of seven. At first, she got a chance to play the title character in the local production of Annie which ran between (2012–14). In 2013, she made her TV debut in an episode of the series "The Americans".
Sadie's been showing off her acting chops in bigger ways recently, starring alongside Brendan Fraser in the Oscar-nominated film "The Whale". While Sadie is a rising star and is only now reaching more global sensation, before Stranger Things, she already had years of acting under her name.
What is Sadie Sink's Net Worth?
[table id=270 /]
Early Life
Sadie Elizabeth Sink was born on April 16th, 2002, in Brenham, Texas, to a middle-class family. Her father Casey Adam Sink was a football coach and her mother Lori is a math teacher. Sadie grew up alongside three older brothers and a younger sister Jacey Sink, Caleb, Spencer, and Mitchell being the names of her siblings.
Even though Sadie's family was very sports-oriented, she was already involved more in the Performing Arts. While attending Elementary School she discovered her skills for acting. At the age of seven, Sadie became obsessed with recreating scenes from High School Musical.
All thanks to her mother who allowed Sadie to join a theater in Houston. She began her acting profession in Community Theater, appearing in the production of The Best Christmas Pageant Ever held in Brenham. Eventually, her audition was successful, and was selected for a lead in the local production of "The Secret Garden".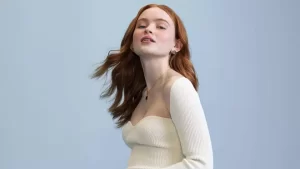 Career
During the 2011-2012 season of Theater "Under the Stars" Sadie played in plays such as "White Christmas" (a musical production). She also had the title role in "Annie". She was all in on pursuing an acting career and this led the Sink family to move to New Jersey to Support Sadie's dreams.
At the age of 12, Sadie landed a starring role in the Broadway production of "Annie". She made her Broadway debut, playing both Annie and Duffy in the play. She began to train even more in dance and vocals to improve her performance in musicals and Broadway shows.
In the following years, Sadie got a chance to work with some big names including Helen Mirren whom she worked with in the 2015 "The Audience" where Sadie played Queen Elizabeth II as a child.
During her run on Broadway Sadie also made her TV debut in 2013 in the Emmy Award-winning show "The Americans". She also had a guest role in an episode of the police show "Blue Bloods" in 2014. Next year, she played the role of Suzanne Ballard in the series "American Odyssey" and then appeared in some movies as well.
Breakthrough
The breakout moment of her career came when she auditioned to play Max Mayfield on the second season of Netflix's hit sci-fi horror drama series "Stranger Things". She was cast as a series regular in the fall of 2016. Sadie's character Max became a fan favorite and a crucial part of the show.
For this role, Sadie had to take skateboarding lessons. She got the role when she was only 14 and explained that the audition process was pretty rigorous. In 2018 Sadie and her Stranger Things cast members received a nomination for the "SAG Award in the category of Outstanding Performance by an Ensemble in a Drama Series".
In the following year, Sadie played the supporting role in the Netflix horror movie "Eli". In 2021, she played the main character of Ziggy Berman in the hit "The Fear Street Trilogy", appearing in the second and third installments.
Sadie also landed praise for her impressive performance in the fourth season of "Stranger Things". In 2022, she was named to play the lead role of Tess DeNunzio in the drama "Dear Zoe". That same year, Sadie starred in her biggest film role yet, playing Ellie Sarsfield in the drama film "The Whale" alongside Brendan Fraser.
Other Ventures
While attending high school, Sadie continued to appear in some small roles on the both big and minor screen including playing Kimberly in the 2016 sports drama film "Chuck". Around that time she appeared in the sitcom "Unbreakable Kimmy Schmidt".
Sadie also had a supporting role in the 2017 film "The Glass Castle" starring alongside Woody Harrelson with Brie Larson and Naomi Watts.
Despite being one of the most successful young actresses in Hollywood, Sadie has also received modeling gigs over the years. In 2018, she was in print modeling for "Nike". Before this, she was cast in the Italian label "Miu Miu's holiday Whispers campaign.
Sadie has done commercials work for big names including:
Clean & Clear Acne Spot
Stony Brook Children's Hospital
Kate Spade
Vogue
L'Officiel Paris
Chanel
Givenchy Beauty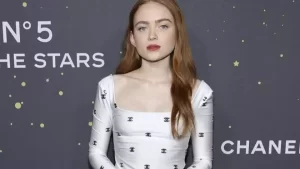 Personal Life
Sadie is a Vegan and in 2018 she teamed up with other stars including Kat von D, Rooney Mara, Sia, and Joaquin Phoenix. They narrate the animal rights Australian documentary movie titled "Dominion". Sadie Sink has a net worth of a whopping $3 million which she made from her acting career.
Career Highlights
Stranger Things (Netflix Series, 2017–present)
The Whale (Drama film, 2022)
2018-2020 Screen Actors Guild Awards _ Nominations
2022 Hollywood Critics Association TV Award, Best Supporting Actress _ Won
2023 Critics Choice Award, Best Young Actor/Actress _ Nomination
2023 Nickelodeon Kids'Choice Award, Favorite Female TV Star _ Nomination
Sadie Sink Net Worth
Sadie Sink is on her way to work on a handful of successful projects including the thriller film "Berlin Nobody". She began her career as a child star and earned massive fame throughout her career. She is still at the beginning of her career and has a lot more to do shortly.
Sadie came to the spotlight after she began appearing in the hit Netflix series "Stranger Things". Since then she accumulated a vast chunk of money through her acting credits. Sadie reportedly earns $150,000 per episode salary in Stranger Things.
Outside of acting, she also makes money from other ventures including brands and appearing in commercials. Her annual income is roughly to be over $600,000. Sadie Sink's net worth is estimated to be $3 Million.
You May Like: