Luh Kel is an American singer, songwriter, and rapper who has a net worth of $3 Million He rose to fame after the release of his breakthrough single "Wrong" in April 2019. That track was also uploaded on YouTube which wound up racking over 400k views on the first day of its upload.
Additionally, the song "Wrong" received millions of streams on Spotify and garnered over 164 million views on YouTube as of March 2023. Thanks to the popularity of the track Luh Kel got more than 200,000 subscribers on his YouTube channel.
Later, he landed on Billboard's emerging charts and headed out on a tour with fellow rapper Polo G. He also dropped more hit singles such as "BRB" and Pull Up" among others. Outside of music, the rapper is quite famous on social media, having millions of followers from all across the globe.
What is Luh Kel's Net Worth?
[table id=210 /]
Early Life
Turran Coleman aka Luh Kel was born on May 20th, 2002, in Tennessee but grew up in St. Louis, Missouri. He is the middle child of three siblings and began singing at the age of just 2. His family always supported him to pursue a music career.
As he grew he began listening to R&B and was influenced by artists like Usher, Chris Brown, and Tank. While attending high school he also played football. By the age of 14 years old Luh Kel began singing and performing as part of a St. Louis-based group called "ProjecX."
It was a 4 member band that was formed through an audition process that included singing, dancing, rapping, and fashion. There were about 25 people who auditioned, but Luh was one of the 4 chosen to be a part of the group, being the youngest member of the four.
Career
On March 21st, 2015, ProjecX was formed and soon they got the opportunity to sing for famous singer Ronnie DeVoe. The group started performing at local events and concerts with their first performance being at Harris Stowe State University.
The group even got to perform on their local Fox Channel. Their music eventually caught the attention of an agent. He hired them to appear as a cover band for "The Jackson 5" at the Missouri History Museum's event called "Twilight Tuesdays." The event had 6000 people who were impressed by their performance.
From that point on The Projectx kept getting booked for gigs, next getting flown out to California to perform. They performed alongside Orchestra at Washington University and even at Disneyland. Their song "Slay" was played on the local radio stations at that time.
After a couple of years, Luh Kel went solo and began posting his own singing videos online, covering popular songs. He tried everything possible to blow up through social media but nothing seemed to be working. So he got a regular job and decided to take a step back from music.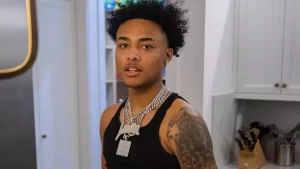 Breakthrough
Eventually, Luh decided to come back to music but he wanted to post some original songs. After searching YouTube and trying to find the right sound, he found a beat online that was produced by BubbaGotBeatz. People loved that snippet and wanted to hear the full song and it began to blow up online.
Luh kel caught the attention of industry manager London Smith who helped signed Luh to a deal with Cinematic Music Group. A CEO and producer of the Cinematic named Jonny Shipes reached out on Instagram and along with artist 11V, produced a full studio version of the track "Wrong."
Other Ventures
Along with the label, Kel began working with Grammy-winning producers to help develop his sound. Together they released the official music video for "Wrong" as his debut single. The track went viral as the fans began posting their own version of the "WrongChallenge" on YouTube.
It was TikTok that helped the track to become viral. The song debuted on the Billboard Hot R&B and hip hop charts at number 39. Following the success, he dropped more hit tracks including "BRB" and "Pull Up" in 2019, both of which were certified Gold by RIIA.
In November 2019, Luh Kell released his debut studio album "Mixed Emotions" which peaked at 25 on the US R&B charts. Then in October 2020, he dropped his second project "L.O.V.E." which contains tracks like "Y.O.U.", "How To Love", "Want You", and "Real."
Personal Life
Luh Kel has been in a relationship with the Instagram star, Famous Ocean. The couple has been dating since 2020 and they seem to have a good relationship. Luh and Oceans often appear on occasions and parties together.
Career Highlights
Wrong
BRB
Pull Up
Mixed Emotions (Debut album, 2019)
All in You (Official Music Video, 2020)
Want You (Feat, Queen Naija) (Official Music Video, 2020)
Tweakin (Official Music Video, 2020)
Luh Kel Net Worth
Luh Kel is one of the emerging rappers in the American music industry. He has garnered a lot of fame through releasing his song "Wrong" which earned global sensation. He came back with another hit "Pull Up" which crossed 2 million views in less than 2 weeks.
Luh mainly earns from record labels, and YouTube, as well as performing on live shows, releasing new songs, and collaborating with other artists. In 2020 he made his guest appearance in Quando Rondo's album QPac for his single "Dripped Out." As of 2023, Luh Kel's net worth is estimated to be $3 million.
You May Like: