OhGeesy is an American rapper with a net worth of $2 Million. He first rose to fame after being one of the founding members of the "Shoreline Mafia," which is a popular hip-hop group.
They released a number of music together before the group disbanded in 2021. Following that OhGeesy continued to release music as a solo artist and became the biggest Mexican-American rapper in all of North America.
He came to popularity after releasing his debut studio album "Geezyworld" which hit on Billboard 200, peaking at number 102. OhGeesy recorded 11 tracks which were included in his debut project and became successful.
What is OhGeesy's Net Worth?
| | |
| --- | --- |
| Net Worth | $2 Million |
| Age | 29 |
| Born | November 27, 1993 |
| Profession | Rapper |
| Country | United States of America |
| Salary (Annual) | $450,000 |
| Last Updated | 2023 |
Early Life
Alejandro Coranza was born on November 27th, 1993 in Los Angeles, California. His mother had to cross the border not once, but twice. And one of those times, she had to make the journey in the trunk of a car.
Geesy's father got deported from America twice, and he left his wife as a single parent. When their family finally did settle down, it was in a two-bedroom apartment with ten people living in it at the same time.
While studying in the third grade Geesy began spending most of his time in outdoor activities and became a part of the City's Graffiti culture. His interest in Graffiti eventually led him to meet a man named Fenix Flexin.
Career
Geesy and his friend Fenix Flexin teamed up and became one of the founding members of the rap Collective. Before launching his music career, Geesey developed an interest with the help of his uncle who had an impressive CD collection.
Around that time he was also listening to the smooth sounds of his mother's favorite salsa and reggaeton. This exposure led to him copying rap lyrics into his notebook at school. Geesy began his rap career in the early 2010s when he was still just a teenager.
He uploaded a few of his earliest tracks to SoundCloud. Shortly thereafter he teamed up with his friend Fenix Flexin in 2012 and the duo created a hip-hop group called "Shoreline Mafia." Four years later they were joined by Rob Vicious and Master Kato.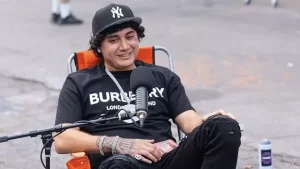 Breakthrough
Their first mixtape "ShoreLineDoThatS*it" took only five weeks to record. Soon the project was blowing up on streaming platforms like SoundCloud, Apple, and Spotify. The mixtape was released in November 2017.
In the following three years, the group already picked up three Platinum singles and two Golds. Additionally, they garnered billions of streams and performed at one Sold Out show after another as well as garnered a claim.
The Shoreline group earned success with their tracks like "Musty," "Nun Major," "Serve a Boat," "Spaceship," and
Whass the Deal." It was OhGeesy's undeniable music that became a major part of what made these songs hit.
Later the group signed with Atlantic Records but the group drifted apart. Geesy explained this difficult decision is four people with four different visions wanting to do their own thing.
Other Ventures
After splitting from this Collective in April 2020, OhGeesy used these early days of the pandemic to focus on his first professional solo music. It took him over a year and in August 2021 he released his mixtape titled "Geezyworld." The featured artists were DaBaby and A Boogie wit da Hoodie.
After promoting the project by appearing in Comedy Central to modeling for OVO, his mixtape peaked at number 102 spot on the Billboard Hot 200. A year later OhGeesy released the deluxe version with even more features and then he hit the road to embark on his first solo tour.
He did his tour all across North America and never took a day off. OhGeesy began recording music on the road for his next tape when he wasn't busy performing on stage throughout 2022. He dropped the lead single from his second mixtape "Geezyworld2."
Outside of music, OhGeesy launched his own exclusive merchandise line sold through his GEEZYWORLD website. he also co-owns a Mexican seafood spot known as "Sunset Mariscos" which is located in West Hollywood.
Personal Life
OhGeesy has revealed any details about his married life but we do know that he became a father of a son in March 2019. The rapper started living a healthy after the birth of his son Sincere Juelz Coranza named after Nas and Belly. During the pandemic, he only focussed on his new family and began living a lavish lifestyle.
Career Highlights
Geezyworld (Debut album, 2021)
Secret Service (Official Music Video, 2021)
KEEPER (Music video, 2021)
Big Bad Wolf (Music video, 2021)
Get Fly (feat. DaBaby) (Music video, 2021)
GEEKALEEK (feat. Cash Kidd) (Music video, 2023)
OhGeesy Net Worth
OhGeesy is one of hip-hop's most celebrated Mexican rappers. He accumulated a lot of wealth and popularity throughout his successful career. OhGeesy is still at the start of his career and he has a lot more to do in music in the future.
His professional growth goes hand and hand with his decision to get healthier. Outside of making money from music and live concerts, OhGeesy is amassing a vast chunk of money through his businesses including a clothing line and Sunset Mariscos. As of 2023, OhGeesy's net worth is estimated to be $2 million.
You May Like: