SoFaygo is an American rapper and singer with a net worth of $1 Million. He came to popularity after the release of his 2020 mixtape "Angelic 7." That project contains his breakthrough single "Knock Knock" which was released in 2019 and became a viral sensation on TikTok. 

SoFaygo has been recording songs since he was in the 4th grade. He became one of the rising stars in the rap community and gained a lot of recognition at an early age. SoFaygo started getting offers from major labels thanks to his hit single "Knock Knock" which amassed over 200 million plays on Spotify.
His music eventually grabbed the attention of rapper Travis Scott who signed him under his label "Cactus Jack Records." From that point on SoFaygo began collaborating with big artists like Nav, Don Tolliver, and Trippie Redd.
What is SoFaygo's Net Worth?
[table id=207 /]
Early Life
Andre Dontrel Burt Jr. was born on October 3rd, 2001, in Grand Rapids, Michigan, USA. After spending a handful of years in Michigan the family relocated to North Atlanta, Georgia when he was 2 years old. SoFaygo grew up with his two younger brothers.
He always wanted to become a rap artist since his childhood. At the age of 9, he took his passion more seriously and began recording his first track while spending free time in his grandmother's house.
SoFaygo also began listening to the likes of Playboi Carti, Chris Brown, Chief Keef, Lil Uzi Vert, Lil Wayne, and Drake. While studying in the 4th grade he recorded his first song "Baby I Need You" with the help of his cousin. In terms of education, he graduated from Etowah High School.
Career
At the age of 14 years old SoFaygo dropped his first single "Ball Like Curry" which earned a few thousand views on YouTube. He adopted the moniker of Trvllinese and began producing more music. The rapper earned some recognition after the release of his single "Push Start (Hurt Heart)." Later he also worked at the local KFC.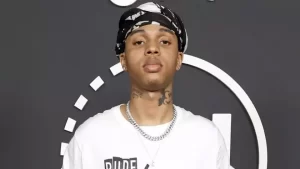 Breakthrough
The turning point of his career came in early 2018 when he changed his stage name from Trvllinese to SoFaygo. Under this new moniker, he dropped his EP "We Are Aliens." In 2019 he released his debut album "War" on SoundCloud which caught the attention of the rap community.
The lead single from the album, "Clutch" amassed a massive audience. By the age of 17 SoFaygo went to Los Angles where he collaborated with Lil Tecca and Taz Taylor. These artists helped him to produce his second mixtape titled "Angelic 7."
His breakout single "Knock Knock" was included in the mixtape and it accumulated a lot of success. The song not only became viral on TikTok but also garnered 60 million views on YouTube. Following the success, SoFygo released his 3rd mixtape "After Me" in December 2020. This project also contains some hit tracks including "Off the Map," "every day," and "Keep It Cool."
Other Ventures
SoFaygo's hit single "Knock Knock" helped him to land on the radar of Travis Scott and the folks over at Cactus Jack Records who then signed him to a contract in April 2021. He also got an offer to perform his breakthrough song in "Open Mic," a Genius's web series.
On November 11th, 2022, SoFaygo dropped his debut studio album "Pink Heartz" which singles like Fasho,  Hell Yeah, Another One, Let's Lose Our Minds and Blitz V2. The famous rapper Trippie Red asked SoFaygo to record his hit single "MP5″ which was included in Red's album "Trip at Knight." He was also featured in fellow rapper Don Toliver's song Smoke. 
Career Highlights
Angelic 7 (Mixtape, 2020)
Knock Knock (Song, 2019)
Pink Heartz (Debut album, 2021)
Everyday (Song, 2020)
Off the Map [Official Video, 2020]
Hell Yeah (Song, 2022)
SoFaygo Net Worth
SoFaygo is one of the up-and-coming rappers in the music industry. He came to the limelight after the release of his song "Knock Knock" in 2019. He gained further recognition after being featured in Trippie Red's "MP5" becoming his first entry on the Billboard Hot 100.

SoFaygo mainly earns from music sales, live shows, work with other artists, as well as his deal with Cactus Jack Records. Additionally, he has a strong fan following on social media outlets which also contributes to his fortune. As of 2023, SoFaygo's net worth is estimated to be $1 million.