Gigi Gorgeous is a Canadian YouTuber, actress, and model who has a net worth of $3 Million. She rose to fame after becoming a breakout star on YouTube under the name "Gregory Gorgeous".
Since posting her first video on YouTube back in 2008 her fans have witnessed her rise to fame. Then in 2013, she came out as transgender and started going by "Gigi Gorgeous".
Outside of YouTube, she gained a lot of popularity in showbiz for her appearance on a handful of series including the reality show The Avenue. Later, she got an opportunity to work with the likes of Miley Cyrus, Kim Kardashian, and Kylie Jenner.
What is Gigi Gorgeous' Net Worth?
[table id=433 /]
Early Life
Gregory Allan Lazzarato was born on April 20th, 1992, in Montreal, Quebec, Canada. Her father David Lazzarato is Yellow Media's audit committee chairman while her mother Judith was an investment adviser as well as real estate. Gigi's mother passed away in February 2012 after suffering from leukemia.
She grew up with two brothers Adam Lazzarato (former web manager at McMaster University) and Cory Lazzarato. Gigi has Italian, French, and Lebanese ancestry. In terms of education, she attended St. Francis of Assisi School before going to Iona Catholic Secondary School in Mississauga.
After high school, Gigi wanted to pursue her studies in fashion, so she went to George Brown College. Around that time, she was always making videos on YouTube, she dropped out of college to pursue YouTube career full time.
Career
Gigi began her career by launching her YouTube channel in 2008. At that time she was in the 11th grade in college and one of her friends encouraged her to start making makeup tutorial videos.
YouTuber followers first know Gigi as "Gregory", a gay male who was great at doing makeup tutorials. Since the age of 16, Gigi continued to make content for her channel which includes fashion, and lifestyle videos, as well as vlogs.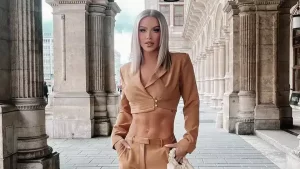 Breakthrough
In March 2011 the popular YouTube-based reality series called "The Avenue" began premiering in which she appeared and gained recognition all across the country. In April 2013 she was last seen on the show in The Avenue's final episode.
Later she began working for the LGBT community for which Gigi won the 2014 LogoTV Trailblazing Social Creator Award. In 2014 the famous designer Marco Marco heard about her and quickly asked her to model for him in the 2014 and 2015 fashion events.
In 2015 Gigi was invited by YouTuber Shane Dawson to appear as Amber in his short movie I Hate Myselfie. She returned for her role in I Hate Myselfie 2. Later that year Gigo collaborated with legendary singer Miley Cyrus to become part of her Happy Hippie Foundation to endorse Marie Claire's "#InstaPride" campaign. 
In July 2015 she was featured in the cosmetic commercial movie Better Than S*x. Her appearance in the film was part of her deal which she signed with Too Faced Cosmetics earlier that year. She also guest starred on the TV show Entertainment Tonight. Gigi Gorgeous has a net worth of $3 Million.
Other Ventures
It wasn't until December 2013 that Gigi announced herself as a transgender woman. Unlike many other celebrities, Gigi is super open about all of the work that she's gotten done leading up to her dream transformation.
On her YouTube channel, she covered most of her surgery experiences over the years. She documented her journey on YouTube as well as opened up about her struggles. As of now, she has more than 2.7 million subscribers on her YouTube channel.
Gigi caught the attention of artist Adam Lambert who offered her to appear in his music video "Another Lonely Night" in October 2015. From that point on she started getting featured in more music videos including Steve Aoki and Bella Thorne's Do Not Disturb, Madonna's God Control, and Willam Belli's Aileen. 
In early 2017 Gigi starred in Barbara Kopple's documentary This Is Everything: Gigi Gorgeous premiering at Sundance Film Festival. That same year, she found herself on the list of  25 most influential people on the Internet by Time Magazine.
Personal Life
In 2016 Gigi started dating a member of the Getty family named Nats Getty who is a model and fashion designer. She made headlines about their relationship in December 2016 when Gigi uploaded a YouTube video revealing that they had separated.
However, in the next year, the couple were together once again and began sharing pictures of themselves on social media. In 2018 the couple were on vacation in France where Nats eventually proposed to her. Their marriage ceremony was held in Montecito, California in July 2019.
Career Highlights
The Avenue (Reality series, 2011-2013)
2014 Logo TV Award, Trailblazing Social Creator _ Won
2017 Shorty Award, YouTuber of the Year _ Won
2017 Critics' Choice Award, Most Compelling Living Subject of a Documentary _ Won
2019 Streamy Award, United Award _ Won
Gigi Gorgeous Net Worth
Canadian-born internet celebrity Gigi Gorgeous became one of the most established stars on YouTube. Gigi's journey is one that's inspired many of her fans, and she has even been called "one of the most public-facing trans women on the planet."
Her popularity grew when she began hosting the popular YouTube series "The Avenue". From there she continued to appear on numerous television shows including The After Show, Project Runway All Stars, The Listener, About Bruce, Good Work, Daily Share, Access Hollywood, and many more.
Gigi makes money from several sources such as appearing on TV shows, making videos on YouTube, and brand endorsements. Additionally, she created her own cosmetic brand which is a great contributor to her wealth. As of 2023, Gigi Gorgeous' net worth is estimated to be $3 Million.
You May Like