Oliver Tree is an American singer-songwriter, filmmaker, and comedian who has a net worth of $5 Million. He rose to fame after releasing his breakthrough single "When I'm Down" in 2016. The track went viral and led him to receive several accolades.
Following the success, he continued to drop more hit music including his debut EP "Alien Boy" as well as the song "Hurt". In 2020 Oliver Tree came to popularity when he released his first studio album "Ugly is Beautiful" which became a big success in his career.
Despite releasing music, Oliver is also known for his most remarkable and entertaining interviews. This man has an account full of memes dedicated just to him and his infamous bowl haircut. Later, in 2022, he released his second studio album "Cowboy Tears".
What is Oliver Tree's Net Worth?
[table id=287 /]
Early Life
Oliver Tree Nickell was born on June 29th, 1993, in Santa Cruz, California. He spent multiple years traveling with his parents in the Pickle Family Circus. Both of his parents were acrobatics.
His musical origins sound believable, at first, claiming his introduction to the piano at the age of three and finding himself being naturally musically gifted. He wrote his first song at age five, wrote his first symphony at age six, and his first album was written when he was nine.
At that time he was the singer and guitarist in a rock band called "Irony". When Oliver was around the age of 14, he claims he was big into raves. His next musical project was becoming a DJ in high school. He also recorded music with the rap group called "Mindf***".
At that time Oliver and his friend were recording music in their parents' houses. From there he was able to open for some big acts like Skrillex, Frank Ocean, and Tyler, the Creator, while he was still in high school.
Career
Oliver began releasing music under his middle name "Tree" which was a genre-blending mixture of indie rock, rap, and everything in between. In 2010 he started his professional music career.
Oliver then took a short break from music to complete his music technology studies at the California Institute of the Arts. At first, he was attending San Francesco University but transferred to Los Angeles to focus on the music program.
In 2013, his first solo album titled "Splitting Branches" was uploaded on the YouTube channel called "Tree Collaborations". Tree says that it was after his scooter accident, that he was forced to reevaluate things and focus heavily on his potential as a musician. He continued to release music on his SoundCloud account.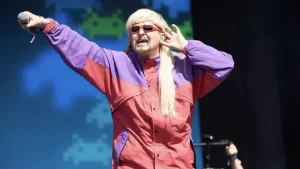 Breakthrough
At the age of 18, Tree signed to London-based Apollo Records as part of the R&S Imprint to release his debut EP called "Demons". Radiohead lead singer, Thom Yorke gave Oliver's music a co-sign after he heard his cover of their song "Karma Police".
Oliver had already recorded a demo version of the song and wanted to use it for his album. So his label came out to Radiohead and offered them the version. Yorke loved it and gave him the go-ahead. That version ended up on the album and was recorded in London.
Oliver says that some of the songs from the EP had over 100 tracks layered on top of one another. While Tree found some early success, he decided to put on his solo career. In 2016, Oliver released the song "When I'm Down" which started to make waves with its unique sound.
From there, Tree teamed up with Tanner Petulla who makes music videos under the name Getter. They created music together and released it online. One of Getter and Oliver's songs is currently sitting over 50 million views.
Further Success
In 2018, Tree finally blew up into the mainstream. It's Tree's music videos that have taken his career to the next level. Each one of his videos is filled with twists and turns and usually ends up in Oliver's untimely, yet comedic death.
In February of that year, Oliver released his Atlantic debut EP "Alien Boy" with a music video for the EP's title track. The video took him over 9 months to create from when he first started writing it. He performed all of his own stunts in the video, which include riding a mini motorized scooter and jumping a monster truck.
It was the music video for his song "Hurt" that grabbed the attention of his new fans as Oliver traveled to UKrain to film the video. That video cost him over $1 million to make. The initial budget was $500k but then Oliver pushed it up to a million.
The music video for "Hurt" was uploaded in late 2018 and it reached a million views within the first week. Additionally, the song received some Radio play as well. In July 2020, Tree dropped his major-length studio album "Ugly is Beautiful" which also contains the hit single "Hurt". Two years later, his second studio album "Cowboy Tears" came out which includes the song "Cowboys Don't Cry."
Other Ventures
Outside of music, Oliver developed an interest in making comedy content, writing, and directing, as well as kick scooters. At the age of 18, Tree was competing in a scooter competition and during that time his bike crashed. As a result, he broke his left wrist and a couple of more joints.
According to Oliver, he was also signed to Junior Syndicate Team. In the year 2020, Tree made a Guinness world record for having the largest kick scooter in the globe. He posted a clip of himself riding the bike. That same year he got a chance to appear in an episode of the 'H3 Podcast".
Apart from that, Oliver earned success on social media when a Vine of his went viral. It was in that Vine that he took on the persona of a man named "Turbo". Later, he continued to build his audience on Vine. Oliver Tree has also worked with some of the biggest digital companies on skits and videos including "Barstool Sports" and "F*** Jerry".
It was a combination of his bowl cut and his speed sunglasses that became his new online identity. That quickly caught on and grew his exposure as a meme. This internet buzz resulted in labels recognizing his unique talents and Tree signed with Atlantic Records.
Personal Life
Oliver Tree began dating fellow singer and actor Melanie Martinez in 2019. They were in a relationship for just one year and ended up separating in July 2020. The news about their breakup came out when Melanie unfollowed him and deleted all of his pictures from her Instagram.
Real Estate
All of the success has allowed him to build himself a mansion that includes a Segway room, and a storage room for his marble tiles. Over the years, Oliver Tree accumulated a net worth of $5 Million.
Career Highlights
When I'm Down (Song, 2016)
Ugly Is Beautiful (Debut studio album, 2020)
Life Goes On (Song, 2021)
Miss You (Song, 2022)
Cowboy Tears (Second album, 2022)
2020 Guinness World Record, Largest Kick Scooter _ Won
2022-2023 Kids' Choice Awards, Favorite Social Music Star _ Nominations
Oliver Tree Net Worth
Oliver Tree has established himself as one of the top singers and content creators in the country. He began his music career around 2010 and then tried his hand at various professions. Oliver found success in music after releasing his hit single "When I'm Down" in 2016.
His source of income comes from various sources such as releasing albums, collaborating with other celebrities, as well as some business ventures. As of 2023, Oliver Tree's net worth is estimated to be $5 Million.