Melanie Martinez is an American singer and actress with a net worth of $9 Million. She rose to fame after releasing her debut album "Cry Baby" in 2015 which went certified double-platinum by RIAA.
Melanie is also known for appearing in the talent show "The Voice" in 2012. Since participating in this reality show, she became a household name in the music industry. Over the years, she has released numerous hit singles all of which made her a lead name in music.
Before all of that success, Melanie created her self-titled YouTube channel in 2007 and began uploading music videos on it. As of now, she amassed nearly 15 million subscribers.
What is Melanie Martinez's Net Worth?
[table id=274 /]
Early Life
Melanie Adele Martinez was born in Astoria, Queens, New York, on April 28th, 1995. She was raised by her father Jose and mother Mery Martinez. She has Dominican and Puerto Rican ancestry. When Melanie was 4 years old her parents moved to Baldwin, New York, on Long Island where she grew up with her younger brother Joseph.
Growing up she began listening to the likes of Shakira, Britney Spears, Tupac Shakur, The Beatles, and Christina Aguilera. Her talent as a singer was obvious when she was very young so her parents decided to put her into some singing lessons before she even attended school.
While in Baldwin, she went to study at the Plaza Elementary School where she was given singing classes by her music teacher. Around that same time, she was also developing an interest in writing poetry. Despite her love for singing, she was also interested in photography and painting.
Later, she enrolled at Baldwin High School and as she grew older, her passion for arts continued to blossom. She trained herself to play the guitar and won the Baldwin High School's singing competition.
Career
Melanie began her singing career by creating her YouTube channel in 2007. She began posting singing videos however most of them have been deleted. After crafting her talent for a handful of years, Melanie participated in the "MSG Varsity Talent Show" in 2012.
She finished her first round but was eliminated in the second. Her next big audition came on the third season of "The Voice" in that same year. Melanie stated that when she and her mother were driving to the audition, her mom's car broke down and they had to hail a taxi to get there on time.
Early Success
Despite the extra stress, Melanie passed the audition process and was made a contestant on the show. This season of "The Voice" was judged by Blake Shelton, Adam Levine, Cee Lo Green, and Christina Aguilera. In her audition, she performed Britney Spears's "Toxic" and got three chair turns from Blake, Adam, and Cee Lo. Melanie picked Adam Levine as her coach.
On the show, she battled against "Caitlin Michelle" in the second round with Ellie Goulding's song "Lights". From there, she was selected by Adam to move on to the knockout round for which she performed La Roux's "Bulletproof".
After clearing the third round, Melanie entered the live shows, she was supported by public votes for her song "Seven Nation Army" as well as "Too Close". She finished at the number ten and six positions on iTunes, respectively. She passed five rounds and was eliminated in the 6th week of the live shows.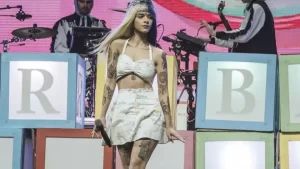 Breakthrough
After The Voice show, Melanie got back to work, writing original songs throughout 2013. She dropped her debut single "Dollhouse" on Feb 9th, 2014. The music video of the song has been viewed on YouTube over 360 million times.
She released her debut extended play "Dollhouse" on May 19, 2014. Her single from the EP "Carousel" was also certified Gold by the RIAA. In mid-2015, Melanie dropped her single "Pity Party" which was certified Gold by the RIAA. Her album "Cry Baby" debuted at number 6 on the Billboard 200 and has also been certified platinum.
Later in 2019 her second debut album "K-12" came out. She followed that up by releasing her EP "After School" a year later. Melanie Martinez accumulated a net worth of a whopping $9 million through releasing her music.
Other Ventures
At the age of 16, she decided to dye half of her hair blonde, just so she could look like Cruella de Vil. As a teenager, Melanie was receiving a lot of criticism and far more bullying from her peers.
At that time her musical influences started to evolve and she would cite Neutral Milk Hotel, Feist, Kimbra, Zooey Deschanel, Regina Spektor,[28] and CocoRosie as major influences of her.
In April 2014, Melanie made a contract with Atlantic Records and declared that she would be going on tour. In March 2023, the singer released her third studio album "Portals" which features "Death" as the album's lead single. At the end of that month, Melanie went on to promote her album at "2023 Lollapalooza".
Outside of music, Melanie tried her hand at acting as well as business. In 2015 she partnered with cosmetics firm "Lime Crime, Inc" and launched two lipsticks including "Cry Baby" and 'Teddy Bear". In the following year, she appeared in the Cry Baby Perfume Milk commercial.
Personal Life
Melanie Martinez dated music producer Michael Keenan, from 2015 to 2016. They even announced their relationship on social media in Feb 2016. From there the couple posted numerous pictures together on Instagram. However, their relationship didn't last long and the two broke up in 2018.
A year later, Melanie began dating singer Oliver Tree and it only lasted for one year. In July 2020 the couple separated as Melanie unfollowed Oliver on social media.
Career Highlights
The Voice (Talent Show, 2012)
Cry Baby (First album, 2015)
Dollhouse (Debut single, 2014)
Pity Party (Song, 2015)
Sippy Cup (Song, 2015)
Mrs. Potato Head (Song, 2015)
Cry Baby (Music video, 2016)
2020 Billboard Music Award, Top Soundtrack _ Nomination
Being listed on "Forbes 30 Under 30 list of musicians in 2021
Melanie Martinez Net Worth
Melanie Martinez is a seriously talented artist who has built up an extremely loyal fan base around the world with her music and her performance. It was her outstanding performance on "The Voice" that allowed her to reach a massive audience in the millions.
Apart from television shows, Melanie makes money from recording, writing, and releasing her own work. Not to mention, the singer has been endorsing and creating her own brands since 2015. As of 2023, Melanie Martinez's net worth is estimated to be $9 Million.
You May Like: