Ava Max is an American singer and songwriter who has a net worth of $10 Million. Ava rose to fame after the release of her breakout single, "Sweet but Ps#cho" in August 2018.
That song became such a massive success, reaching at #1 spot in the music charts of Norway, Finland, and Sweden. Ava released that track under the record label Atlantic Records with who she signed in 2016.
Ava would see that song and her single "Kings and Queens" chart on the Billboard Top 50 and continue to drop bangers from there. Since then she's become an influential force in the music industry. In late 2020 she was in the limelight with the release of her debut album, "Heaven & Hell."
What is Ava Max's Net Worth?
[table id=131 /]
Early Life
Amanda Ava Koci was born on February 16th, 1994, in Milwaukee, Wisconsin. Her parents Pavllo and Andromaqi both were Albanian immigrants who fled their homeland after the fall of communism. Her mother was a trained opera singer and her father played the piano quite successfully.
They spent a year living in Paris's Red Cross-supported church. There, Pavllo and Andromaqi met a woman who they befriended and offered them passports for immigration to the US. When they arrived in America not only did they have no money they didn't even know the language.
Although that made their life hard it didn't stop Ava from learning a lot from her parents who were both musically gifted. By the time Ava was 8 years old, the family moved to Virginia where they lived in Hampton Roads. As a young kid, Ava was a huge Britney Spears fanatic.
In terms of education, Ava attended Lexington High School where she would get bullied. She later attended a high school in South Carolina for a year. Then she was homeschooled.
Career
During her years in Virginia, her own passion for music began to take hold. She started by competing in singing competitions such as Radio Disney at a "Mall in Chesapeake."
She then made her stage debut at the age of only 10, as an opening act, performing Whitney Houston's song, "I Wanna Dance with Somebody (Who Loves Me)."
Ava often traveled to Florida to perform in singing competitions and begin releasing music under the nickname "Amanda K." At the age of 13 she came up with the name, "Ava" for herself, replacing the name her parents gave her.
After that, she went to participate in the "Talent Rock" competition which took place in Florida. There she competed against 3,000 other kids and placed in the top 3. Her parents recognized their daughter's talent and dedication. The family packed up their belongings and moved to Los Angeles for Ava's music career when she was 14.
She then relocated to South Carolina a year later and began writing songs. At the age of 17, she and her older brother moved back to LA in the hopes of igniting her career. Eventually, Ava hooked up with one of her friends, a producer named, Cirkut.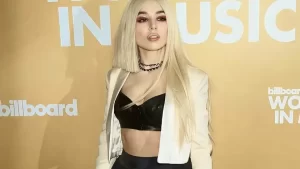 Breakthrough
It was at Cirkut's birthday party that Ava performed "Happy Birthday" for him. After hearing her voice Cirkut knew he just had to work with her. The two hit the music studio and began recording tracks. The turning point of her career came when Ava and Cirkut uploaded the song, "Anyone But You" on SoundCloud.
Before long, record labels were taking notice and in 2016 Ava was teaming up with Atlantic Records. After signing her new deal, she came up with the last name of Max for herself. At that time Ava was making headlines due to the way she looked.
Ava's hit single titled, "Sweet but Ps#cho" was released in August 2018 and became her big breakthrough immediately. It was a number-one hit in more than 20 countries around the world including the UK where it stayed at number one for a month.
By March 2019 Ava was releasing her follow-up single, "So Am I" which also found a whole ton of success around the world. Over the following months, she dropped more and more tracks on her way to releasing her debut album.
Further Success
In September 2022 Ava released her debut studio album, "Heaven & Hell." That project went on to peek at the number 2 spot on the UK Albums chart and #27 on the Billboard 200. In 2021, she released "EveryTime I Cry" which she dubbed the continuation of her prior studio album.
Ava also followed up with some collab songs including, "The Motto" with Tiësto. During an interview in March 2022, she acknowledged that her second studio album was written the previous year during a personally difficult time.
The album's lead single, "Maybe You're the Problem" came out in April 2022. In June of that year, Ava announced her second studio album, "Diamonds & Dancefloors." The album is scheduled for release on January 27th, 2023.
She has already released three further singles from the album which included "Million Dollar Baby, "Weapons, and "Dancing's Done." Ava often collabs with some high-profile artists such as Alan Walker on the track, "Alone, Pt. II", and many others.
In September 2018, the popular singer, David Guetta released his album, "7" and Ava was featured in one of his album's singles, "Let It Be Me."
Car Collection
Range Rover Sport
Mercedes CLS
Career Highlights
Here are some of the career highlights of Ava Max's Career:
Sweet but Ps#cho, (Single, 2018)
Heaven & Hell, (Debut Album, 2020)
Diamonds & Dancefloors, (Second Album, 2023)
Million Dollar Baby, (Song, 2022)
Being named in Forbes' 30 Under 30 list of musicians
2019 Attitude Awards, Breakthrough Award, _ Won
2019 MTV Europe Music Awards, Best Push Act, _ Won
2021 Top Hit Music Awards, Best Female Artist Song, _ Won
Ava Max Net Worth
Ava Max is a popular singer and songwriter from Milwaukee, Wisconsin. She is one of the most successful and rising artists in the music industry. Ava began her career in 2018 and she earned massive fame in a short period.
It's clear the singer didn't have the easiest road to fame but she made it because she keeps giving us hit song after hit song. Her new album, "Diamonds & Dancefloors" is highly anticipated and it would become another major success for her.
Ava mainly earns from music sales, live concerts, albums, and collaborations with other artists, as well as from YouTube. She has more than 6 million subscribers on her self-titled YouTube channel. Even some of her music videos earned over 100 million views. As of 2023, Ava Max's net worth is estimated to be $10 Million.
You May Like: