Doechii is an American rapper who has a net worth of $1 Million. She is one of the new rising stars and gaining attention for her artistic uniqueness. Jaylah Hickmon also known as Doechii started her music career in 2015 when she released her debut single "Girls" on SoundCloud.
Her first EP was completely self-funded and released in 2020. Not long after Doechii's breakout single "Yucky Blucky Fruitcake" went viral on TikTok. Following the success of that song, people seem to be paying much more attention to her unique fashion choices and chaotic character.
Doechii's music eventually caught the attention of record labels and she made a deal with Top Dawg Entertainment and Capitol Records. Under the label, the rapper dropped her sophomore extended play and earned MTV Video Music Award nomination.
What is Doechii's Net Worth?
[table id=164 /]
Early Life
Jaylah Ji'mya Hickmon was born on August 8th, 1998, in Tampa, Florida, USA. She hasn't revealed any information about other parents and siblings because the rapper is private about her personal life.
While growing up in Tampa, she developed an interest and began participating in gymnasts, acting,  tap dancing, and ballet, as well as cheerleading. Later she began listening to artists like Nicki Minaj and Lauryn Hill.
In terms of education, she went to study at Howard W. Blake High School where she wrote her first song while studying in the sixth grade. She got a chance to perform the song on one of the talent shows with the crew.
Career
In December 2014 Doechii created her YouTube channel and uploaded her first video "Do you want to build a snowman – Iamdoechii" in January 2015. Around that time she was also working on recording her music.
In the following year, she dropped her first single "Girls" on SoundCloud under the moniker of Iamdoechii. Along with music, she was also uploading vlogs on her YouTube channel. In 2019 her song "Spookie Coochie" came out.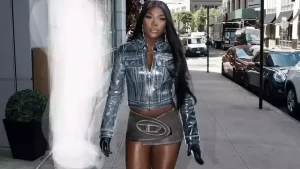 Breakthrough
In May 2019 Doechii released her music compilation "Coven Music Session, Vol. 1." She followed this up by releasing her debut EP "Oh the Places You'll Go" in November 2020.
The project also contains her breakthrough single "Yucky Blucky Fruitcake" which was released in September of that year. It quickly went viral on TikTok and earned her a lot of popularity in the music industry.
That song became the turning point of her career and grabbed the attention of record labels. Doechii gained further recognition after the release of her second extended play "BRA-LESS" in 2021. She was featured in Isaiah Rashad's hit single "Wat U Sed."
Other Ventures
In March 2022 Diechii signed a record contract with Capitol Records and Top Dawg Entertainment. Under the deal, she got an opportunity to make her guest appearance in David Guetta, and Afrojack's single "Trampoline" featuring Missy Elliott and rapper Bia.
Doechii is currently working on recording more songs and also released a single "Cra#y" in April 2022. Later that year she made her appearance on The Tonight Show starring, Jimmy Fallon, in which she performed her song "Persuasive" and then uploaded it on her channel.
Career Highlights
2023 Billboard Music Award, Rising Star of the Year _ Won
Oh the Places You'll Go (Debut EP, 2020)
Yucky Blucky Fruitcake (Song, 2020)
Persuasive (Song, 2022)
2022 MTV Video Music Award, Performance of the year _ Nomination
Doechii Net Worth
Doechii is one of the up-and-coming rappers in the American music world. She came to the spotlight after the release of her 2020 song "Yucky Blucky Fruitcake." That track helped her to sign deals with record labels.
She accumulated a vast chunk of money by releasing songs and music videos. Doechii mainly earns from her YouTube channel, record labels, live concerts, and collaborations with other artists. As of 2023, Doechii's net worth is estimated to be $1 Million.
You May Like: