Tinashe is an American singer, dancer, and actress who has a net worth of $6 Million. She is best recognized for her involvement in a famous pop girl group, "The Stunners." She was a member of the group from 2007 to 2011 and then began her solo career.
Tinashe rose to fame when she got the recurring role as Celeste Burnett in the television series, "Two and a Half Men." Following her success in acting, she continued to appear in films and TV shows.
Along with that, Tinashe gained a lot of popularity in the music industry with the help of releasing a handful of mixtapes like, "In Case We Die," "Reverie," and "Black Water." She often collaborates with prominent artists such as Iggy Azalea, French Montana, Ty Dolla $ign, MAKJ, and more.
What is Tinashe's Net Worth?
[table id=90 /]
Early Life
Tinashe Jorgenson Kachingwe was born on February 6th, 1993, in Lexington, Kentucky, USA. She is the eldest child of Aimie and Michael Kachingwe. Her father Michael and mother Aimie, both were college professors. She grew up with two younger brothers, Thulani, and Kudzai Kachingwe.
As a child, Tinashe developed an interest in acting and modeling, she even began her career at just 3. A year later she began participating in dance competitions after learning ballet, tap, and jazz dancing. Tinashe was just 8 years old when her family decided to move to Los Angeles, California.
Tinashe studied at Crescenta Valley High School, which she finished earlier to pursue her music career. While studying in high school she faced the difficulty of bullying.
Career
Tinashe made her film debut in the TV movie "Cora Unashamed," in 2000, in which she played the role of Josephine. In 2003 she had her first featured role as Mrs. Brown's Daughter in the comedy film, "Masked and Anonymous."
In the following year, Tinashe made her debut as a voice artist in the animated television series, "Rocket Power." She portrayed the voice character On Ji, in an episode of the 2007 animated TV series titled, "Avatar: The Last Airbender." These performances led her to earn lead roles in big projects.
From 2007 to 2008 Tinahse appeared as Robin Wheeler in the hit animated TV series, "Out of Jimmy's Head." She received a Young Artist Award nomination for "Best Supporting Young Actress."
In 2007 Tinashe joined the pop girl group, "The Stunners," created by singer Vitamin C. Other members of the group include Marisol Esparza, Kachingwe, Allie Gonino, and Hayley Sanders.
They began making music and six months later they eventually signed a deal with Columbia Records. In 2009 they dropped a hit single, "Bubblegum," and signed another deal with Universal Republic Records a year later.
Following this, the group got an offer to perform as an opening act at Justin Bieber's "My World Tour." However, The Stunners broke up in 2011 and Tinashe started her solo career.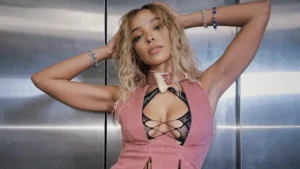 Breakthrough
On May 3rd, 2011, Tinashe got an opportunity to perform the National Anthem at the "Dodgers vs. Cubs game." In June of that year, she released her debut music video, "How to Love," a cover of Lil Wayne's single.
In February 2012 she released her debut mixtape, "In Case We Die," and then signed a deal with RCA Records. She followed this up with her second mixtape, "Reverie," in September of that year. These tapes became a success and led her to release her third mixtape, "Black Water."
In 2014 Tinashe released her debut single, "2 On" which went viral, peaking at #24 on the US Billboard Hot 100 list, and #1 on the Rhythmic Top 40 list. In October, she dropped her debut studio album "Aquarius," which contains 18 tracks. The project hit the USA's R&B albums list, charting at #2.
Then the breakthrough moment of her career came when she appeared as a featuring artist in the hit single,  "Jealous" remix, by Nick Jonas. In 2016 she won the Ivor Novello Award for her collaboration with Chance the Rapper and Snakehips's hit single "All My Friends." That year, Tinashe's second studio album, "Nightride" came out and reached #8 on the US Top R&B/Hip-Hop Albums chart.
Further Success
Tinashe came to the spotlight once again in 2018 following the release of her third album, "Joyride." This album was a massive success, peaking at #58 and reaching #6 on the Billboard 200 chart and UK R&B Albums chart, respectively. She left RCA Records and began releasing her albums independently.
Her fourth studio album "Songs for You" was released in 2019. She followed this up with her fifth studio album, "333" in August 2021. She also teamed up with Calvin Harris, Normani, and Offset to release the hit single, "New To You" in July 2022.
Outside of music, Tinashe appeared alongside Tom Hanks in the 2014 film, "The Polar Express" and then numerous other movies and TV shows. In 2006 she acted in films, Akeelah and the Bee, Holly Hobbie, and Friends: Surprise Party, and Holly Hobbie and Friends: Christmas Wishes. 
Personal Life
Tinashe and Australian basketball player, Ben Simmons made their relationship in November 2017. However, it didn't last long and they broke up in May 2018, after dating for only six months.
Real Estate
The multifaceted artist Tinaseh is celebrated for her versatile musical style. Tinashe has a net worth of $6 Million and she likes to live a luxury lifestyle. She owns a stunning Hollywood Hills home that features plenty of luxuries including a recording studio and her cozy bedroom with breathtaking views. In Tinashe's house, there is a well-organized walk-in closet filled with fashionable clothes made for a popular music icon.
Car Collection
Matte Black Ferrari
Luxury Tour Bus
Career Highlights
Aquarius, (Debut Album, 2014)
Joyride, (Third Album, 2018)
Two and a Half Men, (TV Series, 2008-2009)
Young Artist Award, Best Performance in a TV Series (2008) _ Won
BMI R&B/Hip-Hop Awards, Most Performed R&B/Hip-Hop Singles (2015) _ Won
Ivor Novello Awards, Best Contemporary Track (2016) _ Won
Tinashe Net Worth
Tinashe is an American singer, songwriter, dancer, and actor from Lexington, Kentucky. She is one of the most popular celebrities in the American film and music industry. Tinashe made a name for herself by releasing hit music.
She first came to the limelight after being a member of the music group, The Stunners. Tinashe's earnings come from various sources including TV shows, films, commercials, live concerts, as well as releasing her music. As of 2023, Tinashe's net worth is estimated to be around $6 Million.
You May Like: