Alycia Debnam-Carey is an Australian actress with a net worth of $4 Million. She rose to fame after having the role of Alicia Clark in the AMC's horror series "Fear the Walking Dead" in 2015.
Alycia is also known for landing a recurring role as Commander Lexa on the action drama series "The 100". The show ran on The CW from 2014 to 2016. The actress began her career back in 2003 with her film debut Australian short drama Martha's New Coat. 
What is Alycia Debnam-Carey's Net Worth?
[table id=432 /]
Early Life
Alycia Jasmin Debnam-Carey was born on July 20th, 1993, in Sydney, New South Wales, Australia. Most of her family members worked in arts and entertainment.
Alycia's father Keith Debnam was a musician and sound engineer while her mother Leone Carey was a children's TV writer. As a kid, Alycia and her younger brother Angus helped their mom act out the program segments that she wrote for her kid's show.
She also has an older sister named Isabelle, a writer and producer. Her mom contributed her work to a handful of Australian television shows. Both of her parent's respective careers inspired Alycia to get involved in the arts as well.
Alycia began acting at the young age of eight and also studied classical percussion for about 10 years. She attended Newtown High School of the Performing Arts where she was a percussionist and graduated in 2011.
Career
Alycia had her first role when she was 10 years old in 2003 when she starred in a short feature called "Martha's New Coat". Then in 2006, she guest starred in the Australian series "McLeod's Daughters".
Two years later, she was in the TV film "Dream Life" as well as the short drama movie "Jigsaw Girl". Later, she had supporting characters in the short movies including At the Tattooist and The Branch. She also guest-starred in the drama series "Dance Academy".
During her last year in high school, Alycia went to the United States with her mom to kick off her acting career. She began to work in Hollywood when she was just 18 years old. In 2013 she got a chance to appear as the youngest cast member in the six-part documentary "Next Stop Hollywood".
After 2 weeks in LA, Alycia was asked to audition for an independent thriller movie set in the Amish community. She was offered the lead role in this film later called "The Devil's Hand" which she began shooting in North Carolina.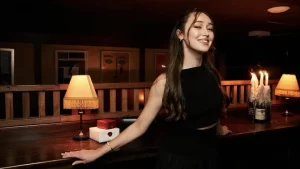 Breakthrough
In 2014 Alycia landed a supporting role in the film "Into The Storm" and her big break on TV would soon be coming. The CW show "The 100" aired at the end of 2014. Alycia guest starred in the 2nd season as Commander Lexa.
Alycia also became cast in one of the lead roles in AMC's "Fear the Walking Dead" at the end of 2014. She played Alicia Clark in this horror series which earned her popularity. At this time she was still working on "The 100".
Fear the Walking Dead premiered in the summer of 2015 and Alycia found herself a breakout TV Star that year for her roles on both shows. She won numerous awards for her performances and received critical acclaim for her portrayal of Lexa on "The 100". Alycia Debnam-Carey accumulated a net worth of $4 Million.
Other Ventures
Between 2017 and 2019 Alycia was in the big role of Laura in the film "Friend Request" as well as the crime drama "A Violent Separation". In 2022, the actress made her directorial debut in a season 7 episode of Fear the Walking Dead on the 11th episode of the season titled "Ofelia".
Alycia stated that she had always been interested in directing since taking a film class in school where she made a short movie. In 2022, she announced that she wouldn't be returning to "Fear the Walking Dead" following that season.
She landed two major roles for 2023: playing Alice Hart in "The Lost Flowers of Alice Hart" alongside actress Sigourney Weaver. After briefly returning to her home in Sydney to shoot the show, Alycia received an offer through the Hulu series titled Saint X.
Career Highlights
The 100 (The CW's drama series, 2014 to 2016)
Fear the Walking Dead (Horror series, 2015–2022)
Saint X (TV series, 2023)
The Lost Flowers of Alice Hart (Miniseries, 2023)
2016 MTV Fandom Award, Fan Freakout of the Year _ Won
2017-2018 Saturn Awards _ Nominations
Alycia Debnam-Carey Net Worth
Alycia Debnam-Carey started her acting journey in the Australian entertainment industry and now become one of the lead actresses in Hollywood. She came to the spotlight when she began appearing in the hit series The 100.
Her popularity grew with her appearance in the horror series Fear the Walking Dead. After 7 successful seasons starring Alicia Clark on Fear the Walking Dead, Carey chose to leave the post-apocalyptic hit show in late 2021 to try out some new roles.
Considering members of her family also served in arts and showbiz, it seemed like a natural path to take and Alycia began her acting career as a child. As of 2023, Alycia Debnam-Carey's net worth is estimated to be $4 Million.
You May Like