Wendy Guevara is a Mexican singer and social media influencer who has a net worth of $1 Million. She came to the spotlight when she uploaded a video titled "We Are Lost" which went viral.
Thanks to this clip, she gained a massive following on various social media platforms including Instagram, Facebook, Twitter, and YouTube. Her story of resilience and authenticity has taken her from modest beginnings to a powerful influence in the entertainment industry.
Throughout her life, she has faced several challenges that could have brought her down, but instead, she has transformed them into opportunities to grow and empower herself. Wendy is a famous Latina blogger who has gained popularity in recent years.
What is Wendy Guevara's Net Worth?
[table id=473 /]
Early Life
Luis Carmelo Guevara Venegas was born on August 12th, 1993, in the neighborhood of El Coecillo, in León, Guanajuato. She was attracted to men and showed more interest in women's makeup and clothing from an early age.
Wendy has faced challenges and adversity throughout her life. Despite these problematic episodes, she always knew that her identity aligned with femininity. However, it took time for her to reveal her true identity to her family, but she was eventually accepted and supported by them.
Career
In her early years, she dedicated herself to working with her father to create bags and foot shoes. Later, she abandoned her studies and tried her hand at modeling.
Before launching her career, she needed her stage name so she nicknamed her Wendy inspired by a character played by the actress Angélica Vale in the soap opera Amigas y rivales.
Wendy began her professional career as a content creator by teaming up with two of her friends. These three women began uploading content on social media which includes makeup tutorials.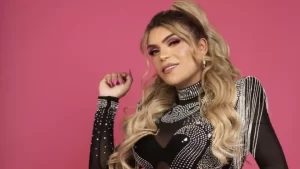 Breakthrough
Wendy Guevara rose to fame when a video titled We Are Lost starring Paola and Wendy went viral on social networks. That clip became so viral that it opened the doors of fame for them.
From that point forward, Wendy and Paola created their YouTube channels and began to share content, becoming more popular. Later, Kimberly Irene joined them and began collaborating with Paola and Wendy, creating more content, although she didn't appear in the original video with Wendy and Paola.
Other Ventures
In addition to her presence on social media platforms, Wendy dabbled in music, collaborating and also generating their own songs. She along with Paola and Kimberly involved in the world of trans-performing shows and live performances that allowed them to connect with massive audiences.
Wendy gained a lot of recognition for her appearance on the Mexican reality show La Casa De Los Famosos which broadcasted on the ViX app and Televisa channel. On the show she created a friendship with the famous Poncho De Nigris who has expressed that he would like Wendy to be a winner.
Wendy uses her platform to promote social causes. She participated in a number of campaigns against discrimination and in favor of inclusion, working in an organization that defends the rights of the LGBTQ Community Plus.
Career Highlights
We Are Lost (Video, 2017)
House of Celebrities (Reality show)
Wendy Guevara Net Worth
Wendy Guevara has become one of the most prominent figures on the internet and in the world of entertainment. Her participation in the show called House of Celebrities has generated a stir and the stake catapulting to success.
Since Wendy entered her personality it has made a difference among the participants without a doubt. Thanks to her outstanding content, she has become the public's favorite and has been nicknamed The Queen of Ratings. 
Wendy makes money from her appearance on the reality show as well as promoting brands on social media. She is so much more than a blogger or a reality show contestant. As of 2023, Wendy Guevara's net worth is estimated to be $1 Million.
You May Like