Gabbie Hanna is an American Internet and YouTube personality who has a net worth of $3 Million. Despite just being a YouTuber, Gabbie is an actress, author, comedian, and singer-songwriter.
Hanna rose to fame when she created "The Gabbie Show" and her vlog channel, earning herself a total of over 6.5 Million subscribers. Gabbie gained further popularity after collaborating with some of the biggest creators on the platform.
She teamed up with Lilly Singh, Miranda Sings, Joey Graceffa, Ricky Dillon, and Shane Dawson and uploaded a lot of content. Besides this, Gabbie dropped her debut song Out Loud in 2017 which caught the attention of the larger audience.
What is Gabbie Hanna's Net Worth?
[table id=628 /]
Early Life
Gabrielle Jeannette Hanna was born on February 7th, 1991, and was raised in New Castle, Pennsylvania. She is mainly of Lebanese, French, and Polish descent. Gabbie grew up in a loving home with six siblings, five sisters and one brother.
As a kid, Hanna was energetic, and it was her rambunctive personality that inspired her to create her account on Vine and YouTube. Gabbie attended the University of Pittsburgh where she majored in psychology with a minor in Economics.
But after graduating from college, she didn't continue her psychology education and ended up working as a waitress. It was while serving tables that Gabbie first got into Vine.
Career
Gabbie originally registered her Vine account under her real name in late 2013. However, when she got going, she decided that the content she was producing might make it harder for her to get a job. Soon, she changed the name of her account to "The Gabby Show".
Gabbie started blowing up online and garnered a large following through sharing impressive content. Slowly but gradually, she earned over 4.9 million followers and over 3 billion loops. Following her success, she relocated to Los Angeles to pursue her career as a Vine Star. However, the platform shut down in 2016.
From there, Gabbie built a Facebook page, Snapchat, Twitter, and Instagram and continued to earn a large following on those platforms as well.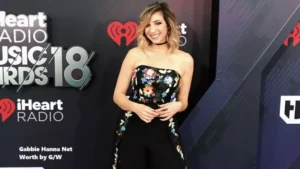 Breakthrough
The biggest breakthrough moment of Gabbie's career came when she joined YouTube. While most YouTubers generally build a main channel before creating spin-off channels, Gabbi was already so popular online that she felt comfortable starting two channels almost simultaneously.
Gabbie's vlog channel was created on January 25th, 2014 with her first video posted seven months later on August 27th. The Gabbie Show channel (although far more popular today) was created a couple of weeks after the vlog channel on February 11, 2014.
Her first video on The Gabbie Show channel was posted once again seven months later on September 10, 2014. She posted a Q&A video and on her vlog channel, it was a Vine compilation. Both channels grew steadily over time as her fans from Vine discovered her on YouTube. Gabbie Hanna has a net worth of $3 Million.
Other Ventures
Outside of social media, Gabbie is also known for her work in films. In 2015 Awesomeness Films produced a comedy movie called Janoskians: Untold and Untrue in which Gabbie was featured. The following year, she appeared in the comedy film Laid in America.
From there, Hanna continued to appear in one project after another including Oscar's Hotel for Fantastical Creatures, Sanders Shorts, Dance Showdown, All My Plants are Dead, Creator to Watch, Escape the Night, Total Request Live, Ice Cream Therapy, Betch!, Occupy Alice, Teens Wanna Know, and Anxt.
Additionally, Gabbie tried her hand at music by releasing songs and EPs such as Monster, Honestly, Call Me Crazy,  Out Loud, Bad Karma,2WayMirror, Glass House, Butterflies, You Oughta Know, Medicate, and more.
You May Like
Personal Life
From a young age, Gabbie felt like she was fat, even though she wasn't. As a result, she explained that she spent an unhealthy amount of time thinking about and worrying about food.
Gabbie would go days without eating and struggle with eating disorders. Eventually, Gabbie dealt with the problem healthily, working with a therapist and focusing on a healthy diet and exercise.
Gabbie began dating Payton Saxon in August 2019. Gabbie shared a poem she wrote on Twitter after their 2nd date.
Career Highlights
Out Loud (Single, 2017)
Adultolescence (Debut book, 2017)
2018 Streamy Award in the category of Storyteller
This Time Next Year (Album, 2019)
The Gabbie Show (YouTube channel)
Winning the Dance Showdown (season four, 2015)
Gabbie Hanna Net Worth
Gabbie Hanna is one of the most recognized social media stars in her country. She earned immense fame by making a name for herself as "The Gabbie Show".
Thanks to her unique and creative comedic videos, Gabbie accumulated millions of followers on different social media outlets, particularly on Vine and YouTube.
She became an internet sensation and gathered millions of dollars. Gabbie mainly earns from her channels as well as brand endorsements such as appearing in a commercial for Verizon. As of 2023, Gabbie Hanna's net worth is estimated to be $3 Million.