Bobbi Althoff is an American TikTok star and YouTuber who has a net worth of $4 Million. She earned herself a growing online audience thanks to short-form content. Her content focuses on married life, motherhood, fashion, beauty routines, and a lot of comedy.
Bobbi launched her podcast with guests like Rick Glassman, rapper Drake, and Funny Marco. She earned over 823k subscribers on her eponymous YouTube channel and more than 2 million followers on Instagram. Not to mention, Bobbi has millions of followers on her TikTok profile.
The podcast host, Bobbi came to the spotlight when she interviewed one of the biggest hip-hop stars, Drake on her channel. The clips from Bobbi's new series "The Really Good Podcast" began popping up all over social media in July 2023.
What is Bobbi Althoff's Net Worth?
[table id=556 /]
Early Life
Bobbi Alexandria Althoff was born on July 31st, 1997, in California, United States. There is not much information out there right now regarding her childhood.
In 2023 the news came out that it's not the Bobbi Althoff of real life, it's a character she inhabits because she believes that the real-life version of herself wouldn't be nearly as popular.
She had an interview in May 2023 on the "Woman on Top" podcast, in which she was asked why she adopts a different persona on social media. She stated, "Because myself doesn't get views". 
According to reports, Bobbi's childhood was difficult such as her family was hit hard by the recession in 2008. Additionally, the bank was constantly threatening to take their house away. During this difficult time, her parents got divorced, however, they continued to live in that same house.
Career
Bobbi created her TikTok account in 2020. One of the first videos she ever uploaded was the actual proposal from her then-boyfriend and now husband, Cory Althoff.
Her career on TikTok content started gaining popularity when she began posting comedic clips that documented her everyday real-life relationships and activities.
When she first started making content, she used to share her oldest child's face and real name online. However, she quickly stopped doing that after people began making rude comments.
Other Ventures
Bobbi lost thousands of followers when she shared her decision with her followers to stop using her daughter's real name or featuring her quite as often. Following this decision, Bobbi removed most of the original content featuring her first daughter Richard from TikTok.
Since then, Richard and her younger sister Concrete have only ever appeared on Bobbi's account with their faces obscured from the camera. Her hilarious and family-related content earned her a reputation as one of social media's most promising new personalities.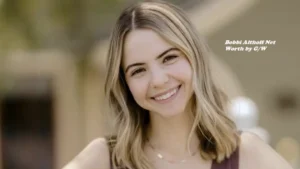 Breakthrough
Bobbi rose to fame when she decided to launch her own podcast with a series called "The Really Good". She started this series in June 2023. Her first guest was a comedian and undatable star Rick Glassman.
From there, she continued to book notable guests like YouTuber, Funny Marco and rapper, Amari White. Her interview with Amari has led to viral moments.
She admitted to Amari that she hadn't seen the remarkable of "The Little Mermaid" yet despite the original being her all-time favorite film. That clip of Bobbi got a lot of attention but it was nothing compared to what came next. Bobbi Althoff has a net worth of $4 Million.
Controversy
Bobbi got an opportunity to interview the high-profile Canadian rapper, Drake for her new podcast series. This interview has also been met with some controversy online after music journalist Elliot Wilson called Drake out in a since-deleted social media post where he wrote, "I was more so clowning the comedy shenanigans with outsiders to our culture".
Additionally, other personalities like DJ Akademiks have seconded that opinion. However, Bobbi continued to gain more and more popularity online, having amassed over 100,000 subscribers on YouTube just a month after uploading her first episode.
Personal Life
Bobbi began dating Cory Althoff and they eventually got married. Cory is the author of several books on computer coding including the self-taught Programmer the definitive programming guide professionally.
Bobbi and Cory first met on the online dating platform, Bumble in the late 2010s. Bobbi started a family at the age of just 22 years old. In December 2019, Bobbi announced her first pregnancy and the couple welcomed their daughter named Richard born in the following year. Later, she gave birth to her second daughter Concrete.
Career Highlights
Here are some of the most popular videos of Bobbi Althoff:
The Really Good Podcast: Funny Marco talks about why he hates Snoop Dog and if I'm his type (June 2023)
Drake: "You a th*t, Bobbi" (July 2023)
Bobbi Althoff Net Worth
Bobbi Althoff is one of the aspiring celebrities on the internet who gained a lot of fame in a short period. She began her career by creating her TikTok account in 2020, but the real breakthrough moment of her career came in 2023.
She became an internet sensation in July 2023 when she had an interview with the hip-hop star, Drake. Bobbi is on her way to becoming one of the most popular podcasters on YouTube in her country. As of 2023, Bobbi Althoff's net worth is estimated to be $4 Million.
You May Like