Nivea is an American R&B singer with a net worth of $2 Million. She rose to fame after releasing her breakout single "Don't mess with My Man" in August 2002. That track earned a lot of traction and received her Grammy Award nomination for Best R&B Performance.
Later, Nivea came to popularity once again when she dropped hit singles "Laundromat" and "Okay" ft YoungbloodZ & Lil' Jon. Despite releasing songs, Nivea has dropped three studio albums including "Nivea", "Complicated", and "Animalistic".
Nivea's first Independent EP "Nivea: Undercover" came out in 2011. She followed that up by releasing her album "Mirrors" in 2019. The singer received massive fame following the release of her track "Virginia" in 2022.
What is Nivea's Net Worth?
[table id=261 /]
Early Life
Nivea B. Hamilton was born on March 24th, 1982, in Savannah, Georgia, USA. She grew up with three older sisters, being the youngest in the family. Growing up Nivea developed an interest in music and began singing in a church choir.
She cites that singer Mariah Carey is one of her biggest musical influences. Nivea was quite shy and never wanted anyone to hear her voice which she released during her interview with BET "Finding Nivea".
Career
Nivea kicked start her music career in 2000, appearing in the hit single "Danger (Been So Long)" by famous rapper Mystikai. It earned her some local buzz and led Nivea to sign her first deal with "Jive Records".
Under the contract, she released her debut solo single "Don't Mess with the Radio" in 2001. The track wound up peaking at 85 on the R&B index, becoming a minor success.
In September of that year, Nivea eventually released her debut album called "Nivea". At first, the project was dropped in just Australia and Japan, later released in the US. At the end of that year, the hit single from the album titled "Run Away (I Wanna Be with You)" ft Pusha T was released.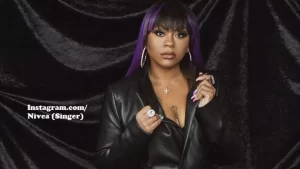 Breakthrough
In August 2002 Nivea released her breakthrough single "Don't Mess with My Man" featuring Brian and Brandon Casey. It became a huge success, debuting at #8 on the Hot 100 as well as earning a Grammy Award nomination in 2003.
Following her success, Nivea gained mainstream popularity by releasing the album's third single "Laundromat". That track not only grabbed the attention of the rap community but also peaked at number 20 on the R&B list.
From that point on she continued to record her second album and released a couple of more tracks including "You Wanna Touch Me" ft Rasheeda and Akon. That buzz track also went viral, peaking at 86 on R&B.
The lead single titled "Okay" from her second album, came out in 2005. For that song, the guest appearances came from the likes of Lil' Jon and YoungbloodZ. In May 2005, Nivea's second album "Complicated" was released. Later in 2010, her buzz song "Love Hurts" ft Lil Wayne was dropped.
Two years later, the R&B singer announced that she began recording her fourth album titled "Purple Heart". However, the name of the album was later changed to "Nivea Revealed". The project's first single "Loud Blunt" was released in November 2013.
Other Ventures
Around 2015, Nivea had her own record label. With the help of the label, she announced her two albums simultaneously including " The Randy Watson Collection" and "Mirror".
Outside of music, Nivea tried her hand at acting such as appearing in the 2021 BET Presents reality show "The Ncore". She gained recognition on TV after being featured on the "Queens Court" a Peacock dating series that ran for 10 episodes. Nivea appeared in the series alongside other stars like Evelyn Lozada and Tamar Braxton.
On March 16th, the show Queens Court premiered on Peacock in which Nivea, Tamar, and Lozada were helping each other on their quests to search for a king.
Personal Life
In 2002 Nivea and popular rapper Lil Wayne started dating. In December of that year, they were engaged but it didn't last long and the two broke up in August 2003. It was reported that rapper Wayne called off his relationship.
In December 2004 Nivea married fellow R&B singer, Terius "The-Dream" Nash. They also have a daughter together named Navy Talia Nash in May 2005. A year later, Nivea gave birth to their twin sons namely "Lond" and "Christian". The couple was separated in the year 2007.
Later, Nivea began dating rapper Lil Wayne once again. In November 2009, the couple welcomed their son named Neal Carter. In June 2009 rumors announced that Lil Waye got engaged to Nivea. However, in June of the following year, they broke off their engagement for the second time.
Career Highlights
Don't Mess with My Man (Song, 2002)
Laundromat (Song, 2003)
Nivea (Debut studio album, 2001)
Complicated (Album, 2005)
Mirrors (Album, 2019)
2003 Grammy Award, Best R&B Performance by a Duo/Group with Vocals _ Nomination
Nivea Net Worth
Nivea is one of the most recognized singers in the American music industry. She made a name for herself in music by releasing hit singles and albums. She accumulated a vast chunk of money from appearing in Peacock's series, Queens Court.
Nivea mainly earns from music such as performing live shows as well as collaborations with other artists on tours. Throughout her career, she worked with the likes of R, Kelly, Lil' Jon, YoungbloodZ, Pusha T, and Nick Cannon, among others.