Daya is an American singer and songwriter with a net worth of $4 Million. She rose to fame after releasing her breakthrough single "Hide Away" in 2015. The track earned her success by reaching number 23 on the Billboard Hot 100.
The singer gained further recognition for her collaboration with The Chainsmokers. This Electronic duo dropped the Grammy-winning single "Don't Let Me Down" in which Daya was featured. She is best known for her pop, synthpop, and electronic music styles which she includes in her tracks.
Daya has been playing jazz piano professionally since the age of 11. However, she started learning piano when she was just three years old. Later she also developed an interest in learning saxophone, ukulele, guitar, and much more.
What is Daya's Net Worth?
[table id=342 /]
Early Life
Grace Martine Tandon aka Daya was born on October 24th, 1998 in Pittsburgh, Pennsylvania. She is the daughter of Christine and Hans Tandon and was raised in Mt. Lebanon. Martine grew up along with four sisters Avery, Rachel, Celia, and Mariana.
In terms of education, she attended the St. Bernard School and then went to Mt. Lebanon High School. In 2016 she completed her high school graduation. Martine always had a passion for music, at the age of three she began learning piano.
Later by the age of 11, she took lessons on how to play jazz piano guitar, ukulele, and some other Instruments. During her high school years, Daya went to attend Interlochen Arts Camp where she studied songwriting.
Career
Daya wanted to pursue her singing career from the age of 11, so she started attending Accelerando Music Conservatory in Pittsburgh at the age of 11. During her time at the music academy, she met Gino Barletta, a producer, and songwriter.
She further polished her skills with the help of Barletta who invited her to attend the music camp Inside Access. Daya began her musical career while attending Inside Access camp. But at first, she needed a stage name for herself, so she adopted the moniker of "Daya" which is a Sanskrit word for compassion.
Later she got a chance to record music at Paramount Recording Studios. Around that time, she was studying in high school, and she wrote and then recorded her debut single "Hide Away".
Daya sent the track to Z Entertainment's Steve Zap who became impressed with her voice. Steve Zap decided to help Daya and quickly launched his independent label "Artbeatz" in collaboration with music producer Gino Barletta.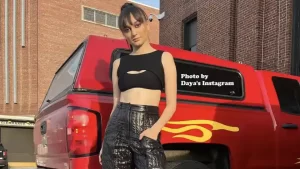 Breakthrough
Daya had her first breakout moment in music when she released her first single "Hide Away" in April 2015. Upon its release, the song went viral and earned her praise from the critics. In August of that year, she was invited to the TV show "Today with Kathie Lee and Hoda" where she performed her debut single.
Later that year, Daya's self-titled extended play came out which contains 6 tracks. It became successful, debuting at #161 on the Billboard 200. On the other hand, her first track "Hide Away" was blowing up and peaked at the 40 spot on the Billboard Pop Singles charts.
In October 2015, Daya dropped a physical version of her EP via Target. "Sit Still, Look Pretty" was the second single from Daya's self-titled EP which came out in September 2015. It wound up peaking at #28 as well as debuting at #100.
Further Success
Daya grabbed the attention of "Interscope Records" with who she signed a deal. Under the label, she dropped a single "New" in October 2017. The music video for her single "Safe" was uploaded on YouTube in June 2018.
She followed that up by releasing more tracks Insomnia, Forward Motion, Left Me Yet, and Wanted among others. In May 2021, Daya released her EP "The Difference" which also includes her hit single "First Time". The singer-songwriter Daya has a net worth of $4 million which she accumulated from her music career.
Other Ventures
In 2016, Daya she was announced to perform on the duo Jack & Jack's tour as an opening act in the US. The singer gained mainstream success after being featured on Chainsmokers' hit single "Don't Let Me Down" which won the 2017 Grammy Award.
She also got an opportunity to meet President Barack Obama and First Lady Michele Obama when she was invited to sing at the "White House Easter Egg Roll" in 2016. Next year, Daya teamed up with Gryffin and Illenium to record the track "Feel Good". In 2018, Daya worked with the American producer, RL Grime for his single "I Wanna Know".
Personal Life
In October 2018, Daya came out as "bisexual" which she announced through an Instagram post on the occasion of National Coming Out Day. As of April 2021, Daya is in a relationship with a girlfriend named, Clyde Munroe. The couple reportedly began dating three years before.
Career Highlights
Daya (First album, 2015)
Hide Away (Song 2015)
Sit Still, Look Pretty (Debut studio album, 2016)
2016 American Music Award, Collaboration of the Year _ Nomination
2017 Grammy Award, Best Dance Recording _ Won
2017 Billboard Music Award _ Nominations
2020 Spotify Award, Most-Streamed EDM Female Artist _ Nomination
Daya Net Worth
Daya has been working in the music industry since her childhood. She came to the spotlight after releasing her debut album "Daya" in 2015. That project earned her a lot of fame as well as offers from record labels.
Daya established herself as one of the most streamed artists in the American music scene. Apart from making money from music, she also earns from television commercials including "GEICO insurance firm" and more. As of 2023, Daya's net worth is estimated to be $4 Million.
You May Like: