Michael Cimino is an American actor and singer who has a net worth of $4 Million. He rose to fame after being cast in the hit Hulu TV series "Love, Victor." Michael had the lead role of Victor Salazar from 2020 to 2022, earning him numerous accolades.
Later in 2019, he gained further recognition for his outstanding performance as Bob Palmeri in the supernatural horror film "Annabelle Comes Home." Despite this, Cimino tried his hand as a voice artist, debuting in the animated comedy series "Hamster & Gretel" which began in 2022.
Not to mention Michael is also a singer, he dropped his first mixtape "I'm Somewhere Out There" in November 2022. From there he continued to release more singles as well as Soundtracks for his animated film.
What is Michael Cimino's Net Worth?
[table id=225 /]
Early Life
Michael Cimino was born on November 10th, 1999, in Las Vegas, Nevada, to an Italian-German father and a Puerto Rican mother. While growing up he faced many experiences with racism during elementary school.
Micahel developed an interest in becoming an actor a the age of 8. He completed his education early so that he could pursue his acting career. Micahel didn't attend any college and only focused on becoming an actor.
At the age of 12, he was discovered by an industry manager who quickly signed him after seeing his impressive acting skills. Michael started auditioning for TV shows for which he often flew between Las Vegas and Los Angeles with the help of his mother.
Career
Cimino was eventually booked for some gigs including appearing in a GEICO commercial. Around the age of 13, he switched his education to online courses to focus more on his career.
Upon graduation, he briefly worked as an electrical worker with his father. Later he was a mechanical bull operator at the Saddle Ranch Chop House for just 3 months. In 2017 he had a minor role in CBS's short-lived series "Traning Day."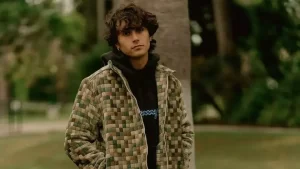 Breakthrough
In 2019 Michael got the role of Bob Palmeri in the hit horror film "Annabelle Comes Home." It caught the attention of directors and producers in the Hollywood film industry. Before his big break, he appeared in an episode of the comedy series "Walk the Prank."
In 2020 Cimino was named to play the main role of Victor Salazar in the Hulu teen comedy series "Love, Victor." This series was inspired by the 2018 movie " Love Simon" and was a commercial success.
Michael gained a lot of popularity for his role alongside other cast members like Rachel Hilson, Mason Gooding, Ana Ortiz, and more. During the release of Love, Victor's first season it became the most-watched drama on the streaming platform.
Other Ventures
Outside of acting in films and TV series, Michael started providing vocals for the character of Kevin Grant-Gomez in the animated series "Hamster & Gretel" in 2022. This series earned him recognition all across the globe.
Cimino also pursued his music career by releasing his debut EP "I'm Somewhere Out There" at the end of 2022. Three of his songs including "How You Feel About Me," "Overload the Grid," and "I Can Be Bad" became the soundtrack for the series "Hamster & Gretel."
Michael's other track "Everything I Own" was included on the film Annabelle Comes Home's soundtrack. In June 2021 he released the music video for the song "Love Addi*t" featuring Talia Jackson. His singles are including Little Blue Car, Cigarettes and Incense, The Love Was Real, Make Me Wanna Dance, and Stole Me. 
Career Highlights
Shangri-La Suite (Debut film, 2016)
Training Day (First TV show, 2017)
Walk the Prank (Series, 2018)
Dog Days (Series, 2018)
Annabelle Comes Home (Film, 2019)
Love, Victor (Hulu series, 2020-2022)
Centurion XII (Film, 2021)
2021 Gold Derby Television Awards, Comedy Actor, Nomination
2021-2022 Imagen Awards, Best Lead Actor – Comedy and Best Actor – Comedy (Television) _ Won
Michael Cimino Net Worth
Michael Cimino is one of the up-and-coming stars in the American entertainment industry. He garnered a lot of fame through his acting skills, appearing in numerous TV shows and films. He initially gained recognition for his work in "Love, Victor" which would change his life.
Michael earns from his acting in films, and TV series, as well as his work in the music industry. The man made a name for himself through his impressive skills in both acting and singing. As of 2023, Michael Cimino's net worth is estimated to be $4 million.
You May Like: