Cameron Monaghan is an American actor and model with a net worth of $5 Million. He is best recognized for his role in the hit TV series "Shameless" where he portrayed Ian Gallagher. At the age of three, he began his career as a child model and later became a child actor.
He is also likely known for his work in the action-adventure game "Star Wars Jedi: Fallen Order." In 2019 he played Cal Kestis, the main player character in the video game "Star Wars Jedi: Fallen Order." He's returning for the anticipated next installment "Star Wars Jedi: Survivor" which is set to be released in April 2023.
Cameron is still a young star but has claimed his unique space in this generation of actors. Growing up in Florida he's been steadily climbing to success for more than 2 decades, working in TV, film, and video games.
What is Cameron Monaghan's Net Worth?
[table id=168 /]
Early Life
Cameron Riley Monaghan was born on August 16th, 1993, in Santa Monica, California. He is the only son of his single mother Diane Monaghan. His mom is an insurance claims specialist.
Despite being born in LA, his mother Diane decided to relocate to Boca Raton, Florida shortly after Cameron was born. This is when his mother submitted his photos to some modeling agencies.
Cameron started young in the industry becoming a child model when he was just three years old. After appearing in a number of commercials, he began his career as a child actor at the age of seven. Around that time his mom also enrolled him in Community theater.
In terms of school, Cameron attended Addison Mizner Elementary School and also developed his acting skills. That time he appeared in several theater productions including "Winnie-the-Pooh," "The Pumpkin King," and "Stuart Little."
Career
Cameron's first acting credit was in the independent movie "The Wishing Stone" in 2002. But he first gained national recognition in 2003 for his appearance as Winthrop Paroo in the ABC TV adaptation of "The Music Man." His performance in the series earned him his first Young Artist Award nomination.
In 2004 Cameron snagged a recurring role in the popular TV series "Malcolm in the Middle" as Chad. This role earned him his second Young Artist Award nomination and first win. He also went on to land a handful of guest star roles on TV shows like Nickelodeon's "Ned's Declassified School Survival Guide."
The other shows that Cameron appeared in around that same period included the likes of Numbers, Three Rivers, Fringe, The Mentalist, Terriers, and The Glades, among others. In 2005 he worked on some theatrical films including playing the role of Timmy in "Brothers in Arms."
The next year he played the character of Kevin in the comedy film "Click." He followed this up by appearing in movies like "The Santa Clause 3," "Safe Harbor," "Another Harvest Moon," and a few more.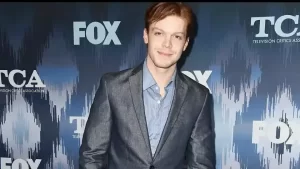 Breakthrough
In 2010 when Cameron was 15 years old he signed on to his longest-running project thus far. He scored his role on the hit show "Shameless." In this comedy-drama series, he portrayed Ian Gallagher and the show premiered in 2011. It was a hit with Cameron getting rave reviews for his outstanding performance.
A few years later Showtime announced it had renewed "Shameless" for its 5th season, scheduled to begin airing in 2015. For Cameron's role, he scored a Best Supporting Actor nomination at the Critic's Choice Award.
The show went on to a whopping 10 seasons with Cameron leaving after the 6th episode of the 9th season. However, he returned for the 10th season in 2019.
Other Ventures
Over the years Cameron appeared in a handful more TV roles including the CBS show "NCIS" and then "Rizzoli & Isles" as well as "Law & Order." In films, he co-starred in the Disney drama "Prom" in 2011 and the Indie drama "Jamie Marks Is Dead" and more.
His biggest role to date on the big screen was when he portrayed Asher in the film "The Giver" in 2014. Cameron also scored another regular TV role as a recurring guest character in all 5 seasons of the DC comic-based series "Gotham." This show ran from 2015 to 2019 and the actor earned a lot of fame.
In 2019 Cameron took on a new project aiding video games to his resume when he played Cal Kestis in the video game called "Star Wars Jedi: Fallen Order." Since that was a hit, the second installment of the action-adventure game is coming up in April 2023 "Star Wars Jedi: Survivor."
Outside of acting, Cameron began his career as a child model and later appeared in several television commercials. He has done brand endorsement work for the likes of Altman / Procko Productions, TBWA\Chiat\Day, etc., Leo Burnett, USA Inc., Westwayne, Tapestry Productions, Norman J. Stevens Advertising, and Southland Ads. 
Personal Life
Cameron began dating actress Peyton List in 2017. In October of that year, Peyton even confirmed her relationship with Cameron during an interview with Rogue magazine. However, the couple's relationship didn't last long and it ended during the holiday season in January 2019.
Career Highlights
Shameless (TV series, 2011-2021)
Gotham (Series, 2015-2019)
The Giver (Film, 2014)
Star Wars Jedi: Fallen Order (Video game series, 2019)
2005 Young Artist Award, Best Performance in a TV Series _ Won
2019 Teen Choice Awards, Choice TV: Villain _ Won
Cameron Monaghan Net Worth
Cameron Monaghan is one of the most promising actors in the American entertainment industry. He made a name for himself on television at an early age. The actor is still at the beginning of his career and it seems in the future he will achieve much more.
Cameron no doubt likes to keep busy with plenty of projects on the go including TV appearances, film writing, or even video games. He mainly earns from his acting gigs like starring on hit TV shows along with playing lead roles in super hit movies.
Brand endorsements, TV commercials, and some other ventures are also big contributors to his wealth. He first came to the spotlight after becoming cast in the hit series "Shameless." As of 2023, Cameron Monaghan's net worth is estimated to be $5 Million.
You May Like: