Shenseea is a Jamaican musical artist who has a net worth of $4 Million. She is known for becoming one of the most popular and well-respected dancehall artists of her generation.
Shenseea rose to fame after releasing her breakthrough single "Loodi" with Vybz Karel in 2016. The track went viral and earned her the title of "Princess of Dancehall". From that point on, she began working with the likes of Sean Paul, and Christina Aguilera.
Shenseea also worked with high-profile artists such as Kanye West, Tyga, and many others. She was featured on Kanye's album for which Shenseea received a Grammy Award nomination. The singer also won several other accolades including MOBO Awards.
What is Shenseea's Net Worth?
[table id=333 /]
Early Life
Chinsea Linda Lee aka Shenseea was born on October 1st, 1996 in Kingston, Jamaica. As a child, she was raised in nearby Mandeville. She never knew her father, although she's been told a little bit about her mother. Her dad left the family when her mother was six months pregnant.
Her mom did jobs in different towns while also performing as a singer. Following her birth, Shenseea was brought up by her mom and her aunt. Growing up in a Christian household, Shenseea would both pray and fast.
When she was still just a small child, she used to wake up at 4 AM just to get in her prayer and worship before heading off to school. Eventually, Shenseea moved out of her Aunt's place. Growing up, she often went to Church where she used to perform along with her mom.
In terms of education, she graduated from Mona High School and then went to Exed Community College. There she wanted to pursue her degree in Entertainments Management, but she dropped out to take an office job.
Career
Shenseea took the first step toward her music journey by performing an Acapella version of Whitney Houston's "Greatest Love of All". She nailed the performance her very first time. From that point forward, she continued developing her voice while listening to American pop, R&B, and Soul Music.
During the 8th grade, Shenseea began writing her first song, but she couldn't get past three lines. So, she switched tactics and began focusing on the covers of other artists' music.
Later, she began posting her Renditions of American and Jamaican artists' songs on her social media pages. Two years later, Shenseea began taking music more seriously after having a son by the age of 19.
Around that same time, she was introduced to the biggest entertainment and promotional Juggernaut based out of Kingston, Jamaica. His name was Romeich Major. She quickly signed up with his agency and began earning herself promotional opportunities.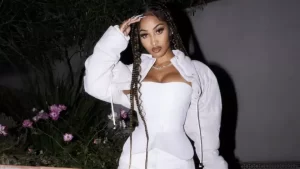 Breakthrough
She performed at Brand events for the likes of Hennessy, Red Stripe, Smirnoff, and more. While these events helped showcase her talent by 2017 she was collaborating with Vybz Kartel, on "Loodi" as well as Sean Paul on "Rolling".
Following that, Shenseea cemented her burgeoning reputation within the dance hall. In 2018, she was invited by Christina Aguilera to appear in her album Liberation's song titled "Right Moves". That same year, she dropped the track "Secret (Remix)" in collaboration with Vybz Kartel.
By 2019, the singer was signing a deal with Interscope and then set to work on her debut album. Under the label, she released the song "Blessed" with Tyga. However, her mother passed away in June 2020, which brought some of her old ideas back to the surface.
In March 2022, Shenseea eventually released her debut album "Alpha" which contains the hit single "Lick" as well. The album "Alpha" debuted at number two on the Billboard Reggae Album Chart. It wound up selling over 66,000 units in 2022 alone, making it the second best-selling album from a Jamaican artist to be released that year.
The Jamaican singer Shenseea has accumulated a net worth of $4 Million.
Other Ventures
As her genre continued to grow, Shenseea never forgot about her original ambitions to perform pop music. Upon her first album approaching release, she made sure to inject the album with a healthy dose of pop like her collaboration alongside Megan Thee Stallion titled "Lick".
Since releasing her debut album, Shenseea hasn't stopped releasing new music. She's not only dropped "BYE BYE" on her own, but she's also appeared alongside Skillibeng on the hit single "Rain". The singer is about to begin shooting music videos for the tracks that will appear on her upcoming album.
As her further international collaborations, Shenseea has teamed up with Kanye West twice, already in 2021 on the tracks "Pure Souls" and "Ok Ok pt 2". She also saw her name in the headlines for a surprising reason. It turns out that her music helped Price Harry.
Outside of singing, Shenseea also pursues her career as a model and has done endorsement deals for numerous brands. She has sponsorship deals with brands including Hennessey, Red Stripe, Smirnoff, Pepsi, Coca-Cola, Magnum, Flow, and Campari.
Personal Life
Shenseea is quite private about her personal life but we do know that she had been in a relationship with rapper 21 Savage and a record producer Rvssian. Shenseea was just 19 years old when she gave birth to her first child, a son named, "Rajeiro Lee".
Career Highlights
Loodi (Song, 2017)
Blessed (Song, ft Tyga, 2019)
Alpha (Debut album, 2022)
Lick (Song, 2022)
2016 Youth View Awards, Young Hot and Hype Artiste, Break Out Celebrity, Collaboration of The Year _ Won
2022 64th Grammy Award _ Nomination
2021 MOBO Award, Best Reggae Act _ Won
Shenseea Net Worth
Shenseea is on her way to becoming one of the most recognized dance hall superstars in the world of music. She already amassed millions of followers through her music from all across the globe.
Shenseea mainly earns from selling albums, music tours, brand promotions, as well as collaborations with other stars. Her YouTube channel is another big contributor to her wealth.
She has over 2.5 million subscribers and most of her music videos garnered more than 50 million views. As of 2023, Shenseea's net worth is estimated to be $4 Million.
You May Like: