LazarBeam is an Australian YouTuber and social media personality who has a net worth of $8 Million. He is best known for uploading content on his eponymous YouTube channel where LazarBeam garnered over 20 million subscribers.
Additionally, the made also amassed millions of followers on other social media platforms including Twitter, Instagram, TikTok, etc. He was ranked as the 8th most-viewed content creator on YouTube with over 2 billion views in 2019 alone.
By the age of 20 years old LazarBeam was working for his family's construction business when the turning point of his career came. He took advantage of his impressive sense of humor and his innate level of self-awareness to transform himself into an internet personality.
What is LazarBeam's Net Worth?
[table id=260 /]
Early Life
Lannan Neville Eacott aka LazarBeam was born on December 14th, 1994, in Australia. He claims that his parents named him after the world-famous Beatle John Lennon. He grew up with two brothers Callin and Jarrad as well as one sister named Tannar in Albury, New South Wales.
At the age of 15 years old, Lannan decided that he had enough of learning and he dropped out of high school. For a little while, he tried to work in several different fields including attempting to become a pilot. But he finally settled into working for his family's construction firm at the age of 20.
Career
Lannan began creating content while working on his family's construction business. He started filming all types of slow-motion disaster and destruction videos by utilizing demolition tools. One day when he left his recording equipment unattended on the construction site, somebody came and stole all of it.
After that happened, Lannan pivoted his content creation by registering the "LazarBeam" YouTube gaming channel in January 2015. He chose his name based on a character that he used to play as in the fantasy role-playing game "RuneScape".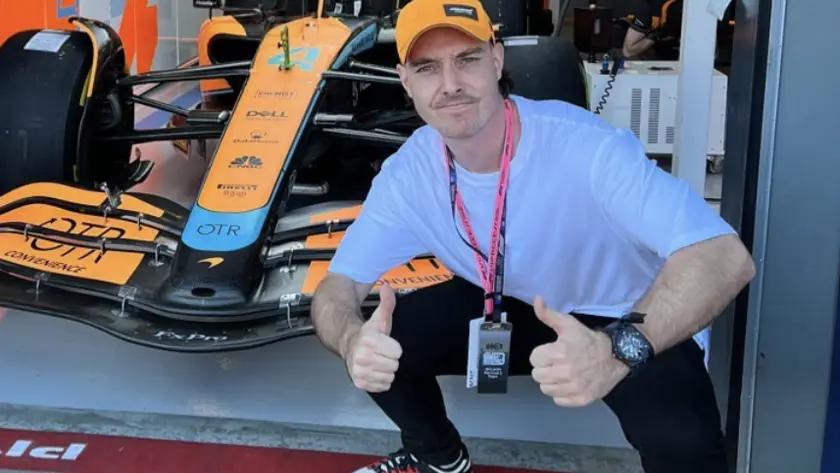 Breakthrough
Lannan's first gaming video was a quick tour of the world of Skyrim. Then he began to focus on commentaries and challenge videos primarily for the "Madden NFL Series". He uploaded numerous challenge videos that turned the idea of a strategic play on its ear.
He pitted a team of giants against a team of tiny players in both Madden and NBA 2K. Within 6 months he had 50,000 subscribers and in July 2015 he did a face reveal video. His early video game content got some eyes on the channel and allowed his creativity to flourish.
By July of that year, he was the third most subscribed YouTube Fortnite streamer. But he became critical of the game after its release of its 10th season in August 2019. After that, he began posting Minecraft-related videos.
Soon, he decided to jump ship from Twitch to exclusively streaming his gaming content via YouTube. As of now, LazarBeam garnered over 20 million subscribers on his channel "LazarBeam" and over 4 million subs on his second channel called "LazarLazar".
Other Ventures
Around 2018, Lannan chose to expand his approach to his gaming videos and began playing more popular streaming games. One of those games was "Fortnite" which brought some troubles for LazarBeam. His channel was demonized for a short period. So, he decided to clean up his commentary.
When LazarBeam started uploading more kid-friendly videos, then he saw both his popularity and his channel growth begin to skyrocket. In April 2019, Lannan achieved the landmark of 10 million subscribers on YouTube, becoming only the 2nd Australian content creator to ever beat that spot.
In 2022 Lannan and his friend Fresh teamed up with Australian developers PlaySide Studios to launch an arena shooter game called "World Boss". LazarBeam gained a lot of popularity after being part of the famous collaborative YouTube channel "Click".
Personal Life
LazarBeam donated over $100,000 to different worthy causes in particular the Australian bushfire relief fund. Moreover, he helped raised over A$300,000 after doing a 36 hours Charity stream.
Lanan's brother Jarrad is a professional baseball player in the minor leagues and his sister Tannar is a photographer with her own YouTube channel. Lannan is very close to his parents and says that his father is one of the most important influences in his life.
Lannan began dating fellow social media personality Ilsa Watkins in 2018. The couple first met while attending the 2018 Christmas party organized for the Click group. Following that event, he asked her for dinner, and from that point forward, the two began dating.
Career Highlights
Having over 20 million subscribers on his main YouTube channel "LazarBeam"
Being named as the 8th most-viewed content creator of the year 2019
His channel is ranked as the 3rd-most-subscribed and 3rd-most-viewed channel in Australia
2020 Shorty Award, Best in Gaming _ Nomination
LazarBeam Net Worth
LazarBeam is one of the most recognized content creators on the internet. He gained such massive success throughout his successful career. His channels amassed billions of views and as a result, LazarBeam accumulated millions of dollars.
Outside of YouTube, his source of income also comes from brand endorsements and business ventures. He often collabs with some high-profile YouTubers which helped him to gain more followers. As of 2023, LazarBeam's net worth is estimated to be $8 Million.
You May Like: