Gambi is a French rapper and hip-hop artist who has a net worth of $2 Million. He blew up in the space of 12 months becoming one of the most popular rappers in the country of France.
Gambi established himself as one of the most successful social media celebrities. He amassed over 1 million followers on Instagram and 1.7 million subscribers on YouTube.
The French rapper gained widespread success through a series of recorded freestyles. Gambi has been making music since 2018 and released a couple of hit tracks including "Hé oh" and "Popopop".
What is Gambi's Net Worth?
[table id=639 /]
Early Life
Gambi was born on January 12th, 1998, and was raised in Fontenay-Sous-Bois, a suburb in Eastern Paris, France. He grew up in a diverse neighborhood and spent his youth in Larris and Bois Cadet.
Before launching his music career, he worked as a sushi delivery driver while riding his moped through Paris streets. At this time, Gambi was living a simple life and was also a bit of a practical joker.
During high school, Gambi was listening to artists like Cheif Keef and began recording his first original songs in 2016. But it would take a couple of more years before he had to gain traction in the music industry.
Career
Gambi's star began to rise in 2018 while still working as a sushi delivery driver. He came to the spotlight with a series of freestyles that he released on YouTube under the title "Makak".
Between June and December of 2018, Gambi dropped 6 entries in total. During that time, his social media presence exploded with hundreds of thousands of new followers, particularly on Instagram.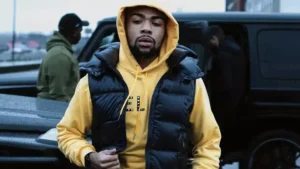 Breakthrough
Gambi's early music eventually captured the attention of a label called "Rec. 118" with whom he signed in May 2019. His first million streams arrived with the song C'est moi Mbappé which went viral.
After the release of songs like "Oulalah" and "Hé oh", Gambi continued to grow through the ranks of French rap. His song Hé oh became a massive hit amassing over 145 million views on its music video on YouTube.
Just after the 6 weeks of "Hé oh", Gambi became the most listened-to artist in all of French, especially in France on musical stream providers across the country. The French rapper Gambi has a net worth of $2 Million.
Further Success
Following his big success, Gambi came up with another massive hit single titled Popopop in late 2019 which hit 6 million views in just 6 hours of its release. Additionally, the song climbed as high as the 9th most listened-to song on Spotify across the globe.
After the release of his song "Popopop", Gambi became a French sensation. He was hand-picked to become the face of a clothing brand during the Paris Fashion Week.
Eventually, Gambi released his debut album La vie est belle in July 2020. This impressive album reached the top of the French and Belgium sales charts and was aided by singles like Macintosh and Puf puf puf. Later, his album went platinum.
Gambi disappeared for a short period only to reappear in November 2021. He came up with a new style that is slightly more oriented towards the sound of the flourishing Jersey drill scene.
Other Ventures
In the summer of 2023, Gambi announced his sophomore project N'a stragia which featured 19 tracks. In these tracks, he sings with and without the help of autotune while also rapping about his life. This new project sold almost 4,000 copies and equivalent sales during his first week.
His music caught the eye of North America's hottest rapper NLE Choppa who asked Gambi for a collaboration. They recorded a song together titled "Bonjour" which was released in August 2023. Now, Gambi has finally achieved his breakthrough moment and he might make some real noise in North America.
Career Highlights
C'est moi Mbappé (Song, 2019)
Hé oh (2019)
Popopop (2019)
La vie est belle (First album, 2020)
Gambi Net Worth
Gambi is one of the up-and-coming rising French rappers in the American music industry. He rose to fame with the release of his song "C'est Moi, Mbappe," which highlighted his vocal resemblance to football superstar Kylian Mbappe.
Gambi continued to climb with songs like "Oulala" and "He Oh,". His quirky music videos, reminiscent of North American artists like Lil Nas X, helped him go viral. Gambi makes money from releasing new music as well as his collaborations with other artists such as with NLE Choppe.
The rapper accumulates a vast chunk of money from his YouTube channel where most of his videos have over 100 million views. His source of revenue also comes from brand endorsements and business ventures. As of 2023, Gambi's net worth is estimated to be $2 Million.
You May Like