Obie Trice is an American rapper and songwriter who has a net worth of $500,000. He came to popularity after the release of his debut single titled, "Got Some Teeth." The track received positive reviews in several countries as well as peaking at #8 in the UK and #54 on the Billboard Hot 100.
Trice is also best recognized for his collaboration with artist Eminem in the early 2000s. Around that time he grabbed the attention of Shady Records with whom he signed. After working with the label for several years, Trice formed his own record label, "Black Market Entertainment" in 2010.
In September 2003 he dropped his debut album, "Cheers." The guest appearances came from artists like 50 Cent, Busta Rhymes, Eminem, Lloyd Banks, Timbaland, Dr. Dre, Nate Dogg, D12, and Tony Yayo. Additionally, the album was certified platinum by RIIA.
What is Obie Trice's Net Worth?
[table id=96 /]
Early Life
Obie Trice III was born in Detroit, Michigan, on November 14th, 1977. He was raised by his mother Eleanor Trice alongside three older brothers on the west side of the city.
His musical interests began at the age of eleven when his mom brought him a karaoke machine. With the help of this, he started rhyming over instrumentals from hip-hop groups like N.W.A.
When Trice was 14 years old he began participating in rap battles along with his friends. These rap battles were hosted in the Detroit area by the late D12 member named, Proof. Proof encouraged Obie to go by his birth name instead of the one that he was going by at the time which was Obie 1.
After receiving a positive reception in the hip-hop scene, Obie was passionate to start taking rap more seriously. That time, he became a good friend with D12 member Bizarre who had introduced Obie to Eminem who became impressed with Trice's music.
Career
Obie eventually signed a deal with Shady Records in 2000. He began collaborating with other artists and worked with the label for the next few years. Obie would be featured in a skit on the D12 group album, "Devil's Night." He also delivered a verse on the track drips for Eminem's album, "The Eminem Show."
Obie recorded tracks for the 2002 film, "8 Mile" soundtrack and made his cameo appearance in the movie as well. After working with other artists for a couple of years he began making his music.
Breakthrough
In September 2003 Trice released his debut album, "Cheers." This album had production from Dr. Dre, Eminem, and Timbaland, with features from G-Unit, Busta Rhymes, 50 Cent, and Nate Dogg Lloyd Banks. The album became a massive success with its first single, "Got Some Teeth."
It reached the 8 spots on the UK charts in October 2003 and was well received commercially on the radio and by critics. That project was hit due to its other singles including "Don't Come Down" and "The Set Up." Additionally, it became certified platinum by the Recording Industry Association Of America.
Further Success
In August of 2006, Obie dropped his second album, "Second Round's On Me." It received critical praise and sold 74,000 copies in its first week. But it was not as much success as his first album Cheer, which sold over 226,000 in its first week. Upon the release of his second album, he teamed up with G-Unit's DJ Whoo Kid to release the mixtape, "Bar Shots."
D12's most beloved member, Proof was shot to death in a Detroit nightclub after getting into a disagreement with another man at the club. He was a major part of the success of Shady Records. Following his death, Obie Trice made a speech at Proof's funeral.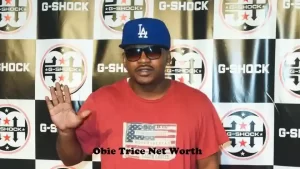 After Shady Records
In June 2008 Obie officially departed from Shady Records due to not feeling like he was being properly promoted. Despite many rumors circulating that there was a follow between Obie, Eminem, and Dr. Dre. However, they still appeared on Obie's projects in the future, even when he was officially off the label.
Over the next decade, Obie Trice went on to release a handful of mixtapes and albums. He collaborated with the hip hop producer MoSS to drop the compilation album, "Special Reserve," in December 2009. This 11-track album was recorded by Obie and MoSS between 1997 and 2000.
During the year 2010, it was announced that Obie is going to launch his independent record label, "Black Music Entertainment." His single "My Time 2011," came out in August of that year. Then in April 2011, he released the track titled "Learn to Love."
Other Ventures
Trice revealed that he would be dropping his next album "Bottoms Up" in October 2011. However, it was released in April 2012. He followed this up with another single "Get Rich Die Tryin" which was later featured in his upcoming mixtape, "The Hangover."
In August 2015 Obie released his fourth studio album, "The Hangover" which was produced by Magnedo7. Next year he began working on his upcoming studio album. He dropped the album called, "The Fifth" in August 2019. It featured guest artists like Directorkasper, Xzibit, and many more.
All these albums and tracks were big projects but Obie never really got back to the popularity that he had during the prime Shady Records days.
Personal Life
On December 31st, 2005, Obie's car was shot six times while driving on the Highway in Michigan. One of the bullets hit his head and he went to the hospital to receive treatment. The bullet hit him on his head so the doctors debated on removing the bullet or leaving it in. Eventually, they opted not to remove it. Obie still has a bullet in his skull to this day.
At the end of 2019, it was reported that Obie had been arrested for shooting his girlfriend's son. He served 90 days in a Michigan Jail for charges relating to the incident.
Obie had been in a relationship with his girlfriend but he never shared any information about that. On October 5th, 1998 Trice's daughter, Kobie was born.
Career Highlights
Cheers, (Debut Album, 2003)
Second Round's on Me, (Album, 2006)
Got Some Teeth, (Song, 2003)
Obie Trice Net Worth
Obie Trice is an American rapper, composer, and songwriter from Detroit, Michigan. He earned a lot of popularity during his early career. The rapper rose to fame when he signed with Shady Records. Under the label, Obie worked with numerous high-profile rappers.
The breakthrough moment of Obie's career was in 2003 when he dropped his debut album, "Cheers." As of now, his Spotify has more than a million monthly listeners. This man made a name for himself in Hip Hop history by releasing hit music. As of 2023, Obie Trice's net worth is estimated to be around $500,000.
You May Like: