Lil Skies is an American rapper, singer, and songwriter with a net worth of $3 Million. Skies rose to fame after releasing his breakthrough singles "Red Roses" and "Nowadays". Both of these tracks earned him mainstream success, becoming his 3 highest charting singles on the Billboard Hot 100.
Lil has been working at becoming a rapper from a very young age. He was just three years old when he decided to become a musician. By the age of four, he recorded his first song in a professional studio.
The rapper came to the spotlight in 2018 when he dropped his major mixtape "Life of a Dark Rose". This project became another success for him, peaking at #10 on the Billboard 200 chart.
What is Lil Skies' Net Worth?
[table id=310 /]
Early Life
Kimetrius Foose was born on August 4, 1998, in Chambersburg, Pennsylvania. After spending a couple of years there, he moved to Waynesboro, Pennsylvania, while he was in third grade.
Lil Skies' parents are divorced and he remains connected to his mother and stepfather. However, his father Michael Burton, Jr. appears to have been the biggest influence in his life.
His dad was a musician and was also the first person who introduced Skies to rap. Growing up, his favorite artists were Lil Wayne and 50 Cent. Lil also cites Wiz Khalifa, Mac Miller, Travis Scott, Lil Uzi Vert, and Mary J. Blige as his musical influences.
Career
Lil Skies followed in the footsteps of his father and decided to become a musician. As a result, he fell in love with music and never considered any other career path for his future. He was just three years old when he committed himself to music.
As with his passion for music, Skies got a stage name from his dad, whose stage name was Dark Skies. He kept up pursuing music his entire life, in third grade he put together his first mixtape. While attending Waynesboro Area Senior High School, he was known as the rapper dude.
Upon high school, Lil Skies attended Shippensburg University, but after his music career began to take off, he decided to drop out. By this time Lil Skies was performing regularly and got the opportunity to open for the Fetty Wap show.
Lil's clearest sign of success however was the following he was developing online. He first got on SoundCloud and YouTube in 2015. The rapper released his first music video for the song "Lonely" in August of that year. Further tracks would be released on SoundCloud that year.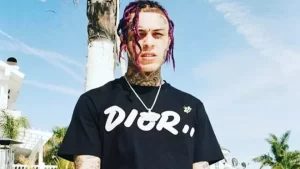 Breakthrough
Lil Skies released his second music video "Da Sauce" in 2016 which would go on to receive millions of plays on SoundCloud and over 8 million views on YouTube. In July of the following year, he dropped the music video for the song "Rude".
From that point on, Lil continued to release music videos throughout the summer. There was a single "Off The Goop" featuring Sprite Lee. Around that same time, Lil released his single "Red Roses" which became a massive hit and blew up overnight. As of now the music video for the song has over 255 million views on YouTube.
In 2017, the rapper released another big hit single "Nowadays" which hit the charts as well. The track wound up peaking at #85 and #55 on the Billboard Hot 100.
Further Success
In 2018, Lil dropped his major label's first mixtape "Life of a Dark Rose" which became viral, peaking on "The Billboard 200 chart" at number 10. Additionally, the project was certified Platinum by the Recording Industry Association of America.
In March 2019, Lil's debut studio album, "Shelby" came out with its lead single "I". It also contains the hit single "Burning Memories" featuring Machine Gun Kelly. In 2021, Skies released his second studio album, "Unbothered".
Lil Skies accumulated a net worth of a whopping $3 million with the help of releasing hit music.
Other Ventures
The famous YouTube channel "ELEVATOR" gave Skies another big push by releasing his work through their page. Skies' success grew even bigger thanks to some YouTube vloggers. Lil was a big fan of the CUFBOYS' vlog videos.
One day while watching their vlogs, Lil heard them playing one of his songs. The rapper was so excited he contacted Landon Cube who was also making music at that time. Skies liked his song "Beach Down" and soon after Landon was shooting a video in Ocean City.
Later, Skies landed on a song and they made a hit single together. Landon also introduced Skeis to the infamous Cole Bennett. After FaceTiming with Cole, he was ready to work with him on a video. From there, Lil went on tour with Lil Uzi and shortly afterward he was selling out his own tours.
Not long after that, at the age of just 19 years old, Lil Skies signed with Atlantic Records. Soon, the famous internet personality, Bhad Bhabie approached Lil to record the music in the studio. They collaborated and released a couple of songs together. On his own channel, he uploaded "Signs of Jealousy" in late 2017.
Outside of music, Skies sells a lot of merchandise through his website and while he's on tour.
Personal Life
Around 2019, Lil Skies was going through a rough period in his life. He has admitted to fighting depression. He has tweeted some things that have made some of his fans very worried about his mental health.
Apart from that, at the age of 16, Skies got his first tattoo in honor of one of his friends. Soon, he'd be getting all kinds of tattoos including matching tattoos on the side of his face.
Car Collection
Career Highlights
Nowadays (Song, 2017)
Red Roses (Song, 2017)
Life of a Dark Rose (First mixtape, 2018)
Shelby (Debut album, 2019)
Lil Skies Net Worth
Lil Skies has quickly become one of the most popular young artists in the music industry with millions of followers and hundreds of millions of streams. He is on his way to becoming one of the most prominent rap artists in the world.
His success in music began when he uploaded the music videos for the songs "Red Roses" and "Off the Goop" in 2017. These tracks led the rapper to sign his first major deal with Atlantic Records. As of 2023, Lil Skies' net worth is estimated to be $3 Million.