Cole Bennett is an American business executive, music video director, and videographer who has a net worth of $12 Million. Cole is probably best known for directing some of the most popular music videos for the likes of Ski Mask, Smokepurpp, Lil Skies, Lil Pump, and many more.
Bennett came to success when he started the multimedia company called "Lyrical Lemonade" while studying in high school. He began this internet blog in 2013 which specialized in music videos and live events.
He is also known for shooting behind-the-scenes videos with SoundCloud's finest and booking sold-out shows. Cole made a name for himself on social media by creating a YouTube account called "Lyrical Lemonade" which has over 20 million subscribers.
What is Cole Bennett's Net Worth?
[table id=301 /]
Early Life
Cole Bennett was born on May 14th, 1996, in the small town of Plano, Illinois. He grew up with two sisters, listening to artists like Lil Bibby and King Louie, with whom he eventually worked to make music. He was also a big fan of Chance the Rapper and was inspired by his director Austin Vesely.
In terms of education, Cole attended Plano High School where he got his first tattoo. It was at this time that he had the idea of Lyrical Lemonade. Upon his graduation, Cole went to DePaul University in Chicago where he studied YouTube tutorials.
Career
Cole first started shooting videos when Cole was a junior in high school. The idea of making the name "Lyrical Lemonade" came from his mother. Cole made his first post on this website in October 2013. Around that time the YouTube channel was already up and running.
Cole created this channel in May of 2013 and uploaded his first video in July of that year titled "Call of the Wild". His next video became a full-length music video for a song titled "Self Demise" by another rising artist TON3.
Bennett continued to create more music videos for underground rappers most of those coming up nearby Chicago. His first concert video was of a Vic Mensa release "Party". Cole's first interview was with musical artist Supreme Regime and was filmed in a stairwell.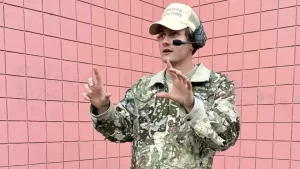 Breakthrough
Cole continued to work away in his blogs and YouTube videos, regularly posting music videos for local artists, interviews, and footage from live concerts. When Cole realized that show promoters were failing to book his favorite artists, he expanded his business by doing it himself.
Sure enough, audiences showed up for the concert that he organized. He went on to sell out almost every show he ever put together. Cole booked artists like Ski Mask the Slump God, Lil Uzi Vert, MadeinTYO, Smokepurpp, Lil Pump, and rapper Famous Dax.
In July 2016, Cole directed the music video for Smokepurpp's breakthrough track "Ski Mask". He then teamed up with Lil Pump for his breakout project "D Rose" and uploaded the video in January 2017.
The music video wound up getting over 200 million views, becoming the most popular video on Cole's channel. Cole also directed Lil Skies' video for "Nowadays" featuring Landon Cube and Red Roses. Over the years, Cole Bennett accumulated a net worth of $12 million.
Other Ventures
Cole created both the website and YouTube channel "Lyrical Lemonade" when he was in his senior year of high school. This later became a vlog, a blog, a promotions company, an event coordination firm, a music video production company, and much more.
Bennett got the opportunity to work with Soulja Boy and create a music video for his song "Workin It". After that, the rapper Dax called him up and told him he needed him to work on a video of his own for the hit single which went viral.
Following the success, Dax came back to work with Cole for several live performance videos and music videos for hit songs. At that time, Cole was also working with Soulja Boy and got the chance to work with local Chicago legend King Louie.
Cole expanded his Lyrical Lemonade business by turning it into merchandise and lemonade beverages. In early 2020, his company partnered with Jordan Brand to launch a collection of shoes, sweatshirts, as well as many other products.
Career Highlights
Lyrical Lemonade (Production company created in 2013)
Godzilla (Directed  Eminem's hit single, 2020)
2020-2021 BET Hip Hop Awards, Video Director of the Year _ Nominations
2022 Streamy Award, Cinematography _ Won
Cole Bennett Net Worth
Cole Bennett is on his way to becoming one of the high-profile music directors in the American music industry. He has become a powerful advocate for the artists that he worked with.
Cole has plans to expand his one-man operation to a full production crew with bigger budgets. He had already worked with mainstream artists like Migos and Riff Raff.
Cole mainly earns from his million-dollar company "Lyrical Lemonade" which is rapidly growing in popularity over the years. As of 2023, Cole Bennett's net worth is estimated to be $12 Million.
You May Like: