Anitta is a singer and actress from Brazil who has a net worth of a whopping $50 Million. She rose to fame in 2013 after releasing her breakthrough single "Show das Poderosas". That track reached number 1 in Brazil.
Anitta followed that up by releasing more hit singles including "Nao Para", and "Deixa Ele Sofrer". The singer came to the spotlight once again in 2015 when her third album "Bang" went viral. She found massive success with this project as it became a commercial success and has been certified 'Platinum'.
She made a name for herself as one of the best acknowledged and widespread Brazilian music artists. Her music led her to win several MTV Europe Music Awards for Best Brazilian Act.
What is Anitta's Net Worth?
[table id=344 /]
Early Life
Larissa de Macedo Machado aka Anitta was born on March 30th, 1993 in a small neighborhood in Rio de Janeiro, RJ, Brazil. She grew up with her older brother Renan Machado and is the youngest child of her parents, Mauro Machado and Míriam Macedo.
Anitta had a pretty rough childhood, her parents divorced when she was still a kid. From the age of seven, she actively participated in several singing competitions and in the church choir.
In terms of education, she took English classes with the help of her mother by the age of 11. Later she went to technical school in Rio de Janeiro where she completed an administration course.
Career
At the age of 17 Anitta started performing professionally and also became a winner of the Revelation of Music award. Later in 2011, her music caught the attention of producer Batutinha who invited her for an audition.
The producer was quickly impressed by her talent and signed her on Furacão 2000 label. After dropping a handful of tracks, Anitta's big hit "Meiga e Abusada" came out in early 2013. Around that same time, she signed a record deal with Warner Music Group.
In July 2013, Anitta dropped her self-titled debut album which contains 4 tracks. The project wound up being certified platinum. She followed that up by releasing her second album "Ritmo Perfeito" in 2014 which garnered a little commercial success in Brazil.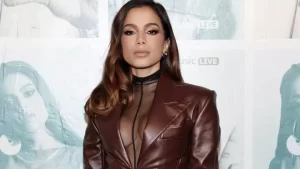 Breakthrough
Anitta came to mainstream success following the release of her third album titled "Bang". It features four hit singles including "Bang", "Deixa Ele Sofrer", "Cravo e Canela", and "Essa Mina é Louca". The album was not only certified platinum but also led the singer to the predominant place in the Brazilian music charts.
In 2017, Anitta came up with her first Spanish-language single called "Paradinha". The track went viral and reached reggaeton music as well as Latin pop. The Brazilian singer, Anitta received her first Latin Grammy Award nomination for Best Urban Music Album for her fourth album "Kisses".
The highlight of her artistic career is her great success with the song "Envolver" which was released in 2021. It became her most listened-to song in the world according to Spotify. That song was later included in her fifth album "Versions of Me" in 2022. Anitta has a fortune of close to $50 Million.
Other Ventures
Upon her success with her fourth studio album, "Bang", Anitta started getting offers from high-profile artists to appear in their hit singles. In 2016 she began teaming up with the likes of Maluma, Nile Rodgers, Iggy Azalea, Major Lazer, J Balvin, as well as Alesso among others.
Next year, she was featured in J Balvin's breakthrough single "Downtown" which hit several music charts. In 2019, Anitta was at the peak of her career and collaborated with other big artists such as Luis Fonsi, Madonna, Rita Ora, Black Eyed Peas, and Ozuna.
Anitta has made musical productions with artists from the USA, Puerto Rico, Colombia, Italy, and Brazil, among others. It has led her to open the market in different languages. Despite her success in music, the singer garnered over 66 million followers on Instagram alone.
The singer uses her social media platforms to endorse numerous brands. She has done promotional work for brands including Adidas, Samsung, Burger King, Cheetos, Lays, Rexona, Bacardi, Renault, iFood, Pepsi, Magazine Luiza, Target, Free Fire, Facebook Gaming, Brizza Arezzo, Hope, Tiffany & Co, and many others.
Personal Life
In July -2017 Anitta and businessman "Thiago Magalhães" started dating. In October of that year, the couple married. Their marriage life didn't last long and the two separated in September 2018.
Aside from that, Anitta had been in a relationship with many celebrities which includes Diego Raphael Villanueva, Neymar, Nilo Faria, Eduardo Sterblitch, Niall Horan, Daniel Trovejani, Gabriel Medina, Maluma, and Pablo Morais, among others.
Career Highlights
Ritmo Perfeito (Second album, 2014)
Bang (Third album, 2015)
Kisses (Fourth album, 2019)
Establishing herself as the first Brazilian artist to lead a Worldwide music chart
2019 Top 50 Music Awards _ Won
2019 ASCAP Award, Winning Song _ Won
2022 MTV Video Music Award, Best Latin _ Won
Several MTV Europe Music Awards _ Won
2021-2022 Latin American Music Awards, Favorite Female Artist, Favorite Video _ Won
2022 American Music Award, Favorite Female Latin Artist _ Won
Anitta Net Worth
Anitta is one of th most recognized Brazilian artists in the music world. He gained such massive popularity over the course of her impressive career. She first came to the limelight after releasing her 2014 album "Ritmo Perfeito".
According to some reports, Anitta accumulated over $150,000 from her hit single "Envolver". Her achievements draw the attention of Netflix, a platform that decided to make a documentary about her career called "Vai Anitta".
Anitta mainly earns from numerous sources such as music sales, live shows, YouTube, brand endorsements, and much more. Her business ventures and acting credits are also big contributors to her wealth. As of 2023, Anitta's net worth is estimated to be $50 Million.