Mitchel Musso is an American actor and singer who has a net worth of $3 Million. He is best known for his outstanding performance as Oliver Oscar Oken / Mike Standley III in the hit comedy series "Hannah Montana".
The show ran from 2006 to 2011 and led him to become one of the lead stars in Hollywood. The show Hannah Montana was one of the most-watched teen sitcoms back in the day. Despite this, Mitchel gained more popularity for his work in the comedy series "Phineas and Ferb". 
What is Mitchel Musso's Net Worth?
[table id=427 /]
Early Life
Mitchel Tate Musso was born on July 9th, 1991, in Garland, Texas, to father Samuel Musso and mother Katherine (née Moore). His older brother Mason Musso is a lead vocalist of the band Metro Station and his younger brother Marc is an actor.
Mitchel was raised in a family of artists, both of his parents worked in community theater in Dallas, and his two brothers are in showbiz.
Mitchel always had a passion for acting so he began pursuing his career at an early age. Due to his busy schedule, he was homeschooled. Despite acting, he also wanted to become a professional car race driver. 
Career
Mitchel made his Hollywood film debut in 2003 starring in "Secondhand Lions" alongside his younger brother Marc. He also showcased his voice acting talents, lending his voice to the character Curt in three episodes of "King of the Hill".
In 2005 Mitchel landed a role on Disney's "Life Is Ruff" and even appeared in a TV film called "Walker, Texas Ranger: Trial by Fire" alongside Selena Gomez.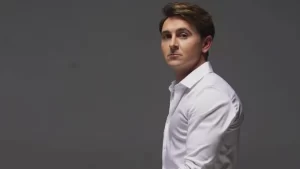 Breakthrough
The year 2006 was a big one for Mitchel, he voiced the character DJ in the animated film "Monster House". He also landed his most prominent role as Oliver in "Hannah Montana".
The show had the highest-rated premiere episode in the history of the Disney Channel as of 2006 and won eight Teen Choice awards.  Hannah Montana centered around a teen pop star living a double life played by Miley Cyrus.
Following his success with Hannah Montana Mitchel appeared in numerous television shows and films some of which included Hatching Pete, The Search for Santa Paws, Sins of our Youth, Avatar: The Last Airbender, and many more. Due to his success, Mitchel Musso has a net worth of $3 million.
Other Ventures
Mitchel talent didn't stop at acting, he delved into the music industry, singing tracks for Disney as well as releasing his songs. He dropped his debut album titled "Mitchel Musso" in 2009 and opened for his brother's band "Metro Station".
In addition, Mitchel headlined his tour, wowing fans with his energetic performances. There are even rumors of him starring alongside actor Jake T. Austin in an upcoming crime drama "The Rise".
After 10 years of hiatus, Mitchel turned to the spotlight via the music industry. He released a new single titled "Drank" in September 2022. The track was a part of his mixtape "Ghost" which was released in late October. It consists of 13 tracks that can be listened to on Apple Music as well as Spotify.
Personal Life
In 2011 Mitchel faced a DUI charge which led to his character being written out of Pair of Kings and the cancellation of the show "PrankStars". He took full responsibility for his actions, learned from his mistakes, and moved forward with the support of his fans and family.
Career Highlights
Hannah Montana (Disney Channel sitcom, 2006–2011)
Phineas and Ferb (Animated series, 2007–2015)
Pair of Kings (Disney XD's sitcom, 2010 – 2012)
2004 and 2008 Young Artist Awards, Best Performance In A Feature Film, Best Young Ensemble Performance _ Nominations
Mitchel Musso Net Worth
Mitchel Musso has been making waves in the entertainment world since he was just a young boy. He began his acting career by appearing in "Secondhand Lions" in 2003. From there he continued to make a name for himself in Hollywood.
The biggest breakthrough moment of Mitchel's career came in 2006 when he became cast in the hit series "Hannah Montana" Since then his life has changed forever.
He tried his hand at both the acting and music industries. Mitchel mainly earns from his film and television appearances as well as music. In 2004 he was invited for a commercial called Yoplait Go-Gurt. As of 2023, Mitchel Musso's net worth is estimated to be $3 Million.
You May Like