Baby Goth is an American singer and songwriter who has a net worth of $200,000. She came to the spotlight after releasing her first single "Swimming" in November 2018. For this track, she teamed up with fellow rappers Lil Xan and Trippie Redd.
The song "Swimming" amassed over 3.5 million views in just over a month. Following her success, she dropped her debut EP titled "Baby Goth" in Feb 2019. Apart from music, she is quite active on social media and has thousands of followers on different platforms.
Baby Goth collaborated with some high-profile artists including Wiz Khalifa on the song "Sugar" and Blitzedoffleah on the track "Smooth". Her music eventually grabbed the attention of labels with whom she worked such as Republic Records, Universal Music Group, as well as Hitway Recording.
What is Baby Goth's Net Worth?
[table id=262 /]
Early Life
Bria Bueno aka Baby Goth was born on February 28th, 1998, in Arlington, later moving to different areas of Dallas, Texas. Her father worked in construction so he moved their family all over the place. At different times she lived in Florida and South Carolina finally settling in Colorado.
Bria developed an interest in music as a child, she suffered from anxiety and music acted as her therapy. While growing up she started listening to the likes of Bob Dylan, Eminem, Blink 182, Biggie Small, and others.
At the age of 13, she recorded her vocals for the first time on a friend's track in high school. She said that some became her friend's most popular and requested songs. After that, she fell in love with creating music and decided to pursue it as a career.
Career
Baby Goth began her career by performing at house parties in Dallas while developing her sound and writing skills. Her first official release through was through her friend's record label "Rewind Records" for a song called "Rise Above". There was an accompanying music video which is no longer available online.
Under the record, she dropped a couple of tracks on SoundCloud one of which is "The Hills". After that, she was ready to record her debut EP.
Her goal was $14,200 to support the expenses of a trip to Los Angeles which included the production of a four-track EP and a hotel for herself. However, she only got $320 in funding for her project.
In 2017, Baby Goth released an EP titled "Baby Face" under her real name Bria Bueno. It includes 6 songs and she said she began recording while pregnant. She also has a song on Spotify from 2017 called "Outcast Anthem".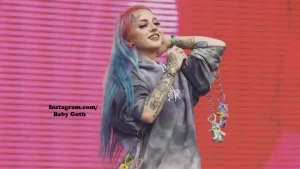 Breakthrough
On November 30th, 2018, Baby Goth posted her first official music video to her YouTube channel called "Swimming" which features Trippie Redd and Lil Xan.
Later she received an impressive response from her viewers after releasing her debut EP "Baby Goth". This extended play was dropped in Feb 2019. She was also featured on Trippie Redd's album "A Love Letter To You 3".
Other Ventures
Apart from music, Baby Goth is a social media personality and lists herself as a singer/songwriter. But also says she is a published alt/promo model. She posted a lot of sponsored pictures on Instagram to make some money and help her to grow her following.
On her Tumbler page, Baby says that she sings, raps, models, designs, draws, paints sculpts, and cosplay. Today, she supports grills, and multiple face tattoos including a baby under her eye, and a butterfly on her forehead.
Personal Life
When Baby Goth was 19 years old her life changed when she got pregnant by her boyfriend/Husband at that time. She didn't reveal the name of her partner but we do know that Baby Goth gave birth to her first son Rhythm, when she was 20 years old.
Three years later, the couple welcomed their second son named Art. Baby and her husband were together for six years but she says the two later broke up because of a toxic relationship.
Career
Here are some of the most popular songs of Baby Goth:
Swimming (2018)
Baby Goth – Mary (2019)
Sugar ft. Wiz Khalifa (2019)
So High (Audio) (2019)
Baby Goth Net Worth
Baby Goth is one of the emerging singers in the American music scene. She garnered a lot of fame in early 2018 and 2019 through her hit singles. Her first single "Swimming" helped her to catch the attention of big names with whom she collaborated.
Baby accumulated a handsome amount of money for herself and her family throughout her successful career. She mainly earns from uploading songs on YouTube, as well as performing live on shows and brand endorsements. As of 2023, Baby Goth's net worth is estimated to be $200,000.
You May Like: