Cuban Doll is an American social media personality turned rapper who has a net worth of $1.5 Million. She is best known for her 2017 breakout single "Rat B*tch." Following her success in music she received numerous features on "WorldStarhiphop."
She worked with the likes of Asian Doll, Molly Brazy, Lil Baby, and Lil Yachty. Outside of being a rapper, she is an Instagram model and garnered a lot of followers throughout her career.
Cuban Doll is famous for sharing lifestyle and fashion-related posts on her Instagram account "Cubanndasavage" where she has over 2 million followers. Later she came to the spotlight after the release of her second hit single "Bankrupt."
What is Cuban Doll's Net Worth?
[table id=203 /]
Early Life
Aaliyah Keef was born on May 12th, 1998, in Dallas, Texas, USA. While growing up she faced a lot of problems, when she was 15 years old her mother was in jail. Her mom didn't get out of jail until Cuban was 18.
Since her mother got locked up, her younger brother went to stay with her grandmother and Cuban went to stay with her friend. Her older brother moved out on his own. Cuban has always been a fan of rap and hip-hop.
She grew up listening to artists Aaliyah, Lil Kim, Trina, Nicki Minaj, and Chief Keef. Before launching her music career she wanted to become a model.
Career
Cuban Doll began her career as a social media personality by posting pictures regularly on Instagram. According to reports she was active on Twitter in 2012 and she's been using the name "Cuban Doll" since 2014. She came up with that name with another doll her good friend Asian Doll.
Cuban created her Instagram account with the name "Cubanndasavage" and posted her first pic in February 2016. She started posting to her Twitter page with the same handle in November of that year. As her popularity grew online she was hanging around people in the Dallas hip-hop scene.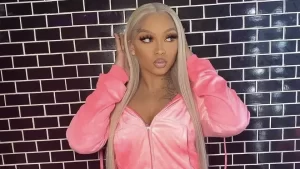 Breakthrough  
At first, Cuban was too shy to record music as herself. Eventually, she saw music as a potential opportunity. Cuban wrote her first song on her phone and decided to record it. On November 13th, 2016, she released her debut single "Get Money."
That same month her song "On Point" was released and the music video was uploaded 9 days later. She further released follow-up singles including "Let's Talk," "Tag Team," "Rat B*tch," and "Brazy Baby."
Most of these tracks including "On Point" and "Get Money" appeared on her first mixtape "Cuban Link." This mixtape was released in February 2017. The hit single "Let It Blow" featuring Molly Brazy was included in the mixtape. The music video of the song racked up over 24 million views on YouTube.
Other Ventures
In September 2017 Cuban Doll was featured on "WorldStarhiphop" with her song "Exposya." In June of that year, she released "Aaliyah Keef 1.0," the first part of her two-part mixtape titled "Aaliyah Keef." The second part "Aaliyah Keef" was released in December 2017 with Caroline Records.
That same year her biggest hit "Bankrupt" (featuring Lil Baby and Lil Yachty) came out. Cuban has worked with several popular artists including 6ix9ine and Chief Keef. She also released two more projects including "Karma" and "Savage Life" in 2019.
Career Highlights
Here are some of the most popular music of Cuban Doll:
Let It Blow (Song, 2017)
On Point (Song, 2016)
Racks Up (Official music video, 2017)
Bankrupt (Music video, 2017)
Cuban Link (Debut mixtape, 2017)
Cuban Doll Net Worth
Cuban is a rapper and former model from Dallas, Texas. She went from Instagram to rap star with hits like "Bankrupt," "On Point," and "Let It Blow." She accumulated a reasonable sum of money from her career as a rapper.
Her popularity and wealth are still growing even though she is not quite active on social media outlets. Outside of making money from music, she launched her clothing line called "Cuban Da Savage."
She has done endorsement work for brands including Rockstar Original, Fashion Nova, and Shopjwett, among others. As of 2023, Cuban Doll's net worth is estimated to be $1.5 million.
You May Like: