Dream Doll is an American rapper and reality TV star who has a net worth of $2 Million. She came to popularity after appearing in the hit reality TV show "Bad Girls Club" in 2016. She participated in the 16th season of the series which ran from 2016 to 2017.
Her appearance in the series earned her a lot of popularity as well as major gigs from several other shows including VH1's "Love & Hip Hop: New York." Dream Doll made a name for herself in both the TV and music industries.
She established herself as a rapper releasing her debut EP "Life in Plastic" in 2017 under Gwinnin Entertainment. The rapper gained recognition in the rap community following the release of her two hit singles "Everything Nice" and "Team Dream."
What is Dream Doll's Net Worth?
[table id=195 /]
Early Life
Tabatha Robinson was born on February 28th, 1992 in the New York City borough of the Bronx. She was raised by a single mother "LaTonya Clark" as the oldest of five siblings after her father was sent to prison to serve a 50-year sentence.
Tabatha attended high school at Bronx Academy. During that time she also enrolled at Westchester College for her post-secondary studies. Later she went to Herkimer Community College to earn a degree in Business Management.
Upon her graduation, Tabatha found herself in a relationship with a man who cheated on her with a woman. This led Tabatha to get her first plastic surgery at the age of 21. Around that time she began associating with a group of women in the Bronx who called themselves the Doll Game.
Career
Her collaboration with Doll Game led her to adopt a new moniker known as "Dream Doll." In 2016 she began working as a bartender at a popular club "Starlet's." While working at this bar she met with Power 105.1's popular radio personality DJ Self.
At this early stage of her, career Dream hadn't been taking rap music seriously. It was more of a hobby that she and her fellows participated in during college. She immediately decided to become an artist and asked DJ Self to give her a chance as an artist.
DJ told her to come back to him with a song and Dream Doll delivered the first song "Everything Nice" which she recorded in a professional studio. DJ enjoyed it when he heard the track and signed Dream Doll to his music label "Gwinin Entertainment."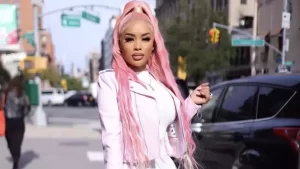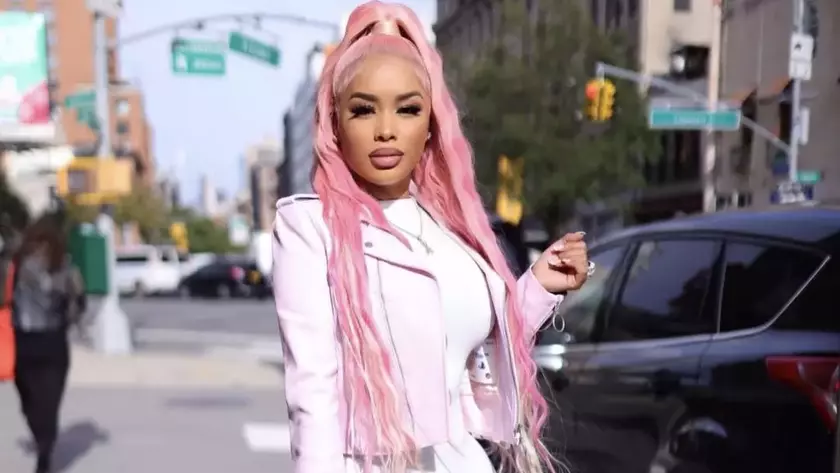 Breakthrough
Soon after Dream heard her song on the New York Club Ass'n where she began partying alongside DJ Self and Future. In 2017 the rapper released her first EP titled "Life In Plastic." That project contains 7 tracks including the hit single "Love is Blind."
In September 2018 she returned to music with the release of her second EP "Life In Plastic 2." This 10-track extended play caught the attention of record labels. Dream Doll had signed with District 18 in a joint venture under RCA Records.
She then released her sophomore effort which just so happened to feature a collaboration with Dream's biggest musical inspiration Lil Kim. They met over on Instagram and then recorded the track "Funeral" which became a highlight of Dream Doll's entire existence.
In 2021 she signed a new deal with Warner Records and dropped her third and seemingly final entry in her EP trilogy "Life In Plastic 3." The album contains the mega-hit single "You Know My body" featuring Capella Grey.
Other Ventures
Before earning recognition in music she tried her hand as a TV personality. Dream Doll was named to become cast in the 8th season of the popular reality TV series "Love & Hip Hop: New York." The show premiered on VH1 from 2017 to 2018.
She initially earned herself mainstream attention by appearing on the 16th season of the "Bad Girls Club." However, she was dismissed from the show due to her behavior and fights with other participants.
Outside of being a TV personality and a rapper, Dream is also a model for numerous brands. She has done endorsement work for big names including Beyani Hair Collection, Fashion Nova, Juvia's Place, and Moon Cosmetics.
Personal Life
In June 2021 Dream Doll announced to the entire world that she is proud to be bise#ual in a rainbow-colored Instagram post. That got sent out to her over 5 million Instagram followers. Over the past few years, she's had a rough go when it comes to plastic surgery.
Dream Doll has been in a relationship with many celebrities in her life. She dated the likes of Lil Uzi Vert, Justin Combs, Takeoff, YK Osiris, as well as YBN and hairstylist Dionte Gray.
Career Highlights
Bad Girls Club (Reality TV series, 2016)
Life In Plastic (Debut EP, 2017)
Life In Plastic 3 (Album, 2021)
You Know My body (Song, 2021)
Dream Doll Net Worth
Dream Doll is one of the known female artists in the American rap community. She rose to fame following her appearance in the 2016 reality series "Bad Girls Club." In the following year, she began her career as a rapper and earned massive success.
The main source of her income comes from live concerts, albums, streaming platforms, and YouTube. Most of her music videos have garnered over 2 million views on YouTube. Her music led her to collab with many high-profile artists such as Lil Kim and many others.
Dream Doll's fortune allowed her to buy a luxury car BMW i8 for herself which she bought in late 2019. She received several records offer throughout her career. As of 2023, Dream Doll's net worth is estimated to be $2 million.
You May Like: