Will Sharpe's Net Worth is estimated to be $3 million. He is a Japanese-English actor, director, and writer, from London. The second season of the popular satirical series "The White Lotus" presented some fresh new faces with its new ensemble cast. One of which is actor Will Sharpe.
Sharpe rose to fame when he began playing the role of Ethan Spiller (a successful tech geek) in this hit series "The White Lotus". Before this show, he worked on a couple of BBC projects. Aside from acting, he's also a director and writer.
He also gained popularity for his outstanding work in the British television sitcom "Defending the Guilty". However, there's likely a lot that you don't know about this rising star, so let's take a deep look at his life story.
What is Will Sharpe's Net Worth?
[table id=29 /]
Early Life
William Tomomori Fukuda Sharpe was born September 22nd, 1986, in London, England. But he was raised in Tokyo, Japan until the age of 8. His mother is Japanese but there isn't too much information available about his parents. We do know that Will has a brother named Arthur Sharpe who is a music director.
Upon his return to the UK, he went to school at Winchester College in Hampshire. Until he was 8 his family did live in Tokyo and then moved to Surrey, England when his father landed a new job. His dad used to work for the financial conduct authority.
Will spent his childhood showing love for Japanese sketch shows and watching Mr. Bean. He also played in bands on the keyboard and guitar. As a teen, he began his career working in theatres. He served as the president of Footlights at Cambridge which is a mature drama theater club.
Career
After graduating he went to London and tried his hand at booking stand-up gigs. Will graduated in 2008 and joined a Royal Shakespeare company for their 2008-2009 season spending a year with them.
During this time he appeared in plays like "The Taming of the Shrew", "The Merchant of Venice", and "The Tragedy of Thomas Hobbes". One of his earliest on-screen roles was playing Yuki Reid in the BBC medical drama "Casualty". He starred in about 50 episodes from 2009 to 2010.
Also in 2009 Will made his directorial debut in the short film "Cockroach" alongside his friend Tom Kingsley. Then the pair's first feature-length film "Black Pond" was shown at the Prince Charles Cinema in London at the end of 2011.
Will became known for his skills both on and off screen, especially for writing, and directing. He gained recognition for his appearance in the dark comedy-drama "Flowers" which premiered in 2016. His career focuses more on writing and directing than acting.
He made a role for himself in the drama "Flowers" so he could infuse it with the over-the-top humor found in Japanese film and TV. The series Flowers also allowed him to open up about his own mental health diagnosis.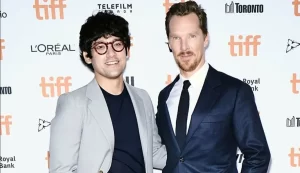 Breakthrough
In 2021, Will announced some more projects which were upcoming at the time including "Landscapers". It was a four-part drama he co-wrote and directed for HBO and Sky. That show featured Olivia Coleman from "Flowers" once again.
Then Will Sharpe co-wrote and directed the feature film "The Electrical Life of Louis Wain". It was inspired by a true story and based on the life of a Chaotic British Artist who became known in the late 19th century.
The breakthrough of his career came when Will joined the second season of "The White Lotus" in 2022. It's no doubt though that Will Sharpe has brought the attention of the American audience most in his recent role.
The second season of the show brought almost an entirely new cast of characters aside from Jennifer Coolidge and John Gries. So far it seems that Will's character Ethan is quite the fan favorite for this season of White Lotus. 
In this popular series, he appears alongside actors Alexandra Daddario, Sydney Sweeney, Aubrey Plaza, Beatrice Grannò, and many more.
Personal Life
The writer Will Sharpe began his relationship with English actress Sophia Di Martino. Although the two are not married as of now they have two children. The couple welcomed their first child in 2019 and then in November 2021 their second child was born.
Will Sharpe Net Worth
As of 2023, Will Sharpe's Net Worth is approximately to be around $3 million. He is one of the rising stars in the entertainment industry. Sharpe made a name for himself in showbiz by playing the role of Ethan in the hit series The White Lotus. This series earned him a lot of recognition and wealth.
Sharpe already secured his career by working as a writer, director, and actor. Whatever he is doing it's most definitely working out for him. I'm sure "The White Lotus" is only the beginning of his crossing over to a more global audience. His annual salary is roughly $1 million.