BLP Kosher is an American rapper and songwriter with a net worth of $750,000. He rose to fame after releasing his hit single "Inferno" in 2022.
BLP became the most promising Jewish rap star in the world. It is all thanks to his attention-grabbing sense of style and off-the-wall lyrics that contain plenty of references to his faith.
What is BLP Kosher's Net Worth?
[table id=399 /]
Early Life
BLP Kosher was born in Deerfield Beach, in the South Florida region of Broward County. Kosher has kept a few details to himself like his birthday and his birth name. Though we do know that his real name is "Benny Landy-Pavlon".
When Kosher was 7 years old, he fell in love with skateboarding. Once he little bit older, Kosher began recording tricks in skate parks with his friends and dining skate-shot fashion wear. In his free time, he spent time praying and searching for little signs from God.
Career
In 2021, Kosher took his rap career more seriously and teamed up with his friend who produced Kosher's first track "Sweet Potato". However, that track didn't earn him any traction.
In 2022 Kosher was living with his mother and his grandma out of a senior living retirement center. He had over 14 jobs at places like the Cheesecake factory and UPS only to get fired from nearly all of them.
Then, Kosher started working for Uber Eats though three months later his life would change forever when he met a man named Jew Sheisty. His rap career took on a life of its own when he met fellow rapper Jew who invited him to the studio to collaborate.
Kosher and Jew created a rap song titled "Beatbox Freestyle" and then posted it to SoundCloud in just one day. At the time Kosher was rapping just for fun, but Jew Sheisty saw something special in Kosher, so he convinced him to take rap more seriously.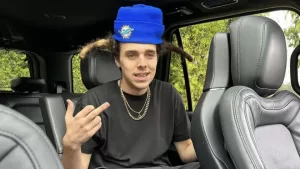 Breakthrough
Before long, BLP Kosher and Jew Sheisty started going viral together by releasing several hit tracks. Then tragedy happened when Kosher's best friend and collaborator Jew Sheisty passed away.
Kosher realized that he had a responsibility to fully commit himself to music to turn up for the friends who had helped him find his way. From that point on, he began recording one new song after another.
He also released mixtapes on SoundCloud with titles like "Earth To Benjamin", "Angel Fish" and "225 BARS". Some of his those singles found traction but it wouldn't be until his 2022 song "Inferno" that Kosher began to earn success. BLP Kosher has accumulated a net worth of $750,000.
Further Success
In November 2022, Kosher dropped his first full-length mixtape titled "Blp Kosher And The Magic Dreidel" featuring his viral hit "Jew On The Canoe". In 2023 Kosher earned his breakthrough moment when a high-profile collaboration with BabyTron aptly titled "Mazel Tron" came out.
The track "Mazel Tron" was released in April 2023 alongside a lyrical Lemonade music video directed by Cole Bennett. As of now, the rapper is on his way to producing more mixtapes as well as hit singles with other artists.
Other Ventures
Kosher's signature hairstyle arrived around 2019, at this time he was skating with a close friend named Charmain. His friend's girlfriend passed away in 2023. Kosher wanted to help his friend so he set a special Jewish prayer to elevate her soul to heaven.
During this period Kosher was still spending most of his days at the skate park and getting into trouble. He liked rapping but only as a hobby and he listened to artists like Kodak Black, TENTACION, Lil Wayne, and Eminem.
At the end of 2022, Kosher produced songs like The Knack before appearing on comedian Druski's Instagram Live. His appearance on Druski's Instagram Live wound up earning the kid more attention than he had ever earned before.
Career Highlights
Inferno (Song, 2022)
Blp Kosher And The Magic Dreidel (Mixtape, 2022)
Mazel Tron ft BabyTron (Song, 2023)
BLP Kosher Net Worth
BLP Kosher is one of the up-and-coming rappers in the music scene. He has been making music since 2019 but earned a breakthrough moment in 2023. His single Mazel Tron went viral on TikTok and has over 3 million views on the Lyrical Lemonade YouTube channel.
Kosher makes money from music sales, live concerts, and collaborations with other artists. His YouTube channel is also a big contributor to his fortune, where he uploads music videos. As of 2023, BLP Kosher's net worth is estimated to be $750,000.