Kendall Toole is an American fitness instructor and social media personality who has a net worth of $1 Million. She is best known for being one of the top and most popular Peloton instructors.
Toole has been blowing up in the fitness community since she started her fitness journey. She gained a lot of followers on social media over the years. Aside from her success, Toole was diagnosed with obsessive-compulsive disorder (OCD) when she was only 10 years old.
Despite this, Kendall is an inspiration for millions of her fans who followed her and wanted to achieve a physique like her. She established herself as one of the most influential names in the health and fitness industry.
What is Kendall Toole's Net Worth?
[table id=400 /]
Early Life
Kendall Elizabeth Toole was born on January 28th, 1993, in Houston Texas, to parents Suesie and Rick. She lived in Atlanta and then moved to Los Angeles, California at the age of 10 years old.
Kendall grew up with an older brother who is currently living in Nashville. While growing up Kendall developed an interest in sports. She participated in a handful of games including becoming a cheerleader as well as a gymnast.
Later, she went to study business and film at the University of Southern California. She fell into cheerleading at USC after years of homeschooling and found her passion for boxing and fitness as well.
Career
In 2012 Kendall got her first job at Kesley Edwards Photography where she worked as an intern. In the following year, she had a job at GetLifted Film Co working as a development assistant. Around June 2015, Toole was working as a production assistant which lasted for just a month.
Apart from this, Kendall got an offer to work as a production assistant for "Pony Show Entertainment" where she stayed from August 2014 to July 2015. Not long after, she began working as a story editor for Snap Inc. She did this job from 2015 to 2017.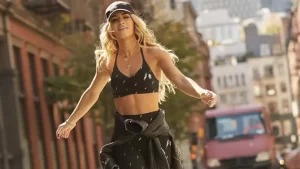 Breakthrough
The turning point of Kendall's career came when she met her mentor who owns a boxing gym on the West Side. Her mentor encouraged her to start working out. From that point on she began training three times a week and later the gym became her second home.
When she was 25 years old, Kendall got an offer from a fitness company that invited her to New York for an audition. She accepted the offer and moved to New York. Though she got a job, she was not making a ton of money at that time.
In 2019, Kendall Toole gave an audition during a class for 15,000 people at Peloton. Luckily, the famous head coach Cody Rigsby told her that she got a job. She trained for about three months and then became a cycling instructor with Peloton Interactive at the end of 2019. Kendall Toole has a net worth of $1 Million.
Personal Life
In her senior year at the University, Kendall Toole fell into a deep depression and anxiety, but this time it was her father who pulled her out of it.
Kendall Toole and Joseph Nicholas have been dating since 2020. The couple first met while visiting El Salvador on a holiday. However, the two are not legally married but living a happy life.
Despite this, Toole was previously dating her boyfriends. She was in Italy when her boyfriend broke up over a text message. The next day she got robbed on the tram.
Career Highlights
Being one of Peloton's most popular instructors
Kendall Toole Net Worth
Kendall is one of the most successful Peloton instructors and earned a lot of recognition throughout her career. She is just at the beginning of her fitness journey and had a lot more to do shortly.
Toole primarily earns from being a Peloton virtual bike instructor at Manhattan's Peloton Studios. There is an important question that people often ask "How much does Kendall Toole make per class at Peloton? Toole earns between $500-750 per class.
In addition, her source of revenue also comes from brand promotions and social media. As of 2023, Kendall Toole's net worth is estimated to be $1 Million.
You May Like: