Robin Arzon is an American ultramarathon runner who has a net worth of $8 Million. She is best recognized for being the vice president of Fitness Programming and a head instructor at Peloton Cycle.
She regularly gets thousands of people tuning into her classes. The fitness influencer accomplished a lot more throughout her successful journey. Robin completed more than 27 marathons and several Ultra Miracles.
Robin is also a two-time New York Times Best-Selling Author and published a total of three books. Apart from this, she is quite active on social media and racked up over 1 million followers on Instagram.
What is Robin Arzon's Net Worth?
[table id=202 /]
Early Life
Robin Amelia Arzón was born on September 21st, 1982, in Philadelphia, Pennsylvania. She is the daughter of a Puerto Rican father and a Cuban refugee mother. Her dad is a former law professor and was an attorney and her mom was a doctor.
Robin grew up in a well-settled and educated family. As a young girl, she was not interested in becoming an athlete. Growing up her parents encouraged her to focus on her studies rather than other things.
Upon her high school graduation, Arzon went on to New York University and graduated magna cum laude. After that, she enrolled at the prestigious Villanova University Law School where she obtained her law degree. Following this, Arzon began working as a corporate litigator.
Career
While studying in college Arzon was with her friend out at a bar in Manhattan when she was taken hostage suddenly in 2002. The man used Arzon as a human shield and he was heavily armed. In November 2019 she revealed in an interview that she was covered in kerosene and even saw three people get shot by the assailant.
Luckily the officers apprehended the assaulter and Arzoon survived safely. That incident encouraged her to begin her fitness career. From that point on she took her fitness more seriously and started running daily.
In 2003 Arzon was able to participate in the 10K race competitive running. It was her first race and from there she fell in love with running, fitness, and health. Around that time she was obtaining her law degree and she was improving her running skills during her free time from her classes.
In 2010 Arzon made her marathon debut in the "New York Marathon." Later she continued to participate in several running competitions including a total of 25 marathons, three 50-mile ultramarathons, and more.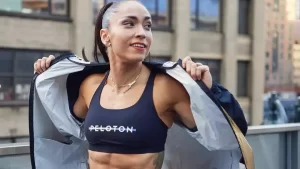 Breakthrough
Eventually, Arzon left her job at the law company in 2012 and began pursuing her dream of becoming a health and fitness expert. She got to report on the 2012 London Olympics and was published in sites including Newsweek and New York Magazine.
A year later she decided to show people an alternative way to compete athletically, originally she wanted to be closer to athletics. The turning point of her career came in 2014 when she was selected as an instructor at the Peloton in New York City.
Arzon began instructing classes and created a piece of content for Peloton for the following two years. As a result, she was offered by John Foley, who is the CEO of Peloton. John decided to promote her as the Vice President of Fitness and Programming.
Other Ventures
Arzon is the co-founder of the print publication Undo magazine and the fitness training Undo Ordinary which she created in 2013. Two years later she starred as Serengeti in "Mygrations" a National Geographic series.
In 2016 she took part in her first 100-mile race the Keys100, completing it in 30 hours. Outside of this, she is also one of the best-selling authors. Additionally, Arzon is the certified running coach of "The Road Runners Club of America."
Arzon is the author of the book entitled "Sh#t Up and Run: How to Get Up, Lace Up, and Sweat with Swagger" which was published in June 2016. In this book, she shared her experience as a hostage and her fitness journey. Then in January 2022 her second book "Strong Mama" was published.
As a social media influence, Arzon is the lead choice for multinational fitness brands and companies. She was announced as the global ambassador of "Adidas. In 2016 she appeared in the commercial for the "Here to Create campaign."
Personal Life
Robin Arzon has been married to investment manager Drew Butler since 2019. After dating for a couple of years they wedded in Tulum, Mexico. The couple first met in 2016 at one of Manhattan's bars.
In March 2021 Arzon and Butler were blessed with their first daughter "Athena Amelia Arzón-Butler." In January 2023 she announced in an interview that she is expecting her second child. Arzon accumulated a net worth of $8 million so the family is living a luxurious lifestyle.
In February 2014 Arzon was diagnosed with Type 1 Diabetes in her mid-30s. Before discovering her diagnosis, she was in India with her mother and her sister and after returning to New York she found her issue. Robin had a marathon two weeks after her diagnosis and she ran it.
Career Highlights
Shut Up and Run: How to Get Up, Lace Up, and Sweat with Swagger (First book, 2016)
Strong Mama (Second book, 2022)
VP of Fitness Programming at Peloton
Competed in over 50 races including marathons and ultramarathons
Robin Arzon Net Worth
Arzon is one of the most successful Peloton instructors and earned a lot of fame throughout her career. She mainly earns from being the VP of programming and the head instructor at the company.
A lot of people want to know "How much does Robin Arzon make per class? She is reportedly making between $500-750 per class. In addition, her source of income also comes from her investments, brand endorsements, and book sales.
Arzon published three books including Sh#t Up and Run, Strong Mama, and Strong Baby all of whom became commercially successful. As of 2023, Robin Arzon's net worth is estimated to be $8 million.
You May Like: