Ayo & Teo are American duo dancers and social media sensations with a net worth of $3 Million. They came to the spotlight after releasing their hit single "Rolex". The track helped them to earn over half a million subscribers on YouTube in just four months.
The hashtag #RolexChallenge, allowed them to build a massive following on youtube. Ayo & Teo's music caught the attention of big names and they were featured in music videos for the likes of Chris Brown and Usher.
Ayo & Teo are brothers from Michigan who were self-taught dancers that have been perfecting their moves since they were kids. They built up a modest following online, eventually grabbing Chris Brown's eye and getting some much-deserved reposts.
What is Ayo & Teo's Net Worth?
[table id=276 /]
Early Life
Ayleo Bowles aka Ayo was born on October 30th, 1996, in Ann Arbor, Michigan. His brother Mateo Bowles aka Teo was born on August 29th, 1999. Ayo had a head start at teaching himself some dance moves. When Mateo came along, he got in on the action.
In terms of education, both of the brothers graduated from Ypsilanti Community High School. After finishing high school, Ayo went on to study at Washtenaw Community College. On top of this, he was also working construction with his father to help pay the bills.
When his school had a talent show, Ayo brought his brother Teo along to perform. Teo was still in sophomore in high school at that time and fortunately, they had a good sense to record their performance. The two immediately uploaded that video on their YouTube channel in November 2014.
Career
Ayo & Teo started their official YouTube channel in November 2011 however, their first video didn't upload until three years later. By then the pair had been dancing together for over a decade. In 2015, Ayo & Teo began dancing to some tracks around the house or out on the patio.
They released a total of just 14 videos throughout the year and uploaded steadily to each of their Instagram accounts. They also had the performance at the villa shoe and apparel store in Ann Arbor's Briarwood Mall.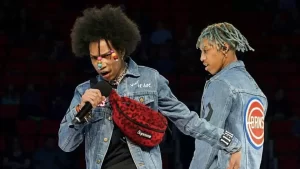 Breakthrough
Aside from their live performances throughout 2016, the boys ramped up the frequency of their uploads. They were posting a new video every week. The most popular video of them around this time was called "The Reverse" first released in 2015.
This video was their first paid gig where they collected a whopping $50. It was the reverse of the dance "Nae Nae", which seem to catch the attention of their hero Chris Brown. After Brown posted some of their work, the duo got more attention than ever.
Their next reverse of Lil Yachty's "One Night" blew up online. The boys then booked a gig as dancers in the music video for Usher's "No Limit" and Chris Brown's "Party". At that time, Ayo & Teo were on a high with their budding dance careers and their online fame. They decided to celebrate by stepping into a local mall, that's where they checked out some Rolexs.
From there, Ayo & Teo began recording their next hit called "Rolex" and they dropped the song without their dance routines. But they included the hashtag "RolexChallenge" in the title, giving their fans the chance to create their own dance moves before the official music video was launched.
Their song "Rolex" was an overnight success by amassing over 994 million views on YouTube. It also made it to number 32 on Billboard's Hot 100 charts. Following the massive success, Ayo & Teo signed a record deal with Columbia Records in 2017.
Other Ventures
The two brothers never took any official dance lessons, instead taught themselves all the tricks of the trade. The boys became obsessed with music. They even picked up a few instruments with Ayo having taught himself to play the piano, drums, and trombone.
Ayo played trombone for seven years in both a marching band and a concert band. The duo cites Michael Jackson, Usher, Missy Elliot, and Chris Brown as their early influences.
In 2016, the duo also performed at Ypsilanti Middle School for the NAAPID event. Later, they performed at Detriot's Fox Theater as part of "Let's Dance the Tour" which also featured famous artists like Salento and iLoveMemphis.
Career Highlights
Rolex (Song, 2017)
Performing at the 2016 BET Awards
Being featured in Usher, Chris Brown, and Lil Yachty's music videos
Ayo & Teo Net Worth
Ayo & Teo are the up-and-coming dancers in the American entertainment industry. All thanks to their 2017 breakthrough hit single "Rolex" for which they had a major hit on their hands. It did not just become their most viral video yet, but a song charting Billboard, so far peaking at number 32 on the Hot 100.
Ayo & Teo already accumulated a lot of wealth throughout their successful career. However, the boys are still on their way to becoming the top names in the industry.
The duo mainly earns from music, releasing new songs, performing dance on live shows, as well as collaborations with other artists. Ayo & Teo also make a massive fortune from their YouTube channel where they have over 6.4 million subscribers. As of 2023, Ayo & Teo's net worth is estimated to be $3 Million.
You May Like: