Aba N Preach is a Canadian duo created by Aba and Preach with a net worth of $1 Million. The two content creators came to the spotlight when they teamed up to launch their collaborative YouTube channel called "Aba N Preach".
The duo became one of the most controversial comedic duos on all of YouTube. Aba and Preach made headlines when they uploaded a responding video of Fresh and Fit sharing their views on prostitution.
Despite this, Aba N Preach created their channel in June 2012 and began uploading their content. As of now, the duo has over 2 million subscribers on that YouTube channel.
What is Aba N Preach's Net Worth?
[table id=281 /]
Early Life
Aba N Preach was born on April 30th, 1990, and on February 18th, 1984 respectively. As the oldest of the two, Preach's real name is Erich Étienne and he hails from Haitian stock.
His parents immigrated to Canada from Haiti and then settled in Quebec to raise their son. While growing up, Erich preferred to enjoy the comforts of American television series like "The Fresh Prince of Bel-Air" and "Hangin' With Mr. Cooper".
Meanwhile, Aba spent his childhood in Ethiopia, before moving to Ottawa and then settling in Montreal. His mother came to Canada from Eritrea, almost three decades ago and worked as a hotel housekeeper to make ends meet for Aba and his four siblings.
Career
During these difficult teenage years, Aba began spending time on the streets. Later, he joined the Canadian military and wound up leaving his family behind at the age of 18. Two years later Aba's father passed away at the age of 56.
This loss forced Aba to reconnect with his family and commit to a number of very important changes. He took up new hobbies to keep himself busy including dance. He also decided to reward his mother for everything she had sacrificed for him.
In the military, Aba began saving every penny of his $30,000 salary so that he could help his mother pay down her mortgage. He then presented his mother with a check on April 30th, 2013, and he filmed the entire thing.
Later, that video became the first clip that Aba ever uploaded to YouTube and it went viral. That clip earned him over 1.6 million views in just 4 days. He has since made that video private but just as Aba was finding his footing on YouTube, Preach was at the start of his YouTube career.
Preach found himself being encouraged by comedian Mike Ward to begin performing stand-up material of his own on stage. Once he began generating some genuine laughs from the stage, Preach was hooked on comedy.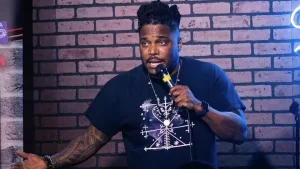 Breakthrough
The next video that Aba posted on YouTube was a controversial take on dating and "Height is Important". That video became one of Aba N Preach's most controversial creations, as well as their first collaboration.
These two met for the first time while attending a dance competition in Montreal. When Preach saw some of Aba's earliest attempts at recapping these competitions online, he realized that Aba had real skills and the two decided to team up.
At first, Aba helped Preach film a demo reel of his dancing abilities. After they both enjoyed that experience, Aba suggested Preach make the official appearance of Aba N Preach. Once that video went viral, both men decided to collaborate officially and continue uploading content.
Further Success
The duo opened up a dialogue between the English and French-speaking sides of Quebec. Over the next four years, Aba N Preach pushed the boundaries of political correctness. They also touched upon several controversial subjects which helped take their content to the next level.
Aba N Preach posts regularly on YouTube which includes topics of political as well as reaction videos. They have pivoted that style around 2020 and began embracing more while focussing on YouTubers and comedians like PewDiePie, Sneako, and MrBeast.
Other Ventures
That same year, Preach took a major life step forward and reconnected with his Haitian roots by traveling to Haiti. He shoot the film that was co-directed by Aba. Today, Aba N Preach continue to unleash their one-of-a-kind takes on culture and society.
Thanks to all of the experiences they have occurred over the years, they are getting more popular every day. It means that they will probably never stop making enemies with other content creators.
Career Highlights
Here are some of the most popular videos of Aba N Preach:
If Your Wife Spends More Than You Can Make (Dec 2022)
Child is Given Back To His Mom In Custody Battle (Feb 2023)
He Went Viral For Having The Most REASONABLE STANDARDS (March 2023)
Sneako. When Boys Cosplay As Manly Leaders (March 2023)
MoistCritikal Exposes Redpill Sneako (March 2023)
YIKES! Fresh & Fit Bring On A Proud (March 2023)
Aba N Preach Net Worth
Aba N Preach is one of the rising content creators on the internet as the two garnered a lot of attention. Their content helped them to reach a larger audience.
Before launching a YouTube career, Aba was getting a $30,000 salary from his job in the Canadian military. Aba N Preach already has millions of followers on different platforms and they are still on their way to becoming more famous.
The duo is making a vast chunk of money from their collaborative YouTube channel which is growing regularly. As of 2023, Aba N Preach's net worth is estimated to be $1 Million.
You May Like: