Violet Benson is an American comedian and social media star who has a net worth of $2 Million. She is best known for creating profiles on Instagram, Twitter, and Snapchat under the name Daddy Issues.
She gained such a massive fan base through this unique name and it opened several doors for her. Not to mention, Violet also runs a blog named DaddyIssuesLA. She has managed to amass over 6 million followers on her Daddy Issues Instagram account.
Aside from social media, Violet Benson made a couple of television appearances such as being featured on MTV and Vanity Fair. She came to the limelight when she began hosting her own podcast called Too Tired To Be Crazy. 
What is Violet Benson's Net Worth?
[table id=481 /]
Early Life
Violet Benson was born on November 15th, 1988 in Saint Petersburg, Russia. She lived with her family in Israel for several years. When Violet was 14 years old her family eventually won the green card lottery and moved to the United States.
Violet began living in Los Angeles, California, with her parents. She attended the independent charter secondary school known as El Camino Real Charter High School in LA.
Upon her high school graduation, Violet went to enroll at the public university in LA called California State University. While growing up she always had an interest in math which led her to study accounting and business law. At the age of 20, she completed her studies with two degrees.
Career
Violet Benson decided to become a comedian when she was voted class clown in high school, a precursor of her coming profession as a comedian. However, she first started her career in the field of accounting.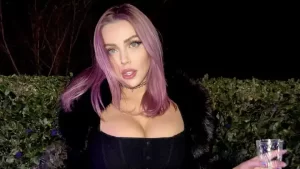 Breakthrough
The turning point of Violet's career came in July 2014 when she created an Instagram account titled Daddy Issues. She started posting her content on that page but she kept her identity a secret due to a lack of self-confidence.
Violet wound up garnering over 5 million followers in almost no time. She established her account Daddy Issues as one of the fastest-growing and largest funny female accounts in the world.
In August 2015 Violet revealed her identity through her appearance in the famous American TV show MTV where she was interviewed. Prior to revealing her identity, she was working as a guest blogger for MTV and especially served during the 2015 Video Music Awards.
Other Ventures
Apart from amassing millions of fans on social media, she tried her hand at showbiz and became a stand-up comedian, TV host, as well as a podcast host. Her outstanding work grabbed the attention of the renowned talent management enterprise Creative Artists Agency with whom she signed a contract.
Shortly thereafter, Violet came up with the idea of introducing her blogs which featured, videos, an advice column, and memes. Despite this, the comedian founded her merch line in 2017. That same year she teamed up with Facebook to make a show named Top Five With Violet Benson.
In 2018 Violet collaborated with an LA-based company Awesomeness and created a YouTube series titled How To Lose A Guy which she starred and wrote. In the following year, she began a weekly podcast Too Tired To Be Crazy which was about self-love. The show ended in late 2021 with its last episode entitled GOODBYE 2021. 
Career Highlights
Daddyissues _ Social Media Profiles
DaddyIssuesLA _ Blog
I CAN'T BE GAY! With Shannon Beveridge (YouTube video)
The Instagram Meme Queen according to Vanity Fair
Violet Benson Net Worth
Violet Benson is one of the rising celebrities on the internet who earned a name for herself through sharing content on social media via her profile Daddy Issues. 
After establishing herself as a social media personality, she succeeds as a comedian and hosted a couple of shows and podcasts. As of 2023, Violet Benson's net worth is estimated to be $2 Million.
You May Like