Troy Ave is an American rapper with a net worth of $1 Million. He rose to fame after releasing his hip-hop studio album New York City: The Album in November 2013. Two years later, he dropped another hit project called Major Without a Deal.
Troy began his rap career back in 2009 by releasing his mixtape I'm In Traffick. From there, he continued to release one tape after another, having dropped over 20 mixtapes between 2009 and 2018. He found himself on the list of XXL magazine's 2014 Freshmen Class.
What is Troy Ave's Net Worth?
[table id=492 /]
Early Life
Roland Collins aka Troy Ave was born on November 23rd, 1987 in Brooklyn, New York. He was raised in a part of Brooklyn known as Crown Heights. He took his rap moniker from the cross street he grew up on, Troy Avenue.
During his childhood, he was passionate about playing football, basketball, and video games. Troy's mother worked as a service technician. His mom might have helped him learn how to dress for success.
Troy Ave attended South Shore High School before enrolling at New Utrecht High School located in Brooklyn. During high school, he began working part-time at franchises like Verizon and Wendy's. However, none of these gigs were earning him the kind of money he was hoping for though.
Career
Troy Ave started his career by releasing his debut mixtape I'm In Traffick in August 2009. From there he began dropping more projects such as Bricks In My Backpack, and KFC, and has appeared in countless interviews.
Troy took half of the earnings (he made from music on the streets) and he invested in his own music. The emergence of the mixtape industry led to him selling his earliest self-released projects out of the back of his car. He used the money for his tapes to reinvest in his sound.
A few years into his music career, Troy Ave started hustling more than ever in terms of music. He came to the limelight following the release of his first major projects  I'm In Traffick and Bricks In My Backpack which were released in 2009 and 2010 respectively.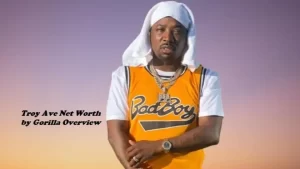 Breakthrough
Troy continued to release one mixtape a year and oftentimes as many as three. It took him a few years of continuing to refine his sound. He found success with the release of Bricks In My Backpack 3: The Harry Powder Trilogy in 2012.
The next year, Troy dropped his first studio album New York City: The Album featuring Raekwon, Prodigy, and Pusha T. This project was so successful and appeared on Billboard's Top R&B and Hip Hop Albums Chart. That was enough of an accomplishment to earn Troy a spot on the roster of the XXL Freshman Class for 2014.
In June 2015, the rapper dropped his 2nd album Major Without a Deal. The album wound up reaching number 13 and number 14 on the US Rap and US R&B charts respectively. Troy gained recognition with his hit singles including New York City, Your Style, and Bang Bang with 50 Cent.
Personal Life
On May 25th, 2016 Troy Ave and internet personality Darryl Thaxton were involved in an attraction at Irving Plaza during a TI concert that ultimately left Troy's bodyguard Ronald.
Three others were wounded during the event including Troy. According to his testimony, Troy and Ronald were inside the VIP lounge when they spotted Darryl Thaxton who they had been beefing with at the time.
Darryl pulled out a weapon and shot Ronald before then turning the gun on Troy. Soon, Troy got the gun away from Darryl who then fled as Troy fired back in response. Soon after being hospitalized Troy was arrested and charged with the legal possession of a firearm.
Other Ventures
Troy maintained his innocence claiming self-defense and a mixtape titled "Free Troy Ave" was released while he was being held in prison. By July 2016 Troy had made bail and was temporarily released and then returned with another mixtape titled "Ronald Collins" as his case worked its way through the legal system.
Career Highlights
I'm In Traffick (Mixtape, 2009)
Bricks In My Backpack (Tape, 2010)
KFC (Kilos For Cheap) (Tape, 2010)
ricks In My Backpack 3: The Harry Powder Trilogy (Tape, 2012)
BSB Vol. 1-5 (Tapes, 2013-2014)
New York City: The Album (First album, 2013)
Major Without a Deal (Second album, 2015)
Troy Ave Net Worth
Troy Ave is one of the well-known rappers in the American music scene who began his career in 2009. Since then he has released over 12 mixtapes, most of which became successful. Thanks to his hit projects, Troy Ave earned a net worth of one million US dollars.
His rise to fame came with his first mixtape I'm In Traffick (2009) but his breakout project New York City: The Album was released in 2013. Troy Ave established himself as a lead celebrity in his country and worked with the likes of Lloyd Banks, Raekwon, Prodigy, 50 Cent, Young Lito, and Ty Dolla Sign, among others.
Troy had a lot of troubles in his life including a beef with the rapper Joey Bada$$, but he still managed to make a name for himself in music. Outside of music, he earns from endorsing clothing brand GODisGreatPaper$traight and some other ventures. As of 2023, Troy Ave's net worth is estimated to be $1 Million.
You May Like