YBN Cordae is an American rapper and songwriter who has a net worth of $3 Million. He rose to fame after the release of his 2014 mixtape, "Anxiety." The rapper gained attention from the entire hip-hop community by dropping a response single to J Cole's "1985."
He continued to release hit singles and mixtapes under the stage name "Entendre." In 2019 he was included in the XXL Freshman list, becoming one of the most promising young artists in hip hop. He came to the spotlight after joining the YBN crew alongside Nahmir and Almighty Jay.
Over the years Cordae collaborated with high-profile artists such as Lil Wayne, Roddy Ricch, Logic, Chance The Rapper, and Anderson Paak. In 2019 Cordae's debut studio album, "The Lost Boy" came out and became a massive success, receiving 2 Grammy Award nominations.
What is YBN Cordae's Net Worth?
[table id=145 /]
Early Life
Cordae Dunston was born on August 26th, 1997, in Raleigh, North Carolina, USA. He was born to his mother when she was 16 years old, so he was raised by his mother and grandmother.
Around the age of five, he and his family relocated to South Carolina, later moving to Suitland, Maryland around the age of nine. When Cordae was 10 years old, he wrote his first rap but it wasn't until later on that he fell in love with hip hop.
He began listening to rappers like 50 Cent and Ja Rule. He even cites Eminem, Big L, and Nas, as his top three rappers of all time. Later on, he was inspired by the newer generation of rappers including Kanye West, Kendrick, and Kid Cudi.
After his mother got a Government job and started making more money, the family moved to Waldorf, Maryland. In Waldorf, Cordae finished high school in 2015. Two years later he attended Maryland's Towson University but dropped out in 2018 to pursue a career in hip-hop.
Career
Cordae recorded his first song at the age of 16 under the name of Entendre. While in college he worked at Texas Roadhouse and TGI Fridays, so he didn't have any time to record music.
During college, he met fellow artist YBN Nahmir through social media. He was skipping class to fly to Los Angeles where he stayed at Nahmir's place. Cordae teamed up with their mutual friend Simba to record the track, "Tough Decision."
The YBN Collective started through Xbox Live when Nahmir posted his GTA live streams to YoTube and freestyle over them. At that time, the group had 10 members including promoters, rappers, and friends. But the big three were Almighty Jay, Nahmir, and Cordae. In August 2020 Nahmir announced on Twitter that the YBN crew had disbanded.
In 2014 Cordae released his first mixtape, "Anxiety." He followed that up by releasing mixtapes including "I'm So Anxious" (2016) and "I'm So Anonymous" (2017). Next year he took his passion more seriously and started collaborating with other artists.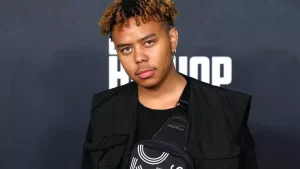 Breakthrough
Cordae came to the limelight when he released the remix of Eminem's hit single "My Name Is." He also uploaded the music video of the song on WorldStarHipHop's YouTube channel. Following the success, his track "Old Ni##a" came out as the response to J. Cole's song, "1985." Cordae gained more popularity by releasing songs, "Fighting Temptations" and "Kung Fu."
In May 2018 he got a chance to make his live performance debut at the annual Rolling Loud music concert. Cordae released his hit single, "Scotty Pippen" which earned over 15 million views on YouTube. At the end of that year, he collaborated with legendary rappers, Juice Wrld, Lil Mosey, and Blake, and went on to the "American WRLD Domination tour."
In 2019 his tracks "Locationships" and "Have Mercy" were released, later of which came out as the lead single of his debut studio album "The Lost Boy." The project was released in July 2019 and it earned him a lot of popularity as well as award nominations.
Other Ventures
The album The Lost Boy also contains a hit single, "Bad Idea" which went viral, getting a Best Rap Song nomination at the Grammy Awards. To promote the album, he headlined the "The Lost Boy in America Tour" in January 2020. Cordae released a track, "Gifted" ft Roddy Ricch, in August.
Next year his EP, "Just Until" was released and featured artists were Young Thug and Q-Tip. In January 2022, the rapper dropped his second studio album, "From a Birds Eye View." That project contains 14 tracks with features like Eminem, Gunna, and Stevie Wonder, among others.
Personal Life
In 2019 YBN Cordae started dating Japanese tennis player Naomi Osaka who is a professional tennis player from Japan. The couple was expecting their first child together which they revealed in January 2023.
Career Highlights
Anxiety, (First Mixtape, 2014)
I'm So Anxious, (2016)
I'm So Anonymous, (2017)
My Name Is (Song, 2018)
Old N*ggas (2018)
Fighting Temptations (2018)
Kung Fu, (Single and music video, 2018)
Have Mercy, (Song, 2019)
62nd Grammy Awards, Best Rap Album, Best Rap Single _ Nomination
YBN Cordae Net Worth
YBN Cordae is one of the rising rappers in the hip-hop world and earned a lot of attention from an early age. He has already worked with some names including DJ Khaled, Logic, Curren$y, Young Thug, Gunna, Lil Durk, and many more.
Cordae rose to stardom after the release of his hit singles and mixtapes like "Anxiety." He has managed to accumulate a lot of fortune from the music industry. His hard work and commitment paid him generously. As of 2023, YBN Cordae's net worth is estimated to be $3 Million.
YBN mainly earns from live shows, deals with Atlantic Records, YouTube, and associations with other artists. Additionally, he has done endorsement work for Samsung for their Galaxy Note 9. Later he became the youth ambassador of the lead company known as Puma.
You May Like: