Karan Aujla is an Indian Punjabi singer and rapper who has a net worth of $12 Million. He made a name for himself in the Punjabi music industry and has gained a lot of popularity among youngsters.
Karan's super hit songs have managed to make their place on UK Asian chart by Official Charts firm and the Global YouTube music chart. Aujla is known for his songs including Alcohol 2, Lafaafe, Sh*t Talk, and Don't Worry.
His track "Don't Look" became a massive hit, staying for 24 weeks on the Asian Music Chart. The rapper not only earned fame in India but has millions of followers in other countries, especially in Canada. Karan's debut album "BTFU" earned him mainstream success and as a result, he was named Spotify's "Largest Digital Artist in 2021."
What is Karan Aujla's Net Worth?
[table id=167 /]
Early Life
Jaskaran Singh Aujla was born on January 18th, 1997, in Ghurala, Punjab, India. He is the youngest son of Balwinder Singh Aujla and Rajinder Kaur. Karan's father used to work in a cooperative society as well as a writer.
In 2007 Karan's parents passed away when he was 8 years old. Since then he was raised by his uncle and his older sister. Soon he developed an interest in writing lyrics and in the 9th grade, Karan met Jassi Gill at a wedding event.
Jassi became impressed with Karan's writing skills and offered to write a song for him. Karan wrote a song "Range" for Jassi Gill and it became viral. Later he relocated to Canada and got permanent residency. He graduated from high school in Burnaby, Canada.
Career
In 2014 Karan teamed up with Mac Benipal and released his debut song "Cell Phone." However, the song went flopped, getting only a few thousand views on YouTube. He didn't stop there and began working in Deep Jandu's music studio in Toronto, Canada.
Aujla's music career started with the help of Deep Jandu and Elly Mangat. He used to write lyrics for singers including Jessi Gill, Bohemia, Jazzy B, Sukh-E, Elly Mangat, and Gagan Kokri. Eventually, he gained popularity as a writer when his written song "Blessings of Bapu" (sung by Gagan) went viral.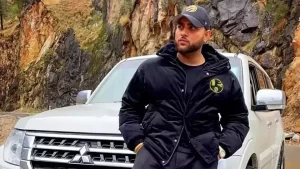 Breakthrough
In 2016 Karan released his song "Property of Punjab" which was well-praised by the audience. He followed this up by releasing more tracks including Alcohol 2, Sh*t Talk, and Lafaafe. 
In 2018 Aujla collaborated with Gurlez Akhtar and launched his breakthrough single "Don't Worry." That song became one of the biggest tracks of his career yet, earning over 170 million views on YouTube. In addition, it became his first song to enter the "UK Asian Music Chart."
Following his success, Aujla released more hit singles like "Rim vs Jhanjhar" and "Na Na Na" as well as "No Need." In 2019 he dropped another song "Don't Look" which went viral, being remained for more than 24 weeks on the Asian Music Chart.
That same year his tracks "Don't Worry", "Hair", "2 AM", and "Hint" were released. The song "Hint" was on the top ranking on YouTube for 5 days. Later that year he released the title track "Sikander" for the Indian Punjabi film "Sikander 2."
His followed up song "Chitta Kurta" became another hit, peaking at #35 on the Global charts. In early 2020 his song "Jhanjar" came out and earned over 5 million views in one day on YouTube. He also dropped "Red Eyes" which amassed 90 million views. During that time some of his unreleased songs were leaked.
Other Ventures
In April 2020 his track "Sheikh" was leaked but he quickly released the official version of the song on his channel. Karan's song "Haan Haige aa" was released in June 2020 and it racked up over 11 million views within 24 hours.
In September 2021 Karan's debut album "BTFU" was released which contains 6 tracks. Following the release of this album Karan Aujla was ranked 38 on "India's Biggest Digital Artist World." On top of that, the album was placed at number 38 on the Spotify Global Debut Album Chart, as well as peaked at number 19th on the Billboard Top Canadian Album.
Personal Life
Karan Aujla got married to his long-time girlfriend Palak. The two were dating for many years and wed in early 2019.
Karan and the late rapper Sidhu Moose Wala were good friends at the beginning of their music careers. However, the two ended their friendship.
Car Collection
Audi Q7
Mercedes G Wagon
Mercedes Benz S 550
Toyota Fortuner
Ford F_150 Raptor
Cadillac Escalade
Lamborghini Huracan
Career Highlights
BTFU (Debut Album, 2021)
Being included in the Most Popular Artists in Punjabi Music Industry list
Yaarian Ch Fikk (Song)
Unity (Song)
Lafaafe (Song)
Don't Worry (Breakthrough song, 2018)
Red Eyes
Kya Baat Aa
So Far
52 Bars
2020 PTC Punjabi Music Awards, Best New Age Sensation _ Won
Karan Aujla Net Worth
Karan Aujla is one of the rising singers in the music industry and has earned a lot of fame through releasing songs. His unique style and lyrics helped him to gain millions of followers. Aujla mostly earns from singing, writing lyrics, and live concerts.
His source of income also comes from brand endorsements, collaborations with artists, and business ventures. In November 2021 Karan launched his own clothing line called "Hukam Clothing." As of 2023, Karan Aujla's net worth is estimated to be $12 Million.
You May Like: