Tommy Lee Sparta is a Jamaican dancehall singer and songwriter who has a net worth of $3 Million. He came to the spotlight after becoming a member of Adidjahiem Records.
Tommy is known for bringing dark imagery to Dancehall, breaking onto the scene as the genre's first goth. He earned several stage names over the years including  Uncle Demon, Guzu, Lord luci Godfather, and Sparta. 
Sparte gained popularity for releasing songs like Spartan Soldier, Grim Rim Rave, and Soul Reaper. After releasing hit singles, he received shoutouts from the likes of Usain Bolt, working with Vybz Kartel, and Vanessa Bling.
What is Tommy Lee Sparta's Net Worth?
[table id=622 /]
Early Life
Leroy Russell Junior was born on November 4th, 1987, in Montego Bay, Jamaica. He grew up with five siblings, but his childhood was difficult, as he lost his father when he was just nine years old.
Leroy grew up in a musical home, his grandfather and great-uncles had a band that often played traditional Jamaican wakes. At first, he was inspired to write music at his grandfather's vigil.
As he developed as an artist, he fathered his first child at just 14 years old. During the tenth grade, Leroy dropped out of Anchovy High School and started making money to provide food for his family.
Career
Before launching his music career, Leroy started hustling on the streets and picking up work on construction sites. Soon, he turned to the sea, catching fish, shrimp, and conch while climbing breadfruit and ackee trees.
While still struggling to put food on the table, Leroy continued to have a passion for music. He began deejaying at Snipa Studios in Flanker in late 2008 and recorded his first song, Spartan Story.
After that, Leroy adopted the stage name Tommy Lee. That was eventually changed to Tommy Lee Sparta to avoid confusion with the Motley Crue drummer by the same name. At that time, music was still a hobby for him, he didn't consider the possibility of being a professional musician.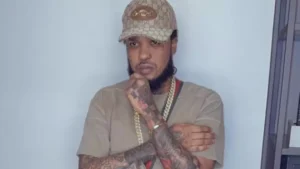 Breakthrough
Tommy Lee started grabbing the attention of other artists and began performing as the opening act for local shows. Later, he opened for Vybz Kartel on several occasions.
Eventually, Vybz invited Tommy to move to Kingston with him and join his musical collective Portmore Empire. However, Tommy wasn't ready to leave his home and growing family, so he turned down the offer.
Tommy Lee Sparta was later invited to perform at Vybz Kartel's Birthday Bash in January 2010. It was there he accepted the offer to become a member of Vybz Kartel's crew. His first underground hit with the Portmore Empire was "Warn Dem" which was released in November 2010.
Further Success
A breakthrough moment in his career came when Tommy released the song Some Bwoy in 2011. The song was not a smash hit at first. But after the arrest of his mentor Vybz Kartel, and the release of the song's music video, it went viral.
Following his success, Tommy released 5 EPs and hit singles including Shook, Buss a Blank, and more. In the summer of 2012, Tommy Lee Sparta's music was at the top and he was headlining both the Reggae Sumfest in Montego Bay and the  Sting music festival in Portmore.
Tommy then teamed up with Vanessa Bling to start a new label called PG13 which they ran until Vybz Kartel was released from jail. Throughout 2013, Tommy released two LPS including Uncle Demon and Sparta Boss as well as EPs, Save Dem Soul, Bun Nu Nu, and Spartan. In 2014, Sparta dropped an EP Dream followed by Big Bike and Rebirth in 2015.
Tommy's Fued with Bounty Killer
In September 2012, the music artist Bounty Killer took to Twitter and wrote a sentence against Tommy Lee Sparta. Many saw this as a direct reference to Tommy and a threat regarding his upcoming Sting music festival performance on Boxing Day.
Bounty denied this, claiming that it was just an innocent message against the devil. Tommy said that he would overlook the slight out of respect for his dancehall elder.
Just one week later, Tommy released a diss track and music video aimed at Bounty Killer called "Goat Head". Bounty responded with two diss tracks of his own, and the two were slated to clash at the upcoming Sting music festival.
After the festival's lead promoter implied that Tommy might have a chance to beat the veteran artist, Bounty canceled his performance. During the festival, Tommy expressed respect for Bounty and both artists have since stated they consider the beef to be over.
Personal Life
Tommy Lee started dating his high school girlfriend Donna. The two had their first child when Tommy was just 14 years old. During that time, Tommy was in the eighth grade.
Soon, he dropped out of school after discovering that his 11th grade was expecting to give him a second child. Tommy's mother then allowed his pregnant girlfriend to move into the family home. As of June 2016, Tommy's fathered a total of 8 children.
Tommy Lee Sparta Net Worth
Tommy Lee Sparta made a name for himself through his "Gothic Dancehall" style for which he also became a controversial figure. His popularity grew after collaborating with popular music artist, Vybz Kartel.
Tommy has earned a good sum of cash from his successful music career. Tommy mainly earns from performing on live shows and dropping new songs. As of 2023, Tommy Lee Sparta's net worth is estimated to be $3 Million.
You May Like