Kody Brown is an American TV reality star and polygamist who has a net worth of $800,000. He is best recognized for his appearance in the polygamous family-oriented TLC series, "Sister Wives." This popular series shows his 4 wives including, Meri Brown, Robyn Sullivan, Christine, and Janelle, as well as their 18 kids.
The United States challenged the State of Utah's illegal polygamy law in which Kody was the subject of a major legal case. Brown declared that he only has a legal wedding to one of his four wives, and the other three are just "spiritual unions."
What is Kody Brown's Net Worth?
[table id=103 /]
Early Life
Kody Winn Brown was born in Lovell, Wyoming on January 17th of 1969. He was raised by a polygamous family. His father William Winn Brown became a polygamist and married three wives, including Kody's mother Genielle Brown.
Kody has nine siblings with whom he grew up in a Mormon household. According to Kody, he has no idea which siblings came from which mother on his father's three wives. He revealed that growing up in the Mormon faith was very struggling for him and his family.
Career
Kody is quite private about his work life so he hasn't disclosed how he started his professional career. He just mentioned that he used to work on ad sales on the Internet. Around that time he was working as a sign shop salesman from which Brown used to earn $4,000 per month.
In the early 2000s, Kody worked at Das Hundhaus Firearms & Accessories company where he served as the company's president. Later he quit his job when he got an opportunity to appear along with his four wives in TLC's "Sister Wives."
Breakthrough
The show "Sister Wives" debuted in 2010 that started showing his family's little arguments along with fascinating sections of labor in this unique approach. After appearing in "Sister Wives", Kody wanted to build his family's brand and obtain awareness of polygamy in the US to get more fame.
In 2012 Kody and his four wives published the book titled, "Becoming Sister Wives: The Story of an Unconventional Marriage." It was successful, becoming The New York Times Bestselling book as well as receiving 4 stars on Amazon.
Financial Issues
In 2005 Kody Brown and his wife Meri announced their bankruptcy while his wife Christine declared bankruptcy in 2010. Over the years the family faced serious financial problems.
In 2014 Kody and his wife Robyn were facing a money problem. They were not able to pay the large medical bill when Robyn's son Dayton got involved in an AVT accident. Kody was in 6 figure debt which was settled in the following year.
In 2020 Kody's wife Christine requested her fans to buy her LuLaRoe clothing to help support her daughter, Ysabel Brown's $50 Thousand scoliosis surgery.
Legal Problems
The state of Utah's polygamy law was challenged in the United States federal courts. The video from "Sister Wives" was used as proof against Kody.
The Utah authority revealed that they were looking into Kody Brown for bigamy, a felony that brings a 20-year maximum prison term. Each of his wives could obtain a 5-year prison sentence as well.
In the end, the case was ultimately carried to the district courts, and it was dropped. It was settled that cases concerning alleged child bigamy, abuse, and fraud, should be the only ones where polygamy is prosecuted.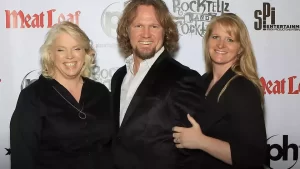 Personal Life
Kody Brown has been in a relationship with Meri, Janelle, Christine, and Roby. All of his wives adopted his surname, Brown. In April 1990 Kody did his first marriage to TV personality "Meri Brown." In 1995 their son, "Leon Brown" was born. The couple broke up in 2015.
Kody married for the second time with "Janelle Brown" in January 1993, making them legally married. Together Kody and she has 6 children. After nearly 30 years of marriage, Janelle and Kody confirmed their separation in the teaser for the fourth coming one-on-one program. This latest season of "Sister Wives" showed the strain in their relationship.
In 1994 "Christine" became Kody's third wife and the two of them have 6 children together. After a challenging few years, Christine decided to divorce her ex in November 2021.
Kody only has a legal marriage to Robyn Brown, even though he considers himself spiritually married to his other wives. The union took place in May 2010 and they have 3 children together. Robyn has three more kids from a prior union with David Jessup. As of 2023, Kody Brown has a total of 18 children, 15 of whom are biologically associated with him.
Real Estate
Kody Brown and his four wives have a net worth of approximately $2.6 million. He is currently in a relationship with his fourth wife, Robyn. The couple spent $900 thousand on the lavish house located in Flagstaff, Arizona.
As of now, the house has a market value of $1.5 million. It features 5 beds, and 4 baths, as well as breathtaking views of the mountains. The house spans over 4,400 square feet of living space.
Salary Report
Kody Brown and all his four wives have managed to accumulate a lot of wealth from the TLC's "Sister Wives." They are paid 10 percent of the total budget given per episode which is between $250 thousand and $400 thousand.
This correlates to roughly $25 thousand to $40 thousand per episode. The amount is divided between Kody and his four wives, Meri, Janelle, Christine, and Robyn. 

Family Ventures
Each of Kody's wives started their own business ventures at the peak of their careers. His first ex-wife Meri Browns lives in Parowan, Utah where she runs her business, "Lizzie's Heritage Inn."
Meri teamed up with Christine and the two started their clothing line, "LuLaRoe." Jannelle launched her own company called, "Strive With Jannelle." Janelle and Christine are the representatives of "Peluxs."
In 2020 Christine enlisted CBrown Quest, LLC with Arizona Corporation Commission. The family began their online clothing and Jewelry store "My Sister Wife's Closet" which was operated by Robyn.
Kody Brown Net Worth
Kody Brown is a reality star from Lovell, Wyoming. He is best known for his relationship with Robyn, Christine, Janelle, and Meri Brown in Sister Wives. Brown came to the spotlight in the year 2010 when he began appearing in "Sister Wives" along with his wives.
Three of his wives including Meri, Christine, Jannel, and Christine are no longer members of the family. Kody mainly earns from his appearance on TV shows. As of 2023, Kody Brown's net worth is estimated to be $800,000. His fourth wife Robyn Brown worth is $600,000.
You May Like: