Alkaline is a Jamaican rapper and Reggae musician who has a net worth of $1 Million. He is probably best known for becoming one of Dancehall's rising stars, with songs like "Church Folks", "Fleek", "Block and Delete", and "Pretty Girl Team".
Alkaline came to the spotlight in 2014 and since then he has released numerous hit singles which earned him further recognition in the industry. He established himself as one of the lead musicians in the Jamaican rap community.
What is Alkaline's Net Worth?
[table id=306 /]
Early Life
Earlan Bartley aka Alkaline was born on December 19th, 1993, in Kingston, Jamaica. He came into the world at the Victoria Jubilee Hospital. He studied at Ardenne High School and growing up he liked playing video games, fishing, and fashion.
From a young age, Earlan's main passion was music. He was an artistic kid and first began writing down lyrics when he was just 14 years old. While attending high school, he was already getting attention from his peers for his raw musical talent.
At the age of 16, Alkaline was hitting the recording studio and beginning to produce music. He graduated in 2011 and went on to earn a Journalism, Media, and Communication degree at the University of the West Indies.
Career
Alkaline released his debut single "Walk With You" with the music video on YouTube channel in June 2011. He created his channel called "Alkaline Music" back in 2009. From there, he decided to continue to pursue both music and studies at the same time.
In 2013, Alkaline dropped songs "More Than A Friend", 'Ready", and "Church Folks". In the following year, he reportedly released 15 singles alone. That same year, he was named the "21st Hapilos Breakout Artist of the Year".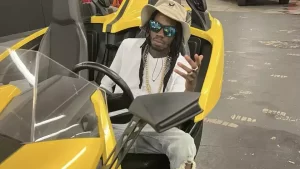 Breakthrough
In 2015, Alkaline's prolific music creation continued with tracks like "ATM" and "Fleek". Then, he launched his debut album in March 2016 titled "New Level Unlocked" under  DJ Frass Records. The album topped the Billboard Reggae Album Charts in April of that year.
Later in December 2019, Alkaline dropped the single "With the Thing" which was featured in the "Grand Theft Auto V" video game. Then in May 2021, his second album "Top Prize" came out featuring the lead single "Ocean Wave". The album became successful, peaking at #2 on Billboard's Reggae Albums Charts as well as earning him a place at #37 Emerging Artists on Billboard.
Other Ventures
In November 2016, he was also featured on the remix of Shaggy's single "That Love". In 2016, Alkaline toured the UK but the tour had a number of canceled shows because of security problems.
However, this didn't stop him from being nominated for a MOBO Award for Best Reggae Act, and making Billboard's Top 10 list for Best Reggae Albums in 2016.
Outside of music, Alkaline got to work on a new project his "Vendetta" appeals clothing line which launched in 2017. Despite this, the musician quickly gained popularity after launching his own show called "New Rules Festival" in March 2017.
Career Highlights
On Fleek (Love Yuh Everything) (Song, 2015)
Ride on Me (Remix) (Song, 2015)
New Level Unlocked (Debut album, 2016)
Block and Delete (Single, 2016)
New Rules (Festival, 2017)
Top Prize (Second album, 2021)
2016 MOBO Award, Best Reggae Act _ Nomination
Alkaline Net Worth
Alkaline grew up in Kingston, Jamaica, as a creative and artistic child. He was always interested in music and it was during high school that he began to perform for his friends during lunchtime. His friends encouraged him to become a Dancehall artist.
Alkaline started hitting the music studio by the age of 16 years old. He first earned success in his home country and then began getting attention in the American and UK music industry as well. As of 2023, Alkaline's net worth is estimated to be $1 Million.
You May Like: