Swae Lee is an American rapper, singer, and record producer with a net worth of $9 Million. Lee's successful music journey began when he teamed up with his brother Slim Jxmmi to form the hip-hop duo "Rae Sremmurd".
Swae Lee transformed into one of the music's most dominant forces in singing and writing hit singles. Along with his brother, Rae Sremmurd took home numerous awards for their hit music. In 2015, Their debut album Gold Platinum led by singles "No Type" and "No Flex Zone".
What is Swae Lee's Net Worth?
[table id=309 /]
Early Life
Khalif Malik Ibn Shaman Brown was born on June 7th, 1993, in Inglewood, California. He was raised by a single mother named Bernadette Walker who worked for the US Army.
He grew up along with his older brother Aaquil Iben Shamon Brown aka Slim Jxmmi. While they were still young their family moved from California to Tupelo, Mississippi. The town with 35,000 people was one of the most violent and crime-filled areas in the States.
Shortly after the move, Swae's parents divorced, leaving the two brothers to make it on their own on the streets. From there, Swae and Slim decided to stay in abandoned homes around the city. Luckily, the two were natural performers, and while in high school they learned how to record beats.
Career
Swae Lee and his older brother Slim Jxmmi started performing at local parties and shows. Soon, the brothers teamed up with their friend "Lil Pantz", a third member of the group known as "Dem Outta State Boyz". They continued to perform at bars and parties, building a buzz for their group.
Together, they dropped a track "Put In Rotation" which allowed them to perform on shows in Atlanta, Georgia, and Kentucky in 2009. Around that same time, these three were working jobs to raise funds for getting equipment and entering contests.
The group eventually picked out the best beats and made their tracks from there. Their catchy songs got popular locally and even got some radio play. Their music got the attention of fellow Tupelo native "P-Nasty".
He introduced them to the producer Mike Will Made It. The two brothers impressed him with their impressive energy and fresh sound. Swae and Slim moved to Atlanta where they spent a year in the studio but ran out of money and once again had to return home.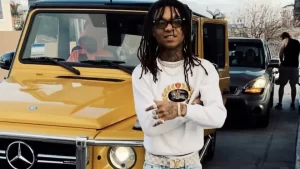 Breakthrough
The brother saved enough money to record their music. Meanwhile, producer Mike found success, making hit singles for Future, Juicy J, and Rick Ross.
When the boys returned to Atlanta, Mike Will Made It's label "EarDrummers Entertainment" decided to sign them. From that point on, the two brothers decided to rebrand themselves as "Rae Sremmurd".
In 2014, Lee and Jxmmi debuted their album "SremmLife" which hit number 5 on the Billboard 200. Five months later, their single "No Flex Zone" was released. It became one of the best anthems of the summer with Nicki Minaj and Pusha T hopping on a remix.
Further Success
Their follow-up "No Type" was even more successful, peaking at number 16 on the Billboard Top 40. This single led to their first late-night appearance on the "Tonight Show". In 2015, Lee and Jxmmi dropped their debut studio album "SremmLife" which debuted at the number 1 spot on the Billboard Hip Hop charts.
In the following year, they released "SremmLife 2" which got better sales, thanks to the large part of their lead hit single "Black Beatles". Upon the success, Swae Lee decided to drop his debut solo album "Swaecation" which was released in 2018.
Swae Lee accumulated a net worth of a whopping $9 million throughout his career.
Other Ventures
In 2013, they were contacted to appear in the "Wild Out Wednesday" segment. Before they would earn success in music, the third member "Lil Pantz" dropped out of the group. At some point, they started working with another third member of the group known as "Kind Dre".
Later, the boys were back home and began working odd jobs including at McDonald's, at a mattress factory, and the olive garden. At that time, they were putting in nearly 12 hours a day with their dreams still alive.
After getting success in music, Swae and his brother Slim began collaborating with big names in the rap community. Lee was asked to appear in Mike Will Made It's single "Drinks on Us" as well as Wiz Khalifa's "Burn Slow" in 2015. Later, he came to the spotlight after being featured in French Montana's"Unforgettable".
In early 2018, Lee also appeared on the soundtrack to "Black Panther" with a single "Hurt To Look". That same year, the group Rae Sremmurd dropped their third album "SR3MM" but it failed to produce on Billboard hit.
Shortly after that, Swae Lee found himself with another major hit on his hands, thanks to "Sunflower" a duet with Post Malone from the "Spider-Man: Into the Spider-Verse" soundtrack. This song wound up notching one of the longest top 10 streams in Billboard history.
Personal Life
In early 2017, Swae Lee and social media star Marliesia Ortiz started dating. The couple posted numerous pictures of themselves on social media and showed love for each other. However, their relationship didn't last long and they ended up being separated in 2018.
From 2018 to July 2018, the rapper dated the Instagram model "Yovanna Ventura". Later, in May 2021, Lee began dating internet personality Malu Trevejo, which lasted for just one month.
Car Collection
Koenigsegg Agera RS
Mercedes Benz G-Wagon
Lamborghini Urus
Ferrari
Real Estate
Swae Lee owns two homes including a mansion in Woodland Hills and one in Chatsworth. Lee's first mansion spread over 1 acre cost him $2.15 million which is $250k less than the original asking price. This scenic mansion is located in a Gate Guarded community called Summit Ridge.
At the end of 2019, Swae bought another mansion in Los Angeles. He reportedly paid $3.5 million for the former Woodland Hills home of actor Jonathan Frakes and actress Genie Francis. The house has over 6 beds, seven full and two half baths.
The rapper also bought a beautiful condo in Miami for about $975,000 in April 2022.
Career Highlights
No Flex Zone (Debut single, 2014)
No Type (Song, 2014)
Black Beatles (Song, 2016)
Swaecation (First solo album, 2018)
2017-19-20 Grammy Awards _ Nominations
2016 Soul Train Music Award _ Nomination
2019 Teen Choice Award, Choice R&B/Hip-Hop Song _ Nomination
Swae Lee Net Worth
Swae Lee's collab with Post Malone's "Sunflower" from the Spider-Man into the Spider-Verse soundtrack became his first Hot 100 number-one single as a solo artist.
Lee has collaborated with several high-profile artists such as Travis Scott, Trippy Redd, and even pop stars like Ellie Goulding. The rapper made a name for himself in the industry and he's just getting started.
He gained massive popularity all across the country through his dedication and passion. Outside of music, he also makes money from endorsement deals including PUMA Fall 2016 Collection and Reebok (2017). As of 2023, Swae Lee's net worth is estimated to be $9 Million.