David Tennant is a Scottish actor and voice artist who has a net worth of $9 Million. He is best recognized for his immense performance as Tenth Doctor in the hit British TV series "Doctor Who."
Tennant has been working in the entertainment industry for almost three decades. He has played plenty of memorable roles on TV and in film. One of the biggest roles he's known for is on his favorite show from his boyhood.
In 2005, David became the 10th "Doctor Who" on the BBC sci-fi classic series. David is also popular for his role as Barty Crouch, Jr. in the hit movie "Harry Potter and the Goblet of Fire."
What is David Tennant's Net Worth?
[table id=73 /]
Early Life
David John McDonald was born on April 18th, 1971, in Bathgate, West Lothian, Scotland. His parents were his mother Helen and his father Alexander McDonald. His father was a minister who worked as Scotland's Moderator of the General Assembly of the Church.
David has two siblings, a brother Blair and a sister Karen. They grew up in Ralston, Renfrewshire and their father was a local minister there. When David was three years old he told his family that he desired to become an actor, because he was a lover of "Doctor Who."
Education
David was determined to be an actor and he ended up appearing on screen before he was even out of school. In terms of schools, he went to Ralston Primary School and then Paisley Grammar School where he participated in a bunch of school productions.
He later went on to the Royal Scottish Academy of Music and Drama which he attended for three years. Before enrolling at this school, David was first noticed for his talent by Scottish TV when actress Edith MacArthur spotted him performing when he was only 10 years old.
When David was 16 years old he nailed an audition for the Royal Scottish Academy. He became one of the school's youngest students. When he found out there was another David McDonald in the same acting union Equity, he changed his name to David Tennant.
Career
At the age of 16, David made his acting debut in an anti-smoking movie that aired on TV and was screened in schools. Next year he appeared in an episode of Dramarama.
After graduating, David auditioned for the political Scottish theater group "7:84." He landed the part in the touring production of The Resistible Rise of Arturo Ui. In the 1990s Tennant made his appearance in a handful of plays at the Dundee Repertory Theatre.
In 1994 he landed his first big television role as Campbell Bain in the BBC series "Takin' Over the Asylum." When David was 25 years old he joined the Royal Shakespeare Company in 1986.
He was steadily developing his career in British theater, often performing with the Shakespeare company. He was also applauded for his roles of Jacqueline as well as Romeo in "Romeo and Juliet," among many others.
David has won many awards for this including the 2005 Critics Award for Theater in Scotland Best Male Performance in "Look Back in Anger." Outside of theater, he was also working in the world of TV, guest starring in the episodes of a handful of shows and British movies.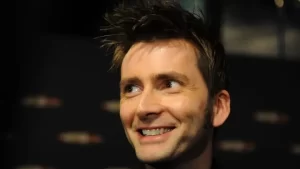 Breakthrough
Some roles on TV got Tennant more recognized than others which were namely his characters in "He Knew He Was Right (2004)" and"Blackpool (2004)." David rose to more global fame when he was selected to play the Tenth Doctor on the massively popular BBC Sci-Fi series "Doctor Who."
David replaced the last doctor, making his first brief appearance in the 2005 episode "The Parting of the Ways." He also briefly appeared in a special seven-minute mini-episode that same year. Tennant has been formally offered the role of the Doctor during rehearsals for "The Quatermass Experiment."
He has often expressed enthusiasm about fulfilling his childhood dream. In November 2013 as part of Doctor Who's 50th Anniversary celebrations, David's Doctor was voted the UK's favorite doctor in a Survey held by Radio Times Magazine.
Further Success
Since begging his "Doctor Who" career, David has been on many spin-off series over the years. In 2008 he announced that he would be stepping down from his role but he returned briefly to the role in 2013. In 2022 it was revealed that David returned as the 14th Doctor.
Over the year he has starred in a handful of movie roles including the 2012 drama "The Minor Character for Sky Arts." He then played the lead character in the BBC Four miniseries "Spies of Warsaw."
Before these, in 2010 he starred as Dave in the British drama "Single Father." He was nominated for Best Actor at the Royal Television Society Awards. In 2014 he appeared in the comedy titled "What We Did on Our Holiday" and then portrayed the villainous Kilgrave in "Jessica Jones" a year later.
David Tennant has a net worth of a whooping $9 Million.
Recent Work
In recent years David has appeared in some other on-Screen productions including the Scottish True crime mini-series "Deadwater Fell" which premiered in 2020. He further got his first credit as an executive producer for the series in which he also played the main character.
In September 2020, David appeared as Dennis Nilsen in the three-part miniseries "Des" for which he won the International Emmy Award for Best Actor. He starred in the television series "Staged," alongside Michael Sheen in 2020 and 2021.
Next year, he played Reverend Harry Watling in BBC1's "Inside Man." Another major role that you might recognize is his role on the show "Good Omens" in 2019. This fantasy comedy series was created and written by Neil Gaiman and is based on the 1990 novel he wrote with Terry Pratchett of the same name.
Personal Life
During the sets of "Doctor Who" David first met actress Georgia Moffett and the two began dating. After being in a relationship for a couple of years the couple decided to get married in December 2011.
David and Georgia are living a luxurious life with their five children. Their children's names are Olive, Wilfred, Doris, Birdie, and Ty. One of their kid is Georgia's child from her previous marriage.
Career Highlights
Here are some of the best Highlights of David Tennant's career:
Doctor Who, (British Series)
Harry Potter and the Goblet of Fire, (Film, 2005)
Casanova, (Drama Serial, 2005)
Broadchurch, (TV Series)
Jessica Jones, (Netflix Series)
Good Omens, (Amazon Prime Series)
BAFTA Awards, Best Actor, (2007, 2015) _ Won
Emmy Awards, Best Performance by an Actor, (2013, 2021) _ Won
People's Choice Awards, Favorite Actor in a New Television Series, (2015) _ Won
David Tennant Net Worth
David Tenant is a Scottish actor from Bathgate, West Lothian, Scotland, UK. He is one of the most popular stars in the British entertainment industry. He made a name for himself in his television and film career.
David first gained international recognition for his appearance in the popular British TV series "Doctor Who." His role in the series earned him a lot of popularity as well as wealth. He mainly earns from appearing in hit television shows and blockbuster movies.
Outside of acting, Tennant also earns from endorsement works as he worked as the brand ambassador of Virgin Media. As of 2023, David Tennant's net worth is estimated to be $9 Million.
You May Like: