Theo James is a famous English actor who has a net worth of $4 Million. He is best recognized for his outstanding acting skills in films and television shows. Theo rose to fame after playing the lead character as Detective Walter William Clark, Jr. in the 2013 CBS crime drama series, "Golden Boy."
Not to mention, Theo James is also gained international fame for his impressive performance as Tobias Eaton in "The Divergent Series." He started acting in 2010 and from there he continued to appear in films and hit TV series.
The actor is way deeper than simply his on-screen appearance. Most recently he's been turning heads in season 2 of the hit satirical HBO series, "The White Lotus." In this hit series, Theo had one of the main roles as Cameron Sullivan.
What is Theo James' Net Worth?
[table id=66 /]
Early Life
Theodore Peter James Kinnaird Taptiklis was born on December 16, 1984, in Oxford in the United Kingdom. His father Philip Taptiklis is a business consultant and his mother Jane worked for the National Health Service.
His paternal grandfather was Greek which is where Theo's last name comes from while the rest of his ancestry is of English and Scottish descent. He is the youngest of five children with two older brothers and two older sisters.
His grandfather moved from Greece to New Zealand where Theo's father was raised and his mother's family is from Scotland. Theo and his siblings were raised in Buckinghamshire, England.
Education
Theo went to Aylesbury Grammar School in Aylesbury for high school. Upon his graduation, he went on to study at the University of Nottingham where he received a degree in philosophy. He also enrolled at the Bristol Old Vic Theatre School.
After graduating from University his girlfriend at the time wanted to try out for drama school and he tagged along for the ride. In the end, Theo wound up getting in, while his former girlfriend didn't. Despite having a unique path to fame, he did always claim to have a passion for art.
While studying philosophy he found himself making short movies and participated in a couple of student plays while in college. After he attended theater school, he did decide to pursue acting professionally and began to land small roles.
Career
In 2010 Theo made his TV debut starring opposite Billy Piper in two episodes of the mini-series "A Passionate Woman." He then appeared in the first season of "Downton Abbey." However, his character in Downton Abbey only lasted one episode.
That same year he was cast in the film "You Will Meet a Tall Dark Stranger." Before he would be a Hollywood actor, Theo did a variety of different jobs including being a bartender, and a lifeguard.
In 2011 Theo had some other roles like in the short-lived horror show "Bedlam," as well as the British comedy "The Inbetweeners Movie." Later he was cast in TV series including "Room at the Top," "Case Sensitive," in 2012, and "Golden Boy" a year later.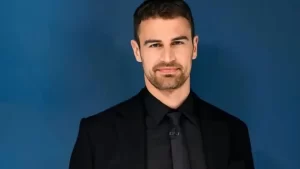 Breakthrough
In 2014 Theo landed his breakthrough role portraying Tobias "Four" Eaton in "Divergent." This was the movie adaptation of the best-selling novel by Veronica Roth. In this film, he starred opposite Shailene Woodley as one of the main characters.
Theo reprised the role in the sequel "Insurgent" in 2015 as well as the third film "The Divergent Series: Allegiant" which was released in 2016. His role as Tobias helped him to earn celebrity status.
Theo was also excited about getting into shape for the role of Tobias. During filming Theo trained six days a week and even put on pounds of muscles to help create his character as a trained soldier. He also had to learn mixed martial arts.
During those series of blockbuster movies, Theo further returned his character David for the fifth Underworld film series "London Fields." He began starring alongside Amber Heard, Billy Bob Thornton, and Jim Sturgess.
Theo executive produced and appeared in the 2018 film "Backstabbing for Beginners." That same year he played Will Younger in the Netflix movie "How It Ends." The following year he executive produced and portrayed Sidney Parker in the British series titled "Sanditon."
Recent Work
Theo launched his own film and TV production company named "Untapped" in 2019. He has managed to produce and appear in the 2020 British sci-fi Film "Archive". In May 2022 the romance film "The Time Traveler's Wife," premiered in which he starred.
As of 2023, Theo is the series regular in the second season of the popular HBO show "The White Lotus." The second season of the show brings an entirely new setting, taking place in Italy this time. The show also brought an entirely new cast except for a couple of actors like Jennifer Coolidge.
Some of the fresh faces for "The White Lotus" are including Theo James, Meghann Fahy, Will Sharpe, and Aubrey Plaza. Theo's role in the show Cameron Sullivan is a wealthy and successful businessman from a rich family.
Personal Life
While attending the Bristol Old Vic Theatre School Theo James met Irish actress Ruth Kearney in 2009. Soon the couple began dating and got engaged later in 2015.
In August 2018 their marriage ceremony was held at Islington Town Hall. Theo and Ruth welcomed their first child together and this report was revealed in August 2021.
Career Highlights
The Divergent Series
Golden Boy (Series, 2012)
How It Ends (Film, 2018)
Archive (Film, 2020)
The Time Traveler's Wife (Series, 2022)
The White Lotus (HBO Series, 2022)
2014 – Teen Choice Awards, Choice Movie Actor: Action Adventure, – Won
2015 – People's Choice Awards, Favorite Movie Duo, – Won
2015 – Teen Choice Awards, Choice Movie: Liplock, – Won
2016 – Teen Choice Awards, Choice Movie Actor: Action, – Nominated
Theo James Net Worth
Theo James is a successful English actor and producer from Oxford. He came to the spotlight in the year 2014 when he began appearing in the "Divergent" film series.
James has proven himself as a hard throw on the big and small screens and has a lot more coming his way. His role in the hit series "The White Lotus" is only the beginning of more exciting new projects.
Outside of earning from acting in films and shows, James also makes a good sum of money from appearing in commercials like "Lexus car," "Hugo Boss' perfume," and " UK Audi." As of 2023, Theo James' net worth is estimated to be $4 Million.