Malu Trevejo is a Cuban-Spanish singer and model who has a net worth of $8 Million. She is best known for being one of the biggest Instagram stars with over 11 million followers. Trevejo rose to fame when she began uploading impressive dance and lip-syncing videos on her musical.ly account.
Following her success on that platform, she launched her own singing and dance career. Her skills quickly caught the attention of Universal Music Latin Entertainment with whom she signed. Under the contract, she released her first music video "Luna Llena" in 2017.
Despite her young age, Trevejo seems to have a successful career in the music industry, she's already lived in three different countries. When she first went to America, she was bullied regularly for speaking a foreign language. Later she became friends with other social media stars including Danielle Bregoli.
What is Malu Trevejo's Net Worth?
[table id=236 /]
Early Life
María Luisa Trevejo was born on October 15th, 2002, in Havana, in the great nation of Cuba. She was raised by a Spanish father and a Cuban mother. After spending a couple of years in Havana, the family relocated to Madrid, Spain where she lived until arriving in Miami, Florida when she was 11 or 12 years old.
Malu is quite private about her personal life so she hasn't disclosed the names of her parents. However, her mother often appears in her videos. When Malu moved to America it wasn't an easy transition because she didn't speak English which made her an easy target for bullies.
Eventually, she was scared to go to school, it was her mother who covered her through this hardship. Later she decided to complete her studies via homeschooling and didn't pursue her education further.
Career
Although she was lonely at school she found an arena to make some friends by posting photos to Instagram. Malu quickly gained popularity as she posted more and more photos of her posing and various outfits following fashion trends.
Trevejo started posting lip-sync videos to her favorite singles when the app musical.ly was launched. She quickly became a massive star on that platform. Her fan base grew and she established herself as one of the most recognized stars on musical.ly at the age of 14.
Breakthrough
Malu soon found new friends with similar interests and together they began posting videos online. Around that time she had over 3 million fans on Instagram. The biggest day of her life was November 2016 when she gained over a million followers on that day alone.
After being in America for one year Malu's English started to improve, she was also overcoming depression and was excited about the future. She then realized she could become a role model for other young girls who were feeling their issues.
Malu gained a lot of fame when she became friends with another social media phenomenon known widely as Cash Me Outside Girl. Their mothers allowed the girls to spend some time with one another which they shared via various online platforms. Later, the two were not in a good relationship.
Other Ventures
At the age of 14, Malu met with the CEO of "In-Tu Linea" a label of Universal Music Latin Entertainment. A recording contract was signed for Malu. She released the music video for her first single "Luna Llena" which was filmed in June 2017 in Miami, Florida.
The video was released in September 2017 and within its first week, it clocked in over 4 million views. As of now the music video for "Luna Llena" amassed over 127 million views on YouTube. In August 2019 Trevejo released her debut EP "Una Vez Más" which contains four tracks including her breakthrough single "Luna Llena."
Next, she caught the attention of new management and moved to LA for better opportunities. In October 2020 she launched her OnlyFans account and began uploading content. In the first week, Malu garnered over 37k subscribers.
A year later, Trevejo made a deal with Cactus Jack Records and Atlantic Records in October 2021. That same month she teamed up with Luar La L to release her single "Complicado" her first single to be released under Cactus Jack and Atlantic. However, her deal with Travis's label Cactus Jack didn't last long and she was dropped.
Personal Life
In 2017 Trevejo and the famous rapper NBA Youngboy began dating but the two broke up that same year. Later, she was in a relationship with Instagram star Jaden Delarosa in 2018.
Trevejo started dating actor and model "Danny Alfonso Guilarte" in 2019. The couple first met while filming a music video for the song "Down 4 Your Love" in June of that year. Malu introduced her boyfriend Danny through Instagram.
As of April 2023, Malu Trevejo has been making headlines after being arrested in Miami. On April 17, she was arrested on charges of battery after allegedly getting into a physical altercation with a woman in a parking lot. According to reports, Trevejo and the other woman had been arguing when Trevejo allegedly hit her face.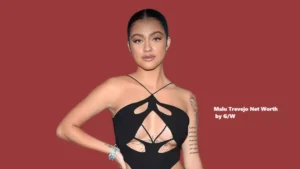 Real Estate
Malu likes living a luxurious lifestyle and spends millions of dollars on expensive things. She spent about $2.25 million on a beautiful house located in Plantation, Florida. Trevejo bought this property in July 2021 where the rapper Fat Joe previously lived.
According to reports, the rapper sold this home for $1.18 million, and just 3 months later, the seller listed this house on the market for a whopping $2.4 Million. Malu eventually paid $2.25 million in 2021 but didn't stay there for long. A year later, in June 2022, she listed the house with an asking price of $3.25 million and eventually sold it for $2.5 million in September of that year.
Career Highlights
Luna Llena (Song, 2017)
Nadie Como Yo (Song, 2018)
Como Tú Me Quieres (Song, 2018)
Una Vez Mas (EP, 2019)
Think About (Song 2019)
Walking in the Club (Song, 2020)
Being named in 2018 Latin Artists to Watch according to Pandora Radio
Malu Trevejo Net Worth
Trevejo is living the American dream swarmed by fans on the daily and bringing in the severe bank as a teenage social media sensation. Despite her young age, she is living a lavish lifestyle and already achieved a lot of success in her career.
Malu accumulated a vast chunk of money through different social media platforms and brand endorsements. She had endorsement deals with HeySilkySkin and many others. As of 2023, Malu Trevejo's net worth is estimated to be $8 million.
You May Like: