Snow Tha Product is an American rapper and actress who has a net worth of $3 Million. She rose to fame after releasing her mixtape "Good Nights & Bad Mornings 2: The Hangover" in 2013. She gained further recognition for her compilation album called "VIBEHIGHER" which was released in 2018.
Her single "Waste Of Time" was uploaded on Woke TV's YouTube channel in 2017 and it garnered over 35 million views. She also dropped hit singles including "Goin Off" and "Let You Go". She began her career by selling mixtapes, on the street in San Diago and battle rapping with her friends.
Snow Tha Product's music caught the attention of big names with whom she worked such as Tech N9ne, Ty Dolla Sign, Lupe Fiasco, and more. She has been in the music industry for over a decade now.
What is Snow Tha Product's Net Worth?
[table id=251 /]
Early Life
Claudia Alexandra Madriz Meza was born on June 24th, 1987, in San Jose, California, USA. Both of her parents were Mexican immigrants. She took ESL classes while growing up and became fluent in English and Spanish. In high school, she even learned how to speak Tagalog.
Her father was around for most of her childhood, but she says her dad is no longer in her life. When she was three years old she was singing around the house and by the age of six Snow was performing on school's talent shows.
Later, she performed vocals for her grandfather's mariachi band in Redwood City. It was when she moved to San Diago with her family that she first fell in love with hip-hop. She began listening to more rap and R&B music and it changed her life.
Musically, she is influenced by rappers and artists with their original style, including Missy Elloit, Da Brat, Lauryn Hill, Aaliyah, Amy Winehouse, Andre, and many more. As a teenager, she started to freestyle with her friends and also wrote her raps.
Career
Snow continued to make music and by the age of 18, she did her first show at a small venue. Even though she decided on rap as a career, her mother pushed her to attend college. So after high school, Snow attended San Diego Mesa College where she was studying to become a social worker.
At the age of 19, she dropped out of college to pursue her dreams of becoming a rapper. Her close friends pushed her to pursue her rap dream. Snow White was her original moniker which she took from Disney's character Snow White, but she later added "Tha Product".
She was going by Snow White Tha Product until Disney forced her to change the name. In 2008, Snow released her first mixtape titled "Raising Tha Bar: Tha Mixtape". At first, she was also recording songs in Spanish. These tracks caught the attention of Mexican artist Jaime Kohen who recorded the song "Alguien" with her.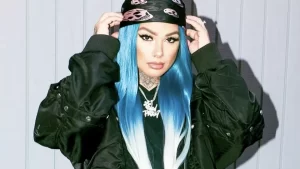 Breakthrough
It was her 2009 album "Verbal Assault Vol. 2" which became popular in Mexico and was played on the radio. From there she went by the name of Claudia White. In the following year, she moved to Fort Worth, Texas.
Soon after she moved there, Snow got a chance to show her skills at the "Murdaworth Mic Pass", where she was asked to be a part of a track. That same year she released the mixtapes "Run Up or Shut Up" and Wake Ya Game Up, Vol. 1″ 2010. She said she recorded the takes in her garage.
In 2011, Snow recorded her debut project "Unorthodox". That project contains two hit singles including "Drunk Love" and  "Woke Wednesday". From that point on she started releasing freestyles on YouTube to popular songs from Asap and SchoolBoy Q, amassing a solid online fan base.
In December 2012, Snow released her mixtape "Good Nights & Bad Mornings" with singles like "Cookie Cutter Bit*hes", "Damn It" and "Lord Be with You". She dropped the sequel in 2013 called "Good Nights & Bad Mornings 2: The Hangover" with features from Tech 9ine, Trae tha Truth, CyHi the Prynce, Ty Dolla Sign, and more.
Her first big break came with her song "Holy Sh*t" which was featured on ThisIs50.com. The track even caught the attention of three major record labels, Sony, Universal, and Atlantic. Snow eventually signed with Atlantic records and prepared to release her debut studio album in 2013.
Other Ventures
In 2010 Snow launched her clothing line called "Woke". Later, she had some troubles with the label and bought herself out of her management deal because of problems. Apart from this, she created a new brand named "VIBEHIGHER".
In 2015, Snow dropped "The Rest Comes Later" and in 2016 had a spot on the Hamilton Mixtape. They released the video for the song "Immigrants (We Get the Job Done)". In the following year, she released her EP "Half Way There", also dropping the "VIBEHIGHER Mixtape" as a collective with the artists she signed.
She has been consistently touring with artists from her new label "VibeHigher". Outside of music, Snow has done some acting, appearing in the TV series "Queen of the South" as Lil' T. Snow Tha Product has a net worth of $3 million.
Personal Life
Snow was married for a long time, but kept things out of the public eye because she says her partner was a private person. However, he did start in her most popular music video "Waste of Time".
According to Snow, the couple was together for over a decade, but they were separated in 2019. The two have a child together and they continued to co-parent.
In 2017 Snow met her new girlfriend named "JuJu". After dating for two years the couple announced their engagement in July 2019. However, their relationship didn't last long and the two broke up in 2022.
Career Highlights
Unorthodox (Debut album, 2011)
Woke Wednesday (Song, 2011)
Holy Sh*t (Song, 2011)
Good Nights & Bad Mornings 2: The Hangover (Mixtape, 2013)
Drunk Love (Song, 2013)
VIBEHIGHER (Album, 2018)
 2021 Latin GRAMMY Awards, Best Rap/Hip-Hop Song _ Nomination
Snow Tha Product Net Worth
Snow Tha Product is one of the well know American rappers in the music industry. It was a decade-long journey for her to get to this point. Snow accumulated a handsome fortune for herself throughout her successful career.
She mainly earns from music such as releasing new albums, and mixtapes, as well as performing on stage. The rapper has her own YouTube channel with over 2 million subscribers. As of 2023, Snow Tha Product's net worth is estimated to be $3 Million.
You May Like: