Lexy Panterra is an American dancer, singer, and actress who has a net worth of $3 Million. Lexy came to the spotlight with her Twerk Off series which went viral. She amassed over 3 million followers on Instagram by sharing her content.
Lexy came up with the idea of turning Twerking into a fitness routine and promoting her studio and classes. She took to YouTube pumping out viral video after viral video. Her viral tracks include Twerk Lesson, Used To Know, and Lit. 
Lexy collaborated with her friends like Christina Millian, Tamar Braxton, Tiny Harris, and Karreuche Tran to gain more recognition. Her friends also helped kickstart the now-booming business. Lexy had been honing her skills as a dancer and singer since she was young, so her success took a while to come.
What is Lexy Panterra's Net Worth?
[table id=600 /]
Early Life
Alexis Liela Afshar aka Lexy Panterra was born on May 22nd, 1989, in Sonoma County, California. She is the daughter of a professional Motorcross racer and world-class hot rod builder Tony Panterra and her mother Elizabeth Fitzmorris.
Lexy grew up in a household of men and her father, uncle, two brothers, and one half-brother named Elijah. Her dad's family had come to the United States from Iran, changing the family's last name from Afshar to Panterra.
She spent her early years moving in between her father in Los Angeles and her mom in Sacramento. Growing up, Lexy developed an interest in dance and decided to learn hip-hop and ballet. Along with this, she also learned a couple of more dance forms including, ballet, jazz, and hip hop.
Career
When Lexy was 5 years old, she won her first beauty pageant. By the age of 8, she was participating in motorcycle racing with the help of her father. In her spare time, she worked on her vocals as an aspiring singer.
Growing up, Lexy idolized Christina Aguilera, Whitney Houston, Mariah Carey, Aaliyah, and Celine Dion. These talents were also in her blood from her late grandmother Leila Kasra being a popular songwriter, producer, and poet during the 60s and 70s.
Due to Lexy's Iranian heritage, she got teased by her classmates but some went as far as calling her a te**o*ist. Her father was seriously injured in a motocross accident in 1990 and although Lexy was doing a good job balancing her racing and artistic endeavors.
It was decided by her father that she would no longer race. However, Lexy continued to spend her weekends at the racetrack with her dad when she wasn't attending theater and dance classes.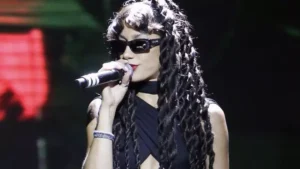 Breakthrough
She first learned Twerk from her step-cousins when she was 12 years old. Lexy managed to bring money by turning her talents in dance into a career. Soon, she tried her hand at launching a professional singing career in 2011. At the age of 22, she dropped her song Neon.
Although her music was all over on iTunes, MySpace, and YouTube, it failed to become successful. As a result, Lexy returned to teaching dance. It wasn't until 2013 that the turning point of her career came.
Lexy held her first dance class in January of 2014 and things blew up immediately. The girls in attendance included Christina Millian. Soon after, celebrities were signing up and Lexy quickly seized the opportunity to post her work on YouTube.
Lexy has since returned to making music and has appeared in everything and everywhere incorporating her moves into comedic sketches. She even worked through time with Playboy. Thanks to her success, Lexy Panterra earned a net worth of $3 Million.
Lexy Panterra Biography
[table id=601 /]
Other Ventures
Lexy landed a role for herself in the film Boo A Madea Halloween. Moreover, Lexy starred in movies including Pray for Rain, Boo 2! A Madea Halloween, Nightmare Cinema, Dirt, The Ride, and Never Heard.
Additionally, Lexy got some television roles such as appearing in the documentary 1000 Ways to Die. She followed that up by starring in shows like the "Anitta: Vai Malandra – Alesso & KO:YU Remix" and "Born to Race".
Personal Life
Lexy Panterra had been romantically linked with celebrities like Nev Schulman, Gregg Sulkin, and Brooklyn Beckham.
From November 2020 to February 2022, Lexy dated YouTuber and actor, Alex Wassabi. The couple had separated due to unknown reasons.
Lexy Panterra Net Worth
Lexy Panterra is one of the most recognized personalities on the internet and rose to fame after launching the Twerk series. She got a chance to collab with the likes of FouseyTube, Snoop Dogg, and Timothy DeLaGhetto.
She garnered over 2.17 million subscribers on her self-titled YouTube channel where she uploads her dance and music videos. Lexy makes money from several sources including social media and her Twerk dance studio that she opened in Los Angeles. As of 2023, Lexy Panterra's net worth is estimated to be $3 Million.
You May Like