Melissa Barrera is a Mexican actress and singer who has a net worth of $5 Million. The actress first rose to fame for playing an outstanding role in the 2013 Mexican telenovela "Siempre Tuya Acapulco".
Melissa came to popularity once again for her role as the main character, Sam Carpenter in the installments of the "Scream" movies. These films were released in 2022 and 2023. But her acting career spanned much longer than that.
The Mexican actress is well-known in her home country for starring in a handful of telenovelas. After establishing herself there, Melissa decided to attempt a cross-over. While the stacked cast in the Scream film is turning heads, Melissa is still considered a fresh face in Hollywood.
What is Melissa Barrera's Net Worth?
[table id=288 /]
Early Life
Melissa Barrera Martínez was born on July 4th, 1990, in Morelia, Michoacán, Mexico. Her father Tomás Gerardo Barrera Tames is a film producer and her mother Rosana Maria is a homemaker. Melissa is also the first of four daughters.
She attended the American School Foundation of Monterrey from the ages of 4 to 18 when she graduated from high school. During her time in school, she got a chance to appear in their musical productions including Grease, Footloose, and Aida.
Her appearance in musical productions led her to fall in love with acting. Some other plays she would star in included "The Wizard of Oz" and "Joseph and the Amazing Technicolor Dreamcoat". Melissa auditioned and was accepted to "CAP21" the musical theater school which is part of the Tisch School of the Arts at New York University. So, she began attending in 2009.
Career
Melissa began her professional acting career during her last year of high school when she led the Mexican production of "Romeo y Julieta". After that, she also acted in the production of "Footloose" in the lead role of Ariel before leaving for college in New York.
During her years at NYU, Melissa was in productions such as "Sweet Charity" and "Breakfast The Caucasian Chalk Circle" in the lead role. In 2010 while still in college she participated in the film "L For Leisure".
Next year, Melissa moved back to Mexico City leaving NYU for her TV debut when she was selected to appear in the Mexican reality show "La Academia". For this appearance, she gains plenty of critical acclaim for her singing and dancing abilities.
At the end of 2011, Melissa was chosen to participate in her first telenovela titled "La mujer de Judas" in the role of Zulamita. During her four-year run working in Mexico, the actress did a couple of telenovelas and also continued her career on stage in Mexico.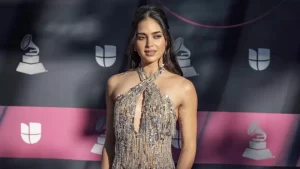 Breakthrough
Melissa had some lead roles in musicals including the hit Spanish jukebox "Hoy No Me Puedo Levantar" for which she won many accolades. In 2012 she starred in "La otra cara del Alma" alongside the Latin star Gabriela Spanic. For this, Melissa earned great reviews for her acting abilities.
She scored her first lead role in a telenovela "Siempre tuya Acapulco". This became her big break as she positioned herself as one of the fresh new faces of Mexican TV. The show became one of the most popular love stories in over 20 countries.
Following the success of "Siempre tuya Acapulco", she got offered her second lead role in a telenovela "Tanto amor" in 2015. Barrera further was working on movies at the time and did four films in two years, including the 1950s "Sacúdete las penas".
Further Success
In 2018, Melissa was cast in the lead role of Lyn Hernandez on the drama series "Vida" which tells the story of two Mexican-American sisters. Her role in Vida brought Melissa to a more widespread audience.
In 2020, she was cast as the lead role of Sam Carpenter in the 5th "Scream" film. Her audition for the role reportedly impressed the filmmakers for her previous work in "Vida" which certainly didn't hurt her chances of getting the role.
That installment of the "Scream" franchise premiered in January 2022. Melissa also starred in the 2021 musical film "In The Heights" as Vanessa. In the following year, she had a starring role in the 6th episode of the Netflix survival drama series titled "Keep Breathing".
Later, Barrera was in the title role in the film musical "Carmen" which premiered at the "2022 Toronto International Film Festival". Melissa Barrera accumulated a net worth of $5 million through her acting and singing careers.
Other Ventures
In terms of singing, Melissa worked on that part of her career. In 2013 she was a member of the duet "Melissa y Sebastian". Along with this, she recorded her debut album and had her first top 10 radio hit with their first song "Mamma Maria".
Later in 2015, she teamed up with singer Kalimba to record the theme song titled "Volver a caer" for her telenovela "Tanto amor". Apart from that, Melissa received a lot of buzz for reprising her role of Sam in the "Scream 6" film that was released in March 2023.
Her performance in "Scream 6" along with her castmates has been well received. It broke the box office records this time with an opening weekend alone the film raked in about $44.5 million domestically.
Personal Life
Melissa Barrera has been married to her longtime boyfriend Paco Zazueta, since 2019. The couple began dating in 2011 after they first met on the set of "La Academia". After dating for many years the two got engaged in 2017 and then married in February 2019.
Career Highlights
Siempre Tuya Acapulco (2013)
Tanto amor (2015)
Club de Cuervos (2017)
Vida (2018)
Scream horror film franchise
Scream Queen in 2022 _ Crowned
2021 Hollywood Critics Association, Best Actress _ Nomination
2022 Satellite Award, Best Actress in a Motion Picture _ Nomination
Melissa Barrera Net Worth
Melissa Barrera is one of the most promising actresses in the Mexican entertainment industry. She established herself in both her hometown as well as in the American film industry.
Thanks to her impressive performance in "Scream Franchise" which allowed the actress to receive numerous accolades. The actress is making a vast chunk of money via her acting credits in films and television series. As of 2023, Melissa Barrera's net worth is estimated to be $5 Million.
You May Like: